Bernie Sanders Says Democratic Party Has Become a 'Party of Coastal Elites'
Bernie Sanders, the independent senator from Vermont, criticized the Democratic Party on Thursday, claiming it has become a "party of coastal elites."
Sanders made the comments while appearing on Late Night With Seth Meyers. The host acknowledged that the Democratic Party has gotten away from America's working class over the years, to which Sanders nodded his head in agreement.
If Democratic nominee Joe Biden wins the November 3 election, Meyers then asked, what should Biden do to "bring the Democratic Party back to serving the working people in this country?"
"I think it is fair to say that in many ways the Democratic Party has become a party of the coastal elites, folks who have a lot of money, upper-middle-class people who are good people, who believe in social justice in many respects," Sanders responded. "But I think for many, many years the Democratic Party has not paid the kind of attention to working-class needs that they should've."
Sanders, who has caucused with the Democratic Party for most of his congressional career, cited the donors and businesses that often fund campaigns as part of the reason for this apparent shift in the party's demographics.
The senator stressed that Democrats in Congress need to "start bursting out of the blocs in an effort to protect working people." He said that he is working on a 100-day program to help the party achieve just that, particularly if it gains control over the Senate.
Those protections, Sanders said, include passing a "very substantive" coronavirus relief bill similar to the one Congress passed in March. The package should extend the weekly $600 payments that supplemented state unemployment benefits, as well as the one-time $1,200 payment to working families and individuals, he said. The legislation should provide health care to anyone who might've lost it and financial aid to cities and towns so they don't have to lay off workers, Sanders said.
The senator also advocated raising the minimum wage to at least $15 per hour, making it easier for workers to join unions and ensuring that women receive equal pay for doing equal work, compared with their male counterparts.
"If the Democratic Party does not stand firmly for working families and have the courage to take on the drug companies and the insurance companies and the big money interests, shame on them," Sanders said.
Newsweek contacted the Democratic National Committee for comment but did not hear back in time for publication.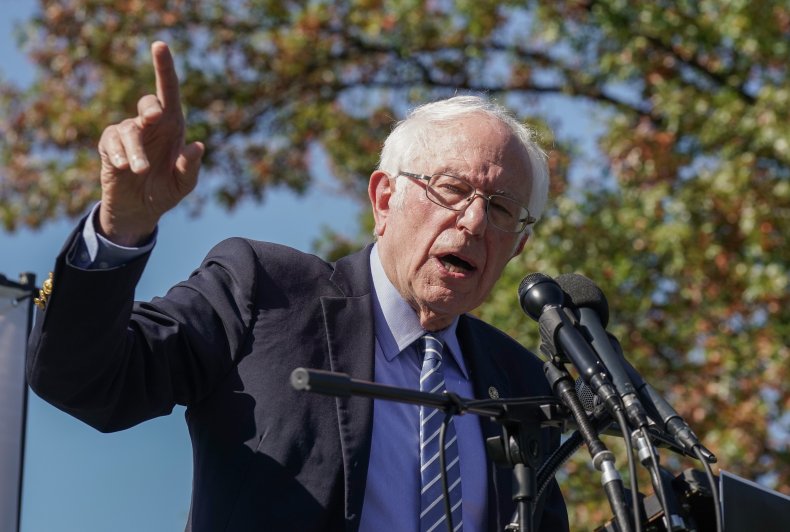 Meyers also asked Sanders to speak about President Donald Trump, who has repeatedly invoked the senator during recent campaign rallies in an effort to try to stoke divisions among Democratic voters, using Sanders' more progressive policies to paint Biden the same way.
Sanders attempted to secure the Democratic nomination for president in 2016 and 2020 but finished second in both campaigns. Trump has insisted then and now that Sanders' supporters would ultimately support the Republican nominee instead of voting for the Democratic candidate.
"Just like last time, Bernie Sanders' people are going to vote for me because of what I've done on trade," Trump said earlier this month, referring to the 2016 election.
He made the prediction again while speaking Monday at a rally in Pennsylvania. "[Sanders] did us some big favors. We had a lot of Bernie's people come with us last time because they agree with me on trade," the president said.
In 2016, around 12 percent of Sanders' supporters cast their ballot for Trump, and another 7.7 percent supported a third-party candidate instead of Democratic nominee Hillary Clinton, according to the Cooperative Congressional Election Study.
But Sanders hit back at the president on Thursday, insisting that things would be different this year. He told Meyers that the "overwhelming majority" of his supporters would vote for Biden in this election "because they understand that we cannot have four more years of Donald Trump."
Sanders officially endorsed Biden in April after ending his presidential campaign. The two have since teamed up, forming the Biden-Sanders Unity Task Force. In July, the group released more than 100 pages of recommendations to show voters that the moderate and progressive wings of the Democratic Party are meshing together better than they did in 2016, The New York Times reported.
A YouGov poll conducted in August found that if the election were held then, 89 percent of Sanders supporters would vote for Biden, compared with the 3 percent who said they would back Trump. Still, most of them acknowledged their motivation for doing so was rooted in their dislike of Trump rather than their support of Biden.