Bernie Sanders Says Democrats Will Lose 2020 Election If They Continue To Focus On Donald Trump
During an appearance on Fox News, 2020 presidential candidate Bernie Sanders cautioned Democrats about continued attacks on President Donald Trump, saying that the political party would lose the next general election if the president remained the focus of their attention.
"If we spend all our time attacking Trump, you know what? Democrats are going to lose," Sanders said to the audience in Bethlehem, Pennslyvania.
The question that prompted the response came from Bryan Callahan, a city council member in the Pennslyvania town, who questioned if the Democratic party had shifted so far-left in answer to Trump that the party would "overshoot" as the Tea Party did at its height in 2010.
"Our job is to lay out a vision that makes sense for the working families of this country, and that's kind of what I'm trying to do," Sanders said. "We raised issues four years ago which were thought to be a little bit out there, but today they are accepted by the American people."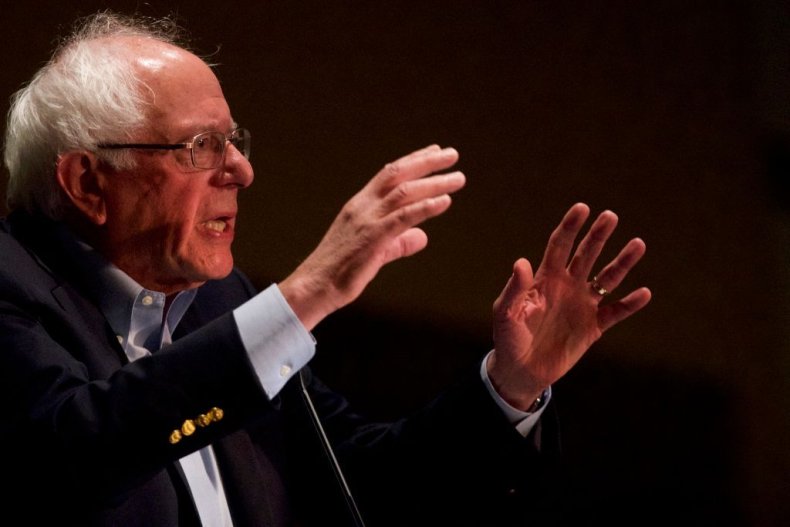 Sanders added that he thinks people in towns like Bethlehem and Burlington, Vermont all want the same things; a liveable wage and better infrastructure. The Vermont senator then cited a policy where he wishes to invest $1 trillion in rebuilding infrastructure which Sanders said would create 15 million jobs.
"I agree with you, I think Trump is a dangerous president," Sanders added, referring to his previous comments where he called the president a pathological liar and said he didn't think Americans were proud to have a president with that quality. "But if all we do is focus on him, we lose. Our job is to develop an agenda that speaks to the needs of workers and when we do that we are gonna win."
The Fox News town hall is the first held for a Democratic presidential candidate this election cycle, organized in response to the Democratic National Committee announcing that the news network would not be awarded a debate for the field of Democratic candidates.
The decision by the DNC came after a New Yorker article outlined the relationship between Trump's administration and the Fox News Channel, including connections between the president and network host Sean Hannity, as well as the channel's former CEO Roger Ailes and its owner Rupert Murdoch
"I believe that a key pathway to victory is to continue to expand our electorate and reach all voters. That is why I have made it a priority to talk to a broad array of potential media partners, including Fox News. Recent reporting in the New Yorker on the inappropriate relationship between President Trump, his administration and Fox News has led me to conclude that the network is not in a position to host a fair and neutral debate for our candidates. Therefore, Fox News will not serve as a media partner for the 2020 Democratic primary debates," DNC Chairman Tom Perez said in a statement to The Washington Post in March.
Many questioned the DNC's decision, with former Sen. Rick Santorum going on CNN to ask what the committee was afraid of in allowing Fox News to host a debate.
Trump also threatened to forgo any debates hosted by "fake news networks" after the DNC's announcement.
"Democrats just blocked @FoxNews from holding a debate. Good, then I think I'll do the same thing with the Fake News Networks and the Radical Left Democrats in the General Election debates," Trump tweeted.
Sanders agreed to the appearance after the announcement by the DNC, drawing criticism from many Democrats and praise from moderates and conservatives.
Bernie Sanders Says Democrats Will Lose 2020 Election If They Continue To Focus On Donald Trump | U.S.