Bernie Sanders Says He'll Make Fossil Fuel Industry Pay $3 Trillion for Their Pollution to Fund Green New Deal
Senator Bernie Sanders of Vermont's campaign shared how the 2020 Democratic presidential candidate plans on funding the programs of his platform Monday evening—including making the fossil fuel industry pay over $3 trillion for the "Green New Deal."
Sanders has been criticized during the Democratic debates for not fully explaining how he will pay for programs like his "Medicare for All" health care plan or his proposal to address climate change, commonly known as the "Green New Deal." In advance of Tuesday night's debate in Charleston, South Carolina, Sanders' website includes more details on how he expects to fund his plans.
If Sanders is elected, the candidate says the Green New Deal will cost $16.3 trillion, and will create 20 million union jobs. It will be paid for from six sources, according to Sanders' website. The fossil fuel industry will pay $3.085 trillion "for their pollution, through litigation, fees, and taxes, and eliminating federal fossil fuel subsidies."
An additional $6.4 trillion will be raised in revenue from selling energy from regional Power Marketing Administrations, along with $2.3 trillion in income tax from the new jobs created by the plan and another $2 trillion from taxing corporations. Sanders also hopes to raise another $3 trillion by cutting defense spending and reducing the burden in social services, again due to the creation of new jobs.
Sanders says the Green New Deal will save U.S. taxpayers $2.9 trillion over 10 years, and ultimately $70.4 trillion over the next 80 years. He counters this with the $34.5 trillion Sanders says the U.S. stands to lose by the year 2100 in economic productivity if the government does not act.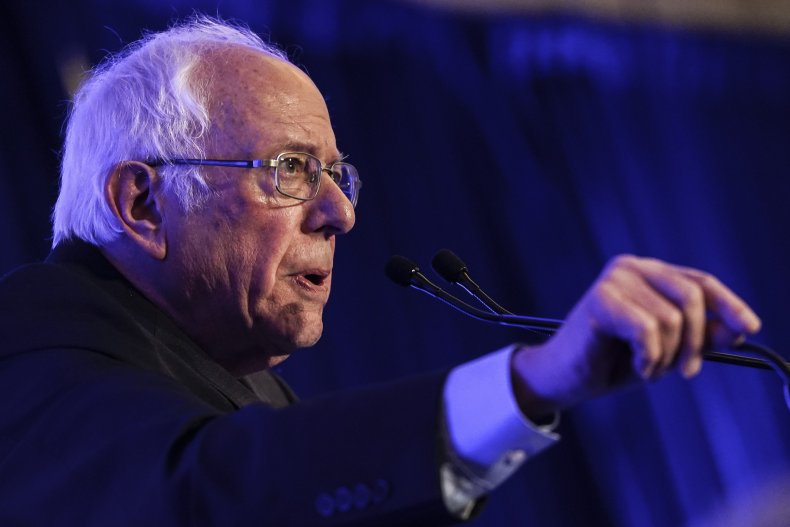 When it comes to Medicare for All, Sanders cites the recent Yale study which says that Sanders' proposal would save $450 billion in health care costs and save 68,000 lives every year. The plan offers several methods to pay for the startup costs of Medicare for All, including raising the top marginal income tax rate to 52 percent on income over $10 million, a reform to the capital gains tax that would close loopholes and by increasing the top federal corporate income tax to 35 percent.
Though the Green New Deal and Medicare for All get the most thorough explanation, the campaign outlines how Sanders plans to pay for some of his other programs as well. College for All, Sanders' plan to make public colleges and universities tuition-free and to cancel all student debt, is estimated to cost $2.2 trillion. This would be paid for by a tax on Wall Street speculation, which would raise $2.4 trillion over 10 years, according to Sanders' website.
One of Sanders' other plans is a wealth tax on those with a net worth of at least $32 million. Sanders' figures say that tax would raise $4.32 trillion, which would be used to pay for his Housing for All plan to eliminate homelessness, as well as his Universal Childcare/Pre-K program, which would give free childcare and preschool to every family.
Sanders is currently the frontrunner in the 2020 Democratic race, having won the Nevada caucuses in a landslide victory. Sanders leads the delegate count with 43, followed by former South Bend, Indiana Mayor Pete Buttigieg with 26, former Vice President Joe Biden with 13, and Senators Elizabeth Warren of Massachusetts and Amy Klobuchar of Minnesota with 8 and 7 delegates, respectively. A total of 1,991 delegates are needed to win the nomination on the first ballot.