Bernie Sanders Says Joe Biden Can Beat Donald Trump: 'Between You and Me, Don't Tell Anybody'
Democratic presidential candidate Senator Bernie Sanders of Vermont asserted Wednesday evening that he believes his rival, frontrunner former Vice President Joe Biden, could beat President Donald Trump in the general election.
In an interview on The Tonight Show with Jimmy Fallon, Sanders said that Americans were ready to move past the Trump presidency, saying that Biden, who most analysts now see as the clear favorite to win the Democratic nomination, could win.
"I do," Sanders answered firmly and confidently when Fallon asked if Biden could beat Trump. "And I think, you know, when you have a president who is a pathological liar," he continued, as the crowd cheered and clapped loudly, "when you have a president who truly– apparently has never read the Constitution of the United States, who thinks he is above the law, who is a racist and a sexist and all of that stuff, I think even Republicans and moderates are gonna say you know what, we can't have four more years of this guys."
"So do I think Joe can beat him? I do," Sanders reaffirmed, "you know, between you and me. Don't tell anybody," the senator said with a smile. But he added: "I think we're the stronger campaign to do that."
When asked the same question about Sanders, Biden responded quite differently.
"I don't think he can beat Donald Trump and keep a Democratic Senate, get a Democratic Senate and keep a Democratic House," Biden said during a late February interview with NBC News, suggesting that a Sanders nomination would also somehow undermine congressional elections.
The most recent polling suggests that both candidates could actually beat Trump in the general election, although Biden's odds currently appear slightly higher.
An average of recent national polls compiled by Real Clear Politics shows Biden ahead of Trump by about 6.3 points. Recent polls by CNN and Quinnipiac have the former vice president ahead by 10 and 11 points respectively. However, one outlier poll conducted by Emerson in mid-February shows Biden losing to Trump in a hypothetical match-up by 4 points.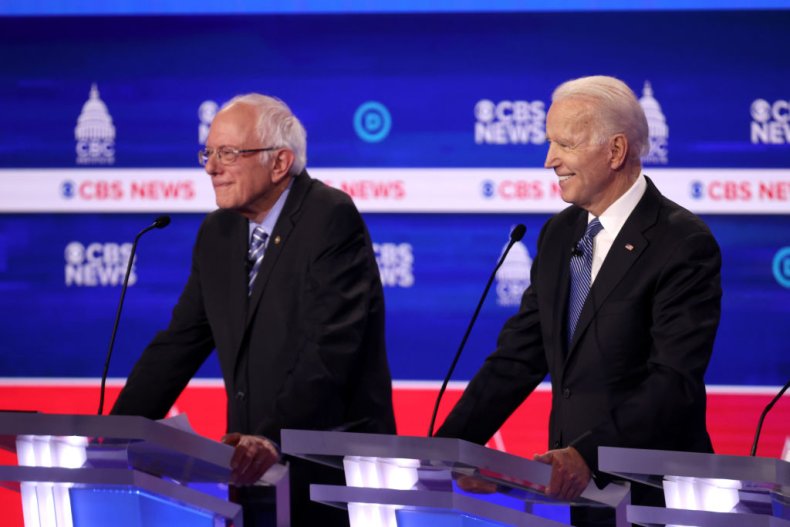 Meanwhile, Sanders is ahead of Trump by an average of 5 points, according to the Real Clear Politics compilation. The recent polls by CNN and Quinnipiac both show the senator beating Trump by 7 points. But unlike Biden, none of the recent hypothetical match-up surveys show Sanders losing to the president. In the mid-February Emerson poll, he narrowly wins with a 2 percent lead.
But Democrats learned in 2016 that national polling doesn't necessarily translate into an election victory. Former Democratic presidential candidate Hillary Clinton was at one point ahead of Trump by more than 20 points in multiple national polls. But Clinton went on to lose to Trump in the Electoral College, as Trump managed a series of narrow wins in key battleground states.