Bernie Sanders Says Pandemic Made Clear the 'Irrationality of the Current System'
Former Democratic presidential candidate Senator Bernie Sanders of Vermont has called for major economic and social reforms, arguing that the coronavirus pandemic has revealed the "irrationality of the current system."
Sanders, who endorsed his moderate rival former Vice President Joe Biden last week, raised familiar concerns about the inequalities in American society and how these problems have been exacerbated during the coronavirus pandemic in a Sunday opinion article for The New York Times.
He pointed out that millions of people in the U.S. have already lost their health insurance, despite the ongoing public health crisis.
"In the midst of the twin crises that we face — the coronavirus pandemic and the meltdown of our economy — it's imperative that we re-examine some of the foundations of American society, understand why they are failing us, and fight for a fairer and more just nation," the senator wrote.
"The absurdity and cruelty of our employer-based, private health insurance system should now be apparent to all. As tens of millions of Americans are losing their jobs and incomes as a result of the pandemic, many of them are also losing their health insurance," he added. "That is what happens when health care is seen as an employee benefit, not a guaranteed right."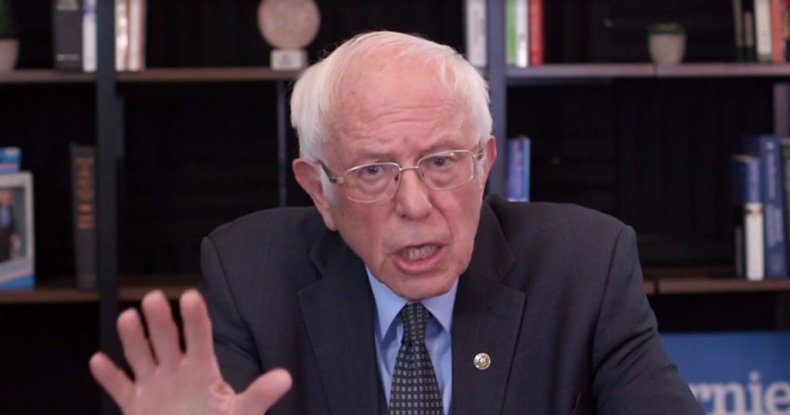 An analysis by the Economic Policy Institute found that 9.2 million Americans likely lost their health insurance coverage in the past month as unemployment surged nationwide. As most Americans access their health care through employers, losing a job often means losing insurance coverage as well. In the past four weeks, some 22 million workers have applied for unemployment, with analysts projecting that the unemployment rate now stands at about 15 percent.
Sanders explained that despite the dire need for health care workers and hospitals right now, thousands of health care workers have actually been laid off during the crisis while many clinics and hospitals are on the verge of bankruptcy.
"In truth, we don't have a health care 'system.' We have a byzantine network of medical institutions dominated by the profit-making interests of insurance and drug companies. The goal of a new, long-overdue health care system, Medicare for All, must be to provide health care to all, in every region of the county — not billions in profits for Wall Street and the health care industry," Sanders wrote.
The senator from Vermont went on to highlight other societal inequalities that the coronavirus pandemic has shown. He pointed out that minority and working-class communities have seen a higher number of confirmed cases of the novel virus as well as higher death rates.
"Working-class people are suffering higher rates of sickness and are dying at much higher rates than wealthy people," he wrote.
"This is especially true of the African-American community. This disparity in outcomes from exposure to the virus is a direct reflection not only of a broken and unjust health care system but also an economy that punishes, in terrible ways, the poor and working class of this country," the senator added.
Although Sanders dropped out of the race for the Democratic presidential nomination, his progressive policy ideas appear to be very popular with voters. In exit polls by CNN, 50 percent or more of Democratic voters in most primary states said they backed a universal government-run health care system as opposed to the current private insurance system.
Support for Sanders' signature policy proposal, Medicare-for-All, surged as the coronavirus pandemic spread throughout the U.S., a survey conducted by Morning Consult from March 27 to 29 found. Fifty-five percent of voters backed the Vermont senator's proposal for a single-payer universal health care system. That was the highest level seen by Morning Consult since June 2019, and nearly equal to the record high of 56 percent support reported back in January 2019.
"If there is any silver lining in the horrible pandemic and economic collapse we're experiencing, it is that many in our country are now beginning to rethink the basic assumptions underlying the American value system," Sanders wrote.