Vermont Senator Bernie Sanders warned during his remarks during Monday night's Democratic National Convention (DNC) that President Donald Trump was leading the U.S. towards authoritarianism.
Trump has referred to himself as "your law and order president," ordering federal agents to move into cities where protests against police brutality have devolved into periods of civil unrest. Many local government leaders in those cities have criticized Trump's decision and said they did not request federal assistance during the demonstrations. Sanders decried Trump's actions as "unthinkable."
"We're facing the worst public health crisis in 100 years and the worst economic collapse since the Great Depression," Sanders said. "We are confronting systemic racism and the enormous threat to our planet of climate change. And in the midst of all of this, we have a president who is not only incapable of addressing these crises but is leading us down the path of authoritarianism."
"Nero fiddled while Rome burned," Sanders added. "Trump golfs."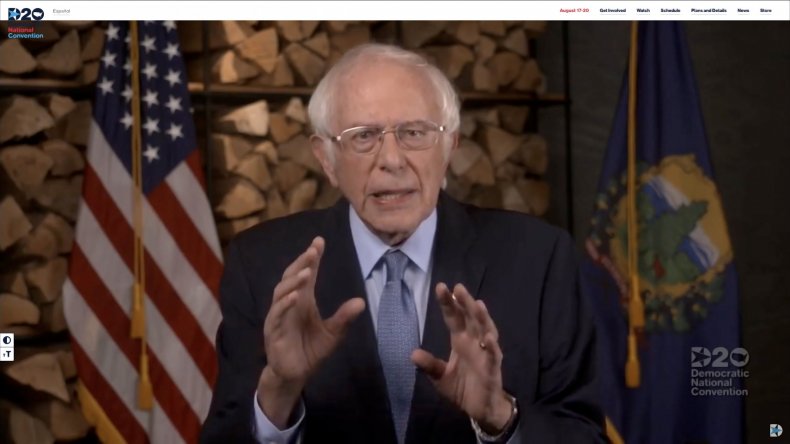 Sanders stated during his Monday remarks that he and his family "know the insidious way authoritarianism destroys democracy, decency and humanity."
Senator Sanders may have been referring to his Jewish heritage, which he said "profoundly" affected his political viewpoints during a Democratic town hall meeting in February.
"I think at a very early age before my political thoughts were developed," Sanders said, "I was aware of the horrible things that human beings can do to other people in the name of racism or white nationalism, in this case Nazism."
After President Trump deployed federal agents to Portland, Oregon to help quell violence during protests in the city, the agents were accused of taking protesters off the street and placing them into the backs of unmarked vehicles. In July, a letter signed by the mayors of 12 U.S. cities was sent to the Department of Homeland Security and the Department of Justice decrying the actions of the federal agents.
"These are tactics we expect from authoritarian regimes—not our democracy," the letter read, adding that the presence of the federal agents in cities where protests had turned violent was "wholly inconsistent with our system of democracy and our most basic values."
Trump said in July that his decision to deploy agents was designed to "help Portland, not hurt it."
"Their leadership has, for months, lost control of the anarchists and agitators," Trump tweeted. "They are missing in action. We must protect Federal property, AND OUR PEOPLE. These were not merely protesters, these are the real deal!"
In a statement sent to Newsweek on Monday, Trump 2020 National Press Secretary Hogan Gidley said, "Perhaps it was just an oversight, but the first night of the Democrat convention left out the fact that Joe Biden would raise taxes on more than 80 percent of Americans by at least $4 trillion. Also missing was his open borders policy, with amnesty and work permits for 11 million illegal aliens. There was no mention of Joe Biden's desire to cut police funding, kill ten million energy jobs with a green new deal, or give free healthcare to illegal aliens, but in fairness, it was only the first night."
"Democrats can try to conceal the dangerous truth with a Hollywood-produced infomercial," Gidley added, "but they can't hide the fact that the radical socialist leftist takeover of Joe Biden is complete."