Bernie Sanders Says Vice President 'Will Not Be an Old White Guy' If He Wins Nomination
Bernie Sanders said his running mate will not be an "old white guy" should he win the Democratic Party's 2020 presidential nomination.
The Vermont senator told The New York Times Editorial Board in an election endorsement interview that it was "a little bit premature" to name a running mate, with the first nominating contest in Iowa still 21 days away.
But he did confirm that the vice president in any Sanders White House would "not be an old white guy" and discounted the chances of former Vice President Joe Biden, saying his eight years in the office were "probably enough."
Sanders also told the Times Editorial Board he would consider following President Donald Trump by releasing a short list of potential Supreme Court picks before making a nomination.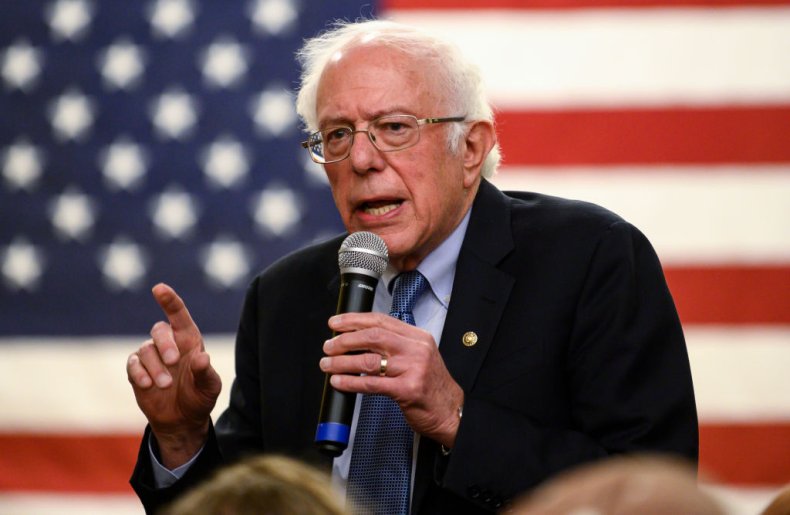 Asked who was on his running mate shortlist, the Vermont senator said: "All right, let me just say this. I think it's a little bit premature. It will not be an old white guy."
"I think Joe [Biden] has had eight years as vice president: probably enough," Sanders added. "I believe in diversity. I believe and know that my administration and my cabinet will look like America looks like. I'm not going to tell you who it's going to be."
The second place Democratic primary candidate said his team "haven't considered" who would be vice president in his administration, but added: "The country is long overdue for the kind of diversity that we're going to bring to the White House."
Although Sanders declined to say who he would pick as his running mate, the Vermont senator has previously said Representative Alexandria Ocasio-Cortez of New York would have a "very important role" in his White House, should he win the presidency.
Politico also reported in December that people around Sanders believed his fellow Democratic primary candidate Senator Elizabeth Warren was a "likely choice" for his running mate.
Speaking to the Times Editorial Board about who he would keep in mind for nominations to the Supreme Court, Sanders said they would have to be "100 percent" in favor of Roe v. Wade—the 1973 decision that established abortion as a constitutional right.
He further said any Supreme Court nominee under a Sanders presidency would be "somebody who understands [the] plight of the working class in this country," adding that they would have to be "prepared to stand up to the power of corporate interests."
"Got to kind of win the nomination first. I'm kind of struggling to do that. And I want to do that," Sanders said when asked if he would release a shortlist of possible Supreme Court nominees.
"But you know, it's not a bad idea. It's a reasonable idea. My wife agrees with you. Yeah. I'll take that into consideration. Nothing wrong with that."