Bernie Sanders Sits Down With 'Bernie Sanders' in New Campaign Video
Presidential candidate Sen. Bernie Sanders (I-Vt.) sat down for an interview with a comedic version of himself in a new campaign video released Thursday.
The video titled "Bernie vs. Bernie" appeared on YouTube the day after it was recorded, shortly before Wednesday's Democratic presidential debate. It features comedian James Adomian interviewing Sanders while doing an impression of the Vermont senator.
"What I said to myself was 'We don't get a fair shot in the mainstream media,'" said Adomian, in the video as Sanders. "So, I said 'What the heck, what the hey, I would interview myself!' So here we are."
Sanders later claimed "it was an honor to talk to myself" in a Thursday tweet sharing a clip of the video.
In one of the video's absurd exchanges, Adomian asked the senator for tips on how to achieve his signature style, claiming he had been having trouble matching the senator's "rumpled" look and complaining he couldn't find a suit in a "size rumpled."
"Well here's the secret: You gotta sit on the suit," said the real Sanders. "You get into the car, you put it down, you sit on it. Anyone can have a rumpled suit. But there's a real art to the rumple."
"I slept on this in a garage," insisted Adomian.
"Not enough. You gotta go back and sleep on it again," said Sanders. "Much too neat. And the pants, I detect a crease there. The shoes are polished."
"The shoes are not polished, they're orthopedic," said Adomian.
While most of the mock interview focused on light topics, it also offered a comedic twist on some issues that have been central to the Sanders campaign.
Adomian brought up the senator's proposal to offer free college tuition, urging that it be extended to cover improvisational comedy as long as it's done at a "reputable, accredited four-year improv program." Sanders did not commit to government-funded improv classes but insisted that improv comedians would be covered under his proposed federal jobs guarantee program.
"In fact, they would be the main part of this jobs guarantee," said Sanders. "Anyone who wants to go into improv, they've got a job."
Adomian also suggested Sanders supports the Democrats' proposed "Green New Deal" legislation because he is secretly interested in engaging in "cosplay," by dressing up like a "green Franklin Delano Roosevelt." Sanders appeared to agree with Adomian, but suggested he would have preferred if his comedy doppelganger had kept it a secret.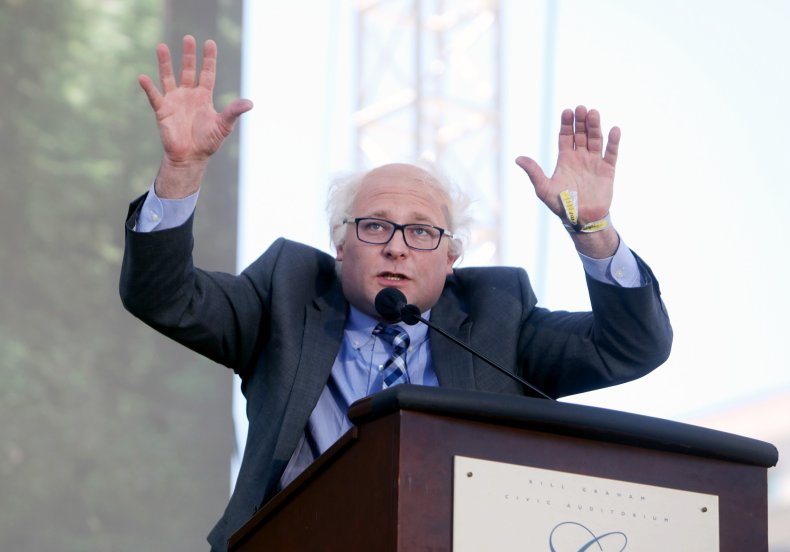 Before the 2016 presidential election, Adomian's Sanders began performing alongside fellow comedian Anthony Atamanuik's version of President Donald Trump, in a popular series of mock "Trump vs. Bernie" debates that have included several international tours and televised specials. Atamanuik's Trump was given his own Comedy Central show shortly after the election, The President Show.
In addition to the Sanders impression, Adomian is well-regarded by fans for his standup and character comedy. Earlier notable appearances included Last Comic Standing and recurring performances as former President George W. Bush on The Late Late Show with Craig Ferguson. He is also known for his appearances on popular comedy podcasts including Comedy Bang! Bang! and his own character-based podcast The Underculture, which co-presented Thursday's video with the Sanders campaign.