Fox News Host Describes Bernie Sanders' Campaign Slogan As 'Stay Home, Get High, I'll Pay Off Your Loan'
Fox & Friends co-host Brian Kilmeade boiled Vermont Senator Bernie Sanders' campaign slogan to "Stay home. Get high. I'll pay off your loan" during a segment on Tuesday's show.
Kilmeade's comments came during a segment where contributor Pete Hegseth interviewed voters before the New Hampshire Primary to get a sense of which candidate could win.
"That's a pretty catchy slogan," Kilmeade said, citing Sanders' stances on student debt and legalizing marijuana as part of his appeal to young voters. "I mean, that's pretty good. Marijuana."
However, Sanders' campaign slogan is "Not me. Us." His campaign also sells a t-shirt and water bottles with the slogan "College for all. Medicare for all. Jobs for all. Justice for all," to briefly explain the issues Sanders emphasizes to voters.
Speaking to the Fox & Friends hosts, Hegseth explained what those he interviewed said made up Sanders' appeal. "When we talked to young people there, I said 'What about your friends?' They said they love Bernie, because he's going to pay for their school and pay for their debt-pay for their student loans," Hegseth said. "It's almost a single-issue for some of these young people."
"Marijuana," Kilmeade interjected. Hegseth agreed that marijuana is another issue that appeals to Sanders voters.
Sanders has campaigned on a college for all and student-debt forgiveness platform. According to Sanders' campaign website, the senator plans to "guarantee tuition and debt-free public colleges, universities, [historically black colleges and universities], minority-serving institutions, and trade schools to all."
Sanders' campaign has also promised to forgive student loan debt for about 45 million Americans who owe about $1.6 trillion. The campaign also has detailed plans to cap student loan interest rates at 1.88 percent.
Sanders' campaign website also says that he plans to legalize marijuana in his first 100 days in office.
Sanders' campaign and Fox News did not immediately respond to requests for comment from Newsweek.
Hegseth also hosted the show's Breakfast with Friends segments where he spoke to voters at a restaurant in Bedford, New Hampshire. Those voters predicted that Sanders and former South Bend, Indiana Mayor Pete Buttigieg were the two most likely candidates to win Tuesday's Democratic primary. "I think that Pete and Bernie really have strong people backing them. So, I don't know, it's a toss-up," one voter told Hegseth.
One voter, who supports Minnesota Senator Amy Klobuchar, also told Hegseth what he felt is Sanders' appeal. "I think Bernie has a good support system out there, and he seems to be knocking on my door more than most," he said. "We got a lot of calls and a lot of them were Bernie calls, and I think he has a support system that's probably unmatched."
"A lot of Bernie supporters, as you mentioned Steve earlier in the program, canvassing the block, talking to voters," Hegseth said. "It's anyone's game today -- a lot of late changes at the last minute at the polls."
Fox & Friends co-host Ainsley Earhardt also said that Sanders is campaigning hard to win the New Hampshire primary as he did during the 2016 primary. "He's working hard. He's hired 150 staffers here in this state alone," she said.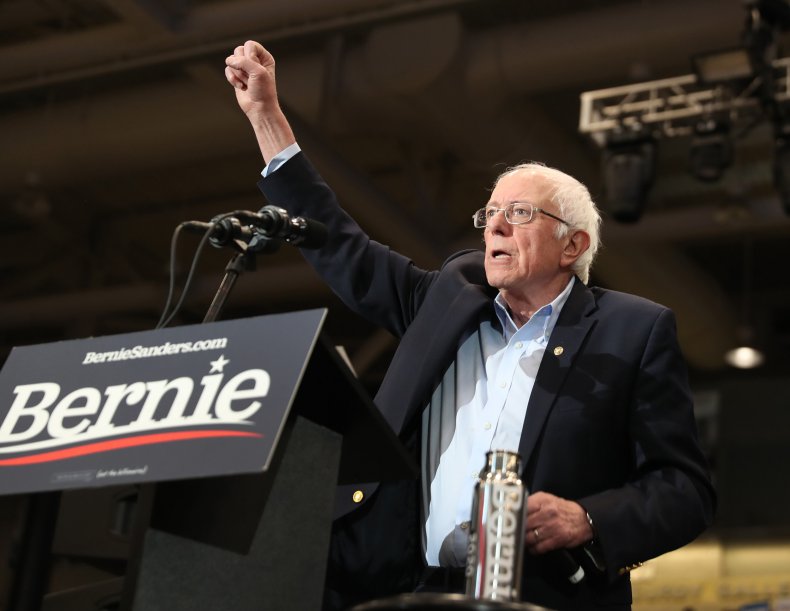 Sanders is hoping for a repeat of 2016, where he defeated former Secretary of State Hillary Clinton. In 2016, Sanders received about 47 percent of the delegate votes and 60 percent of the popular vote.
An Emerson College poll showed 44 percent of New Hampshire residents think Sanders will be the Democratic nominee in the 2020 election. Another poll from early February showed Sanders leading the other nominees at 29 percent among moderate and conservative voters. A Morning Consult poll showed the Vermont Senator leading with 25 percent in a national poll.