Bernie Sanders Insists Democratic Socialism Can Beat Trump As Debate Rivals Attack Policies
Senator Bernie Sanders defended his socialist policies on Thursday night, telling his Democratic rivals that plans like Medicare for All and free college tuition can help take down Donald Trump in 2020.
"The last poll I saw had us 10 points ahead of Donald Trump because the American people understand that Trump is a phony, that Trump is a pathological liar and a racist and he lied to the American people during his campaign," Sanders said.
Sanders' remarks came after former Colorado governor John Hickenlooper was asked to explain why he thought Democrats would lose the general election if they branded themselves as democratic socialists.
"The bottom line is, if we don't clearly define that we are not socialists the Republicans are going to come at us every way they can and call us socialists," Hickenlooper said. He added that while he admires bold proposals like the Green New Deal and universal health care, he doubted how successfully they could be implemented.
Earlier this month, Hickenlooper was booed at the California Democratic Convention for rejecting socialism.
"If we want to beat Donald Trump and achieve big progressive goals, socialism is not the answer," Hickenlooper said to a crowd. Before he could get finish his next sentence, the audience (filled with "Bernie" signs) booed him for more than 30 seconds.
During Thursday's debate, Colorado Senator Michael Bennet also said he disagreed with Sanders' Medicare for All health care plan. He also pointed out that because of the increase in taxes to pay for the proposal, Sanders' home state of Vermont rejected a Medicare for All plan.
"Health care is a right," Bennet said. "We need to get to universal health care. I believe the way to do that is by finishing the work we started with Obamacare."
Since launching his 2020 campaign in February, the 77-year-old senator has steadily ranked among the top Democratic candidates in early polls. Real Clear Politics' average of national polling shows Sanders to have 16.9 percent support, placing him in second behind former Vice President Joe Biden.
But in recent weeks, Sanders has continued to drop in the polls to progressive Massachusetts Senator Elizabeth Warren. In one Economist/YouGov survey, Warren was beating Sanders by 4 percentage points. In another poll, conducted by Monmouth University, Sanders was trailing Warren by 6 percentage points.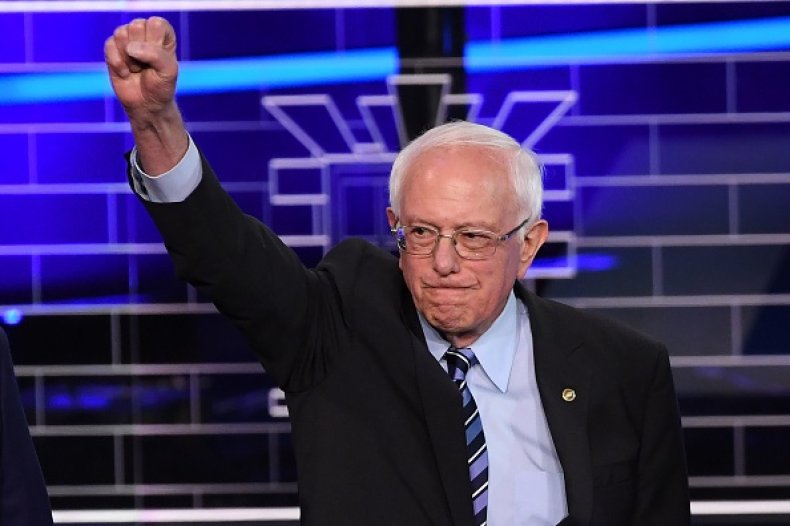 In 2016, Sanders set the bar for progressive politics in the Democratic Party. But in his second shot at the party's nomination, many of his competitors have also adopted his once-radical proposals like universal health care, free public college and campaign finance reform.
Still, his Medicare for All plan is one of the most progressive health care policies. The proposal calls for getting rid of private insurance altogether in favor of a government-run system. Sanders' bill would transition the U.S. to a universal Medicare system over four years.
During Wednesday's debate, only two of the 10 candidates on stage raised their hand when asked if they supported Sanders' Medicare for All Plan: Warren and New York City Mayor Bill de Blasio. Warren explained that she backed the plan because she's studied "why people go broke" and said it's often because of the high cost of healthcare.
"Some politicians say Medicare for All isn't possible. What they're really saying is that they don't want to fight. Well, I do. Health care is a basic human right," Warren said, prompting applause from the audience. "We fight for basic human rights, and that's why I'm fighting for Medicare for All."