Bernie Sanders Solidifies Front-runner Position as Joe Biden Loses African American Support: Poll
Bernie Sanders has overtaken Joe Biden in a new national poll, strengthening his position as the Democratic primary frontrunner, even as the former vice president has seen his support among black voters fall.
The new survey, released by Emerson College Polling on Wednesday morning found the Vermont senator had 29 percent support among primary voters, a two-point increase on his performance in the pollster's January survey.
Biden fell eight points to second place in the poll, with only 22 percent of polled Democrat voters backing the ex-vice president.
While he still leads on support among minority voters, Biden has seen his support drop from 41.2 percent in the January Emerson poll to 28.8 percent this month.
The former vice president's rating among all non-white voters stands at 28 percent, while 22 percent back his progressive rival Sanders.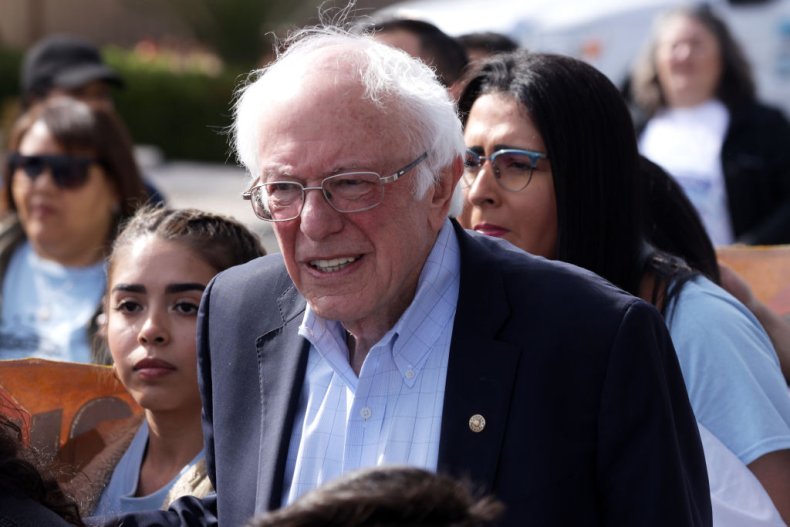 In a statement released with the new polling results, Emerson College Polling director Spencer Kimball said: "Sanders continues to build upon his base and has solidified his position as the frontrunner.
"Biden has lost support, especially among African Americans, which now opens the door for Bloomberg, maybe Buttigieg or even Klobuchar to win over the moderate voter and become the alternative to Sanders going into Super Tuesday."
Biden's closest moderate rival and former New York City mayor Mike Bloomberg boosted his rating in the Emerson poll by seven points, taking him into third place with 14 percent of Democrats backing him.
The billionaire's surge in the poll came at the cost of Massachusetts Sen. Elizabeth Warren, who is now in fourth place with just 12 percent support for her primary campaign.
Her colleague Sen. Amy Klobuchar and former South Bend Mayor Pete Buttigieg both polled at single digits, despite strong showings in the first two nominating races. Eight percent of polled Democrats backed Buttigieg while just 6 percent said they supported Klobuchar.
A little more than half of all Democratic primary voters (52 percent) said they had settled on their preferred candidate, meaning 48 percent are still liable to switch their support.
On top of having the most committed primary supporters, according to the Emerson poll, Sanders was also the only Democrat found to beat President Donald Trump in head-to-head polling that did not include Sen. Warren.
Asked if they preferred Sanders or Trump heading toward the 2020 election, 51 percent of surveyed voters said they backed the Vermont senator, while 49 percent opted for the president.
President Trump won by the same 51 percent to 49 percent margin when pitted against Buttigieg, Bloomberg and Klobuchar, and he beat Biden with 52 percent of the projected vote.
The Emerson College poll was conducted between February 16 and February 18 with a sample size of 1,250 registered voters. Its margin of error stands at 2.7 percentage points.