Despite a legislative setback last week, Senator Bernie Sanders has vowed to continue his fight to raise the federal minimum wage, saying he would introduce an amendment to the coronavirus relief package as it goes through the upper house.
The Vermont lawmaker has expressed his disappointment with the ruling by the Senate parliamentarian that raising the minimum wage to $15 could not be folded into the $1.9 trillion American Rescue Plan and so could not be part of the budget reconciliation process requiring only a simple Senate majority.
Soon after the decision by Elizabeth MacDonough, Sanders told a virtual town hall organized by People's Action: "I don't want anyone out there to think that we have given up."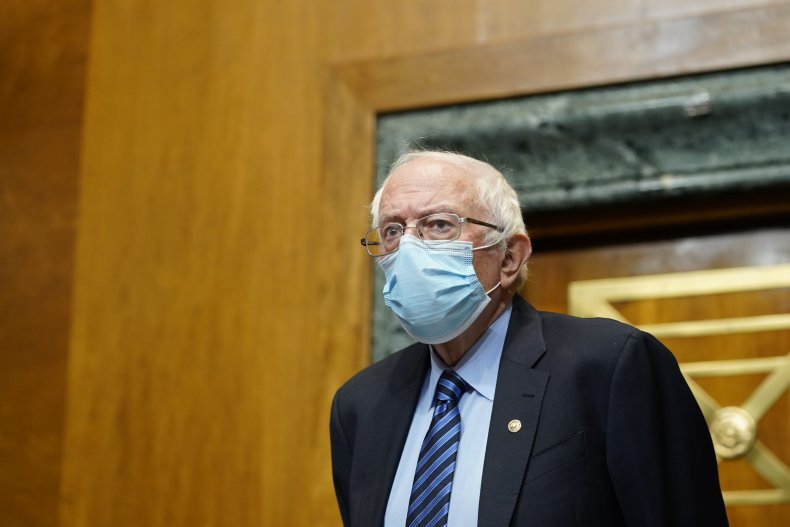 In a signal of intent, Sanders tweeted on Tuesday: "As soon as tomorrow, I will introduce an amendment on the floor of the U.S. Senate to end starvation wages in America. No one can survive on $7.25 an hour."
He did not specify any further what his move would be but with the message, he shared a TV interview in which he said that "I don't think $15 an hour is a radical idea."
In the clip with CNN host Wolf Blitzer, he said that he had the support of the Senate Majority Leader, Chuck Schumer, the House Speaker, Nancy Pelosi and the "vast majority of the American people."
Sanders said in the interview: "The idea we have a parliamentarian that is elected by nobody, who is simply a Senate staffer, making a determination that 30 million Americans are not going to get a pay raise is to me, unacceptable. So we're sticking with $15 an hour and I believe we are going to pass that."
Sanders had earlier proposed MacDonough's ruling could be circumvented by introducing a new tax on large companies which paid less than $15 an hour. But he admitted on Monday to reporters such a move could be avoided if firms turned workers into independent contractors.
Illinois Senator Dick Durbin, the second ranking Senate Democrat, said another piece of legislation should be used to increase the minimum wage and rejected the calls by Sanders and other progressives to overrule MacDonough's decision.
"I don't think that's going to work. I hope that we think very seriously about dealing with the minimum wage in a different venue," he said, according to The Hill.
Meanwhile, Sanders reiterated that the minimum wage fight also demonstrates the need to do away with the filibuster, or 60-vote minimum threshold most legislation requires to pass.
In a Twitter thread, he said that "we cannot allow a minority of the Senate to obstruct what the vast majority of the American people want and need."
Newsweek has contacted Sanders' office for comment.
The graphic below, provided by Statista, shows the minimum wage by state legislation.