Bernie Sanders Rally Ends With the Strokes Performing 'New York City Cops' as Police Rush Stage
During a campaign rally for Senator Bernie Sanders, indie rock superstars the Strokes performed their early 2000s classic "New York City Cops," as supporters and police took to the stage, and fans "love[d] to see it," on Twitter.
On Monday, the Strokes performed at Sanders' rally, which also included a speech by New York representative Alexandra Ocasio-Cortez, with a lively performance that included both classic and new songs. After premiering the music video for its new song "At the Door," lead singer Julian Casablancas said the band would play "an old favorite," as its last song.
Casablancas invited fans and Sanders supporters to the stage after a crowd-surfer was escorted off the stage, before stage-diving. "Let him jump," Casablancas shouted mid-song at the security guard. "Come up on the stage, y'all. Come on, let them up!" As audience members danced onstage, police made their way up. At one point an officer seemingly tries to get Casablancas' attention as he sang the song's final chorus of "New York City cops, they ain't too smart."
According to Setlist.fm, "New York City Cops" was not on the band's set list for the New Hampshire performance and multiple songs, including hits "Late Nite" and "Automatic Stop" were supposed to be played as encores.
Before launching into "New York City Cops," the Strokes also announced that their next album The New Abnormal will be released April 10.
RCA Records and Cult Records, the Strokes' labels, did not immediately respond to request for comment.
Strokes fans and Sanders supporters took to Twitter to both appreciate the irony of "New York City Cops" being played as police took to stage and excitement at the level of energy the Strokes brought to the 2020 campaign.
"We love to see it," one Strokes fan and Sanders supported tweeted.
"LETS GET IT NEW HAMPSHIRE," Hether Fortune of the band Wax Idols tweeted.
"Your candidate could never," activist Jordan Uhl wrote. Another supporter called the performance "absolutely iconic."
Sharing a clip with flashing lights and fans bouncing, ABC reporter Adam Kelsey noted the event's size with 7,500 people attending, "potentially more than some candidates will receive in votes tomorrow." "This is a political rally for a 78-year-old presidential candidate," he tweeted.
Casablancas only spoke about why he supported Sanders at length once during the performance in a somewhat humorous monologue. "I've been super into pirates lately, as one is, as one does. Don't ask. I'm saying how pirates are the enemies of all mankind-great fashion sense, but they stole and raped for money, as the people that Bernie is trying to knock out of office," Casablancas said in the middle of the band's set. "No disrespect to pirates though-modern business people, way worse."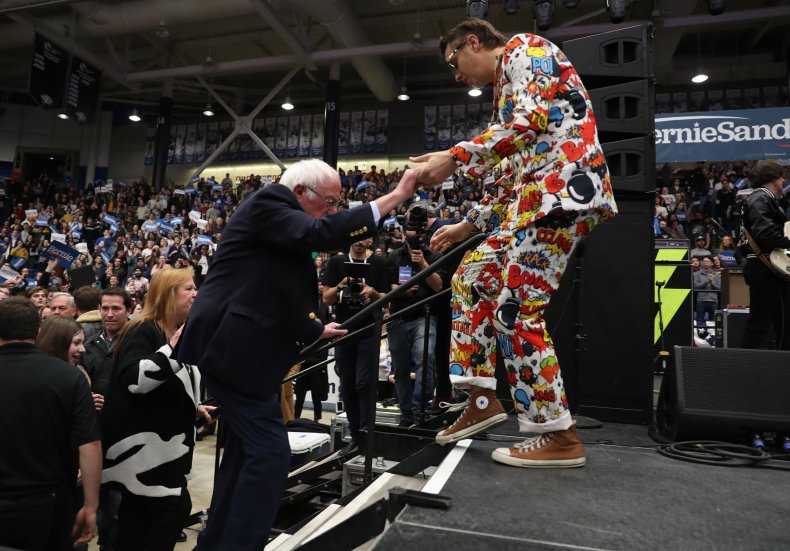 Bernie Sanders Rally Ends With the Strokes Performing 'New York City Cops' as Police Rush Stage | News