Bernie Sanders' Student Loan Debt Plan Could Sway Increasingly Influential Gen Z Voters in 2020 Election
Senator Bernie Sanders, a 2020 presidential candidate, unveiled a student debt forgiveness plan Monday in a move that could make a difference with Generation Z voters come Election Day.
Over 40 million Americans have student loan debt, equaling an estimated $1.6 trillion dollars. Given the widespread effect of the issue, it's a topic various presidential candidates have started to address.
In April, Senator Elizabeth Warren shared her plan to cancel $50,000 worth of student loan debt for those with a household income under $100,000. On Monday, Sanders took student loan forgiveness a step farther, introducing a plan that would eliminate all $1.6 trillion of debt through a Wall Street tax.
"By taking this action we not only provide immediate financial relief to 45 million Americans who have $1.6 trillion in debt but we will be improving the entire economy," Sanders said during a press conference.
For many of those in Generation Z, people born beginning in the mid-1990s, the 2020 presidential election will be the first time they're casting ballots. On the list of their concerns, according to a survey by Barnes & Noble College, is the cost of their education.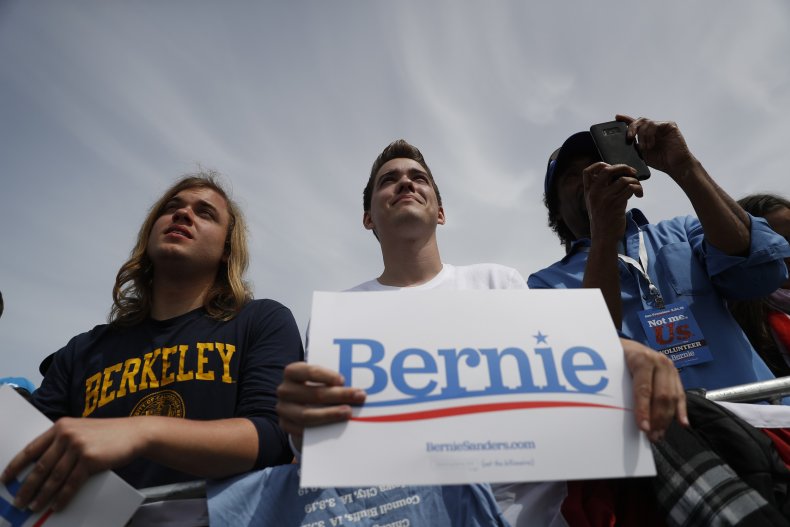 Released on Thursday, the survey identified the top five issues Generation Z wants to be addressed during election discussions. "The ability to go and pay for college" was ranked as the fourth most important issue to the youngest voting demographic.
Barnes & Noble College noted that Generation Z voters were predicted to account for one-in-10 eligible voters, with 95 percent of college students who were registered voters responding they had plans to vote in 2020. Three out of four students were already registered to vote and 60 percent of those who weren't said they planned to register.
"Generation Z is positioned to be a truly defining force in the upcoming election ... They want to make their voices heard by casting their ballots on election day," the study said.
Sixty-four percent of survey respondents identified as Democrats and 32 percent identified as Republican.
Sanders' bill was championed by several members of Congress including Democratic Representatives Ilhan Omar and Pramila Jayapal, who both co-sponsored the bill, along with Representative Alexandria Ocasio-Cortez.
"There are currently 45 million Americans with student debt," Omar said in a joint statement. "That's 45 million people who are being held back from purchasing their first home; 45 million people who may feel that they can't start a family; 45 million people who have dreams of opening a business or going into public service, but are held back."
Along with student loan forgiveness, the bill would make community colleges, trade schools and apprenticeship programs free for all. Low-income students would also be eligible for eliminated or significantly reduced tuition and fees at two-and four-year private nonprofit Historically Black Colleges and Universities (HBCUs) and private nonprofit Minority Serving Institutions (MSIs).
The survey, one of multiple in the Barnes & Noble Colleges' Conversations with Gen Z series, polled 1,500 college students nationwide.