Bernie Sanders Camp Says Ending Superdelegate 'Debacle' Key to Defeating Trump in 2020
It was June 2016. Former Bernie Sanders surrogate Nina Turner was just about to go onstage to introduce the Vermont senator at a San Francisco rally she estimated drew some 30,000 people. But just before she could, she noticed a "wave of despair" overcome the crowd as everyone, almost simultaneously, looked worryingly at their phones.
Though California residents had yet to cast their ballots in the 2016 primaries, the Associated Press was reporting that Hillary Clinton had effectively won.
The AP's forecast was the result of the Democratic National Committee's superdelegate system, which meant that Clinton needed only garner support from enough party delegates to win the presidential nomination. Now, members of the Sanders camp are leading calls to overhaul the system they say continues to leave voters disillusioned with the Democratic Party.
"What happened in 2016 put a bad taste in the mouths of people who believe in fairness and transparency," Turner, the president of Our Revolution, a progressive group inspired by Sanders's presidential campaign, told Newsweek. "The general public may not necessarily get involved in the insider details of the DNC, but most voters know about this superdelegate debacle. That's not the reputation I want my party to have."
Being considered right now is a proposal that would slash the number of superdelegates by 60 percent by depriving members of the DNC of their superdelegate votes in the initial round of voting, giving them the freedom to support whichever candidate they choose should the vote go into a second round. The proposal is the work of the Unity Reform Commission, a committee formed by the Sanders and Clinton campaigns in 2016, aimed at changing the DNC's rules on superdelegates.
Such a change could have made a difference at the fateful June 2016 Sanders rally Turner recalled. Cutting down on the number of superdelegates would mean there would be a higher number of delegates in the Democratic Party who have to cast their votes in accordance with the actual primary results. Under the current system, a Democratic candidate can still claim delegates from a state he or she lost by a wide margin if those delegates are among the roughly 700 superdelegates, the Democratic Party leaders who have the ability to cast their votes however they choose.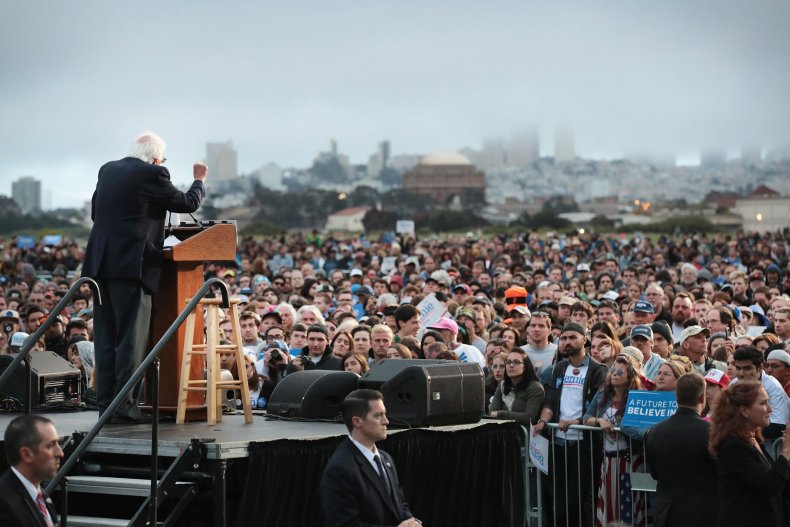 DNC officials say this system, as it stands now, will hopefully become a thing of the past.
"The DNC has advanced measures to make clear that the status quo as it relates to superdelegates is off the table for the 2020 presidential nomination process," Michael Tyler, a DNC spokesperson, told Newsweek in an email on Monday. "The DNC's Rules and Bylaws Committee is now working diligently to solidify the full DNC's commitment to reducing the role that superdelegates play and make our nomination process the fairest and most transparent in the history of American presidential politics."
As the efforts press on, former Sanders campaign manager Jeff Weaver has asked top Democrats like House Minority Leader Nancy Pelosi, Senate Minority Leader Chuck Schumer, DNC chair Tom Perez, co-chair Keith Ellison and Clinton herself to renew their commitment to reforming the superdelegate system.
"We believe that the passage of these reforms is a fundamental and necessary step in re-establishing faith with those who have lost confidence in the party as a vehicle for change," Weaver wrote in a letter obtained by BuzzFeed News. "Now is the time to go forward, not backward."
Turner, who took over Weaver's post at Our Revolution in June, said "re-establishing faith" among Democrats will be key if the party wants a shot at turning out voters in 2020 and defeating President Donald Trump.
"We have to show voters—registered Democrats as well as independent voters who lean our way—that we recognize our faults and our failings and that we're willing to correct them," Turner said. "We're saying to millions of voters that the process is open, and we'll commit to a more robust debate and contest than we had in 2016.
"We're going to give voters choice," Turner added. "Choice is a beautiful thing."