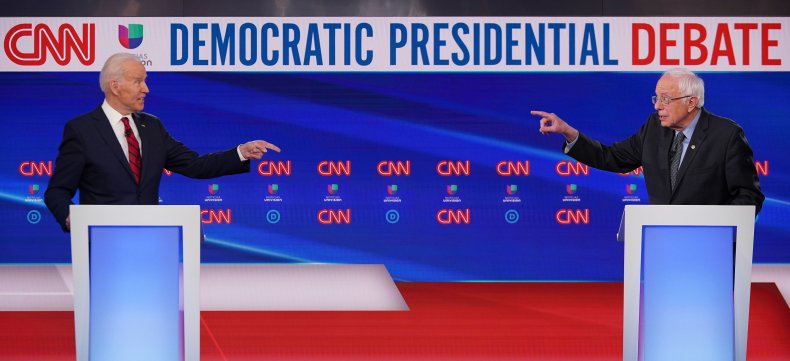 Democratic supporters of Senator Bernie Sanders are less likely than the average member of their party to commit to backing Joe Biden in a match-up against President Donald Trump should the former vice president clinch the nomination, a new poll showed.
While 90 percent of Democrats would commit themselves to support Biden in a head-to-head match-up against Trump, 82 percent of Sanders supporters would do the same, the survey from Morning Consult found.
The survey, conducted from March 11 to 15, also showed that this represents a notable improvement in Democratic Party solidarity since the 2016 elections. This year, Morning Consult found just 7 percent of Sanders voters would support Trump over Biden. This is down from a 12-percent share of his supporters in 2016 who backed Trump over Hillary Clinton, according to the Democracy Fund Voter Study Group.
Eighty-five percent of Biden supporters said they would be inclined to back Sanders over Trump, a mere three-point improvement over Sanders' numbers. Tracking where Sanders' voters will go is significant because Biden is poised to clinch the nomination and will need to maintain a coalition that includes disaffected Sanders supporters in order to ensure a general election victory. The latest FiveThirtyEight primary forecast calls Biden's nomination a near-certainty.
In recent days, the former vice president has appeared to make overtures to the progressive wing of the Democratic Party, signaling an embrace of policy positions that he did not back in the past.
"Bernie has put forward a plan that would make public colleges and universities free for families whose income is below $125,000," Biden tweeted Sunday. "It's a good idea, and after consideration, I am proud to add it to my platform."
Biden also tweeted an endorsement of a bankruptcy reform platform developed by Senator Elizabeth Warren that would repeal provisions of a law he had supported in 2005.
Warren has declined to endorse either candidate still in the race as of Tuesday. Both Biden and Sanders have worked to court her support since she suspended her campaign in early March.
Other polling has demonstrated the relative loyalty of Sanders supporters. A Washington Post survey conducted ahead of the Iowa caucuses found that only 20 percent of his supporters were willing to change their vote when surveyors told them that Sanders would likely lose against Trump. However, 34 percent of the supporters of other Democratic contenders indicated a willingness to switch when told their candidate would likely fail in the general election.
The results of the Washington Post survey included intuition on voter priorities that has also been supported by previous polling. Sanders supporters were found to care less about "electability" and more about supporting an ideologically similar nominee.