Bernie Sanders Surges 14 Points in Maryland, Biden Slumps Into Second Place: Poll
Bernie Sanders has become the frontrunner in Maryland after surging 14 points in the state over the last five months, according to a new poll.
The latest survey released by Goucher College in Baltimore revealed the Vermont senator had 24 percent support among polled state Democrats, giving him a six-point lead at the front of the primary pack that reflects his recent boost in national primary polls.
Joe Biden polled in second place as just 18 percent of Maryland Democrats favored the former vice president—putting him 15 points down on his performance when the same poll was conducted in September last year.
In the new Goucher College poll conducted this month, Bloomberg was also found to be within two points reach of Biden as 16 percent of Maryland Democrats said they would opt for the billionaire.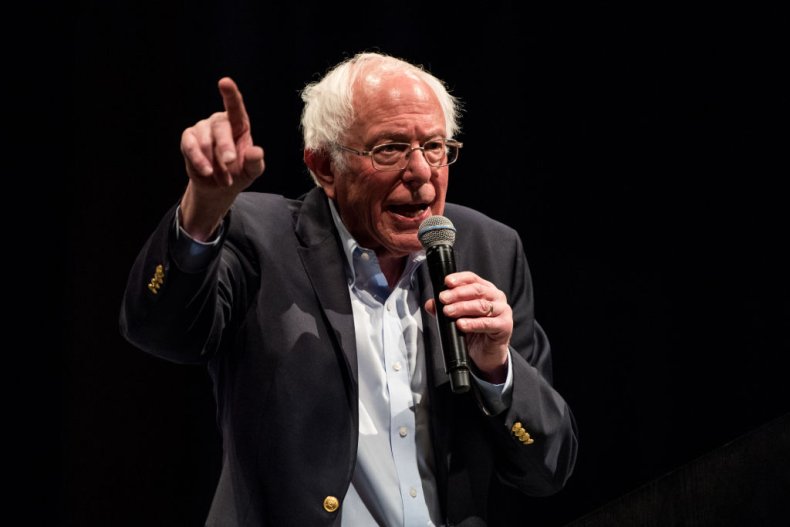 Less than half that number (7 percent) of polled Democrats supported former South Bend Mayor Pete Buttigieg, and just six percent backed Elizabeth Warren and Amy Klobuchar, putting the senators in a joint fifth place.
When the same poll was published in September, Massachusetts Sen. Warren was in second place with 21 percent of polled Democrats in Maryland backing her campaign.
At the bottom of the latest Goucher survey, both Hawaii Rep. Tulsi Gabbard and billionaire Tom Steyer polled at zero percent with state voters.
In a statement released with the results, Mileah Kromer, director of Goucher's Sarah T. Hughes Field Politics Center, said: "There's been significant change in the preferences of Maryland Democratic likely voters since the September 2019 Goucher College Poll.
"Reflecting national polls, Sanders has gained ground while both Biden and Warren have lost support in Maryland. After a late entry to the race, Michael Bloomberg has built some support among Maryland Democrats."
Kromer added that there would be a "better picture" of how the Maryland primary race might play out after the spate of nominating contests on Super Tuesday, adding that it was "certainly possible that the Maryland primary
will be hotly contested rather than inconsequential to the outcome of the primary."
The Goucher College poll surveyed 371 likely Democratic voters between February 13 and February 19, following the opening nominating contests in Iowa and New Hampshire. Its margin of error is 5.1 percent.
The Maryland primary is slated to take place on April 28 along with primaries in five other states—including New York, Delaware and Pennsylvania.
Real Clear Politics' average of national Democratic primary polling shows Sen. Sanders is the clear frontrunner, with support among a little more than 29 percent of Democrats giving him a 12-point lead over Biden.
Bernie Sanders Surges 14 Points in Maryland, Biden Slumps Into Second Place: Poll | U.S.