Bernie Sanders Takes Lead In New Hampshire Primary, Buttigieg and Biden Battle For Second, In New Poll
Vermont Senator Bernie Sanders is leading among New Hampshire voters, while former South Bend, Indiana, Mayor Pete Buttigieg and former Vice President Joe Biden are vying for second place, according to the results of a Monmouth University poll released Thursday.
Respondents were asked which candidate they would vote for if the Democratic primary were held that day. Sanders led the pack, with 24 percent of those polled saying he would be their first choice. Behind Sanders was Buttigieg, whom 20 percent said they would vote for. Trailing behind Buttigieg, at 17 percent, was Biden.
Of these three candidates, only Biden has steadily lost support among New Hampshire voters in previous iterations of the university's poll over the past few months. He had 36 percent support in May 2019, which dropped to 25 percent in September and then 19 percent in January.
Patrick Murray, director of the independent Monmouth University Polling Institute, offered reasons for why some of the candidates have the support shown in the poll's results.
"Sanders voters [home] in on his policy platform as the decisive factor in their support," he said in a statement. "Biden voters are focused almost exclusively on beating Trump. Buttigieg seems to have an appeal for both types of voters. This may help him in the final days of this contest, especially if New Hampshire Democrats perceive the field to be narrowing."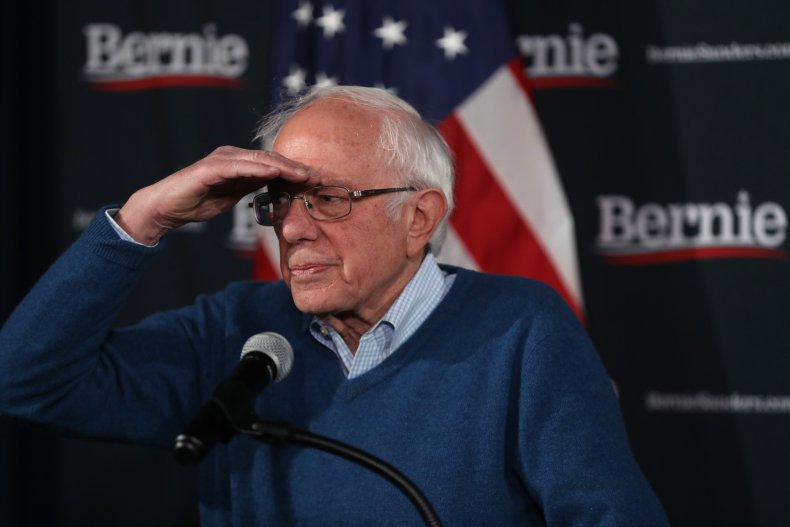 Massachusetts Senator Elizabeth Warren fell behind Sanders, Buttigieg and Biden, with 13 percent support. Minnesota Senator Amy Klobuchar followed her with 9 percent. Then came Representative Tulsi Gabbard (4 percent), entrepreneur Andrew Yang (also 4 percent), billionaire businessman Tom Steyer (3 percent), former Colorado Senator Michael Bennet (1 percent) and former Massachusetts Governor Deval Patrick (less than 1 percent).
Most respondents (55 percent) said that defeating incumbent President Donald Trump was more important to them than any specific policy stance, according to the poll.
New Hampshire's presidential primary is on February 11. The recent poll from Monmouth University was conducted by telephone between February 3 and 5 among 503 voters in that state who are likely to vote in the contest. The poll's maximum margin of error was plus or minus 4.4 percentage points.
The next Democratic presidential debate is on Friday in Manchester, New Hampshire, four days after the Iowa caucuses. The release of the caucus results has been marred by errors and technical difficulties. As of Thursday afternoon, there was no certain victor in Iowa. Both Sanders and Buttigieg have claimed they won the caucuses.