Bernie Sanders Mirrors Trump, Blames Hillary Clinton for Not Combatting Russian Meddling, Denies It Helped His Campaign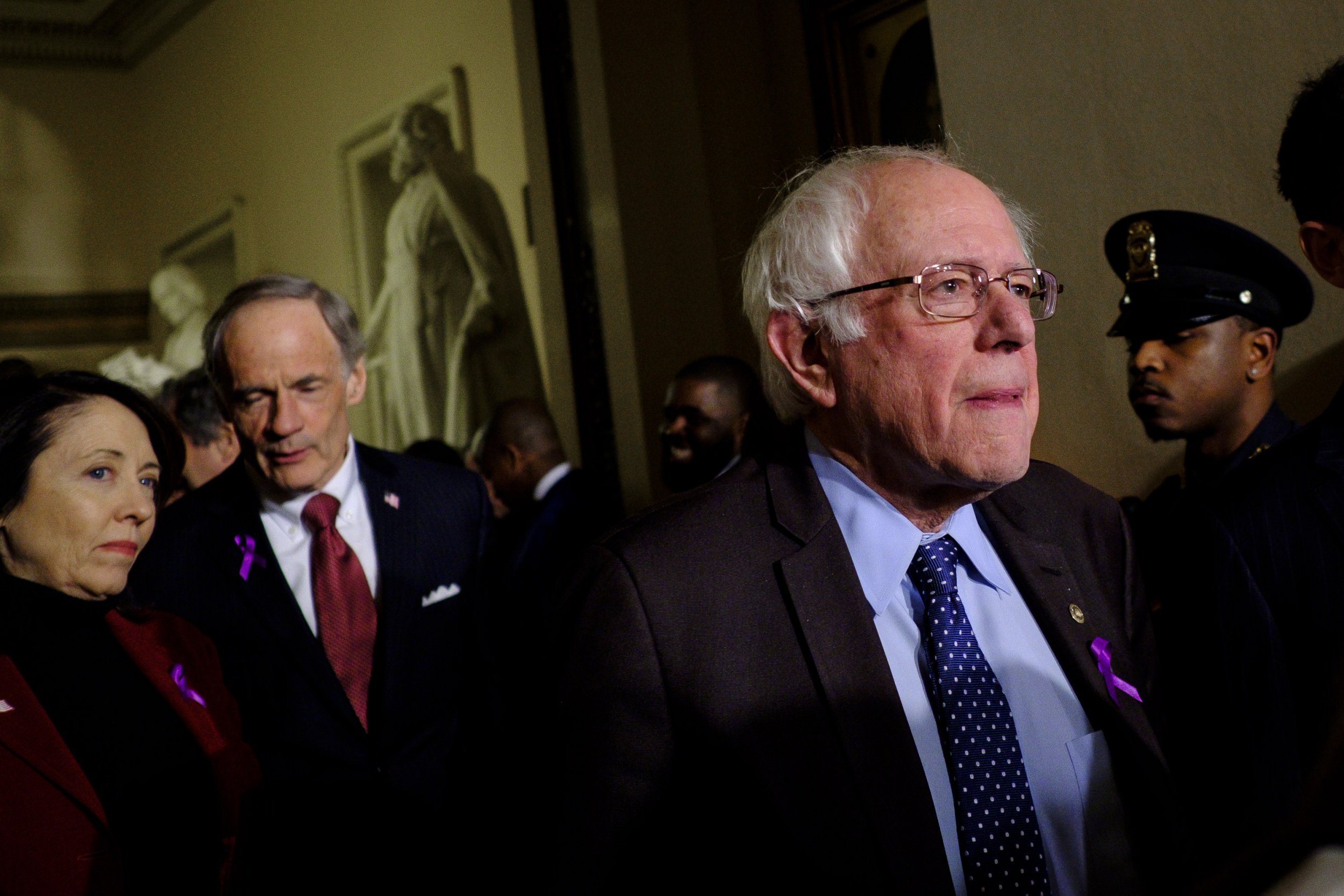 Senator Bernie Sanders pinned blame Wednesday on Russia's interference in the 2016 election squarely on Democrat Hillary Clinton's campaign, largely reflecting President Donald Trump's repeated claims. The Vermont independent, who ran in the Democratic primary in 2016, also scuttled any notion that his campaign was aided by Russia.
During an interview with Vermont Public Radio, Sanders rebuffed Special Counsel Robert Mueller's indictment of 13 Russians and three Russian entities that detailed how Russia used social media to favor the Sanders and Trump campaigns—as well as others—over Clinton's.
"Well, ha 'Supporting my campaign?' No," Sanders said. "They were attacking Hillary Clinton's campaign using my supporters against Hillary Clinton."
The expected frontrunner for the Democratic presidential nomination in 2020 also challenged what the Clinton campaign knew and failed to act on regarding Russia's actions to divide the country and disseminate false information to voters.
"The real question to be asked is what was the Clinton campaign [doing about Russian interference]? They had more information about this than we did," Sanders said.
Sanders also told the public radio station that toward the end of the 2016 election cycle one of his campaign volunteers had notified Clinton's campaign about a particular Facebook page.
"A guy who was on my staff … checked it out and he went to the Clinton campaign, and he said, 'You know what? I think these guys are Russians,'" Sanders said.
However, later his former campaign manager, Jeff Weaver, claimed that Sanders had no direct knowledge of Russian interference and instead based his assertion on a recent news article. A former Clinton campaign aide denied that they had ever been contacted about Russian interference by the Sanders camp.
Seeking to clarify his remarks, Sanders later insisted to Politico that Russia's efforts, at the behest of President Vladimir Putin, deserved "unconditional condemnation."
"Let there be no confusion about my view. What the Russians did in the 2016 election cycle deserves unconditional condemnation," Sanders' statement read. "That includes all of their conduct—whether it was active support of any candidate or active opposition to any candidate or the decision to no go after a candidate as a way of hurting or helping another campaign."
Sanders also pointed out that almost everyone had condemned Russia over its meddling, except for Trump.
Still, Sanders' comments echoed some of Trump's accusations against former President Barack Obama, the Democratic National Committee and Clinton about perceived inaction after learning of Russian interference.
"By the way, if Russia was working so hard on the 2016 Election, it all took place during the Obama Admin. Why didn't they stop them?" Trump tweeted in June.
Also in June, Trump called out Obama and Clinton: "The reason that President Obama did NOTHING about Russia after being notified by the CIA of meddling is that he expected Clinton would win."
Trump also tweeted in May: "When will the Fake Media ask about the Dems dealings with Russia & why the DNC wouldn't allow the FBI to check their server or investigate?"