Bernie Sanders Response Blasts Trump for Not Mentioning Climate Change Once in State of the Union Address
Bernie Sanders delivered a 28-minute rebuttal to President Donald Trump's State of the Union on Tuesday that focused on what the president left out of his own speech: Climate change.
"How can a president of the United States give a State of the Union speech and not mention climate change?" asked the Vermont senator and 2016 presidential primary contender.
"The leading scientists of the world tell us that climate change is real, that climate change is caused by human activity and that climate change is already causing devastating harm in the United States and the rest of the world. The scientists tell us that we have 12 years in order to transform our energy system away from fossil fuels and into energy efficiency and sustainable energy if we are going to have a planet that is healthy and inhabitable for our children and grandchildren," he said. "Somehow or another, Donald Trump just forgot to talk about that."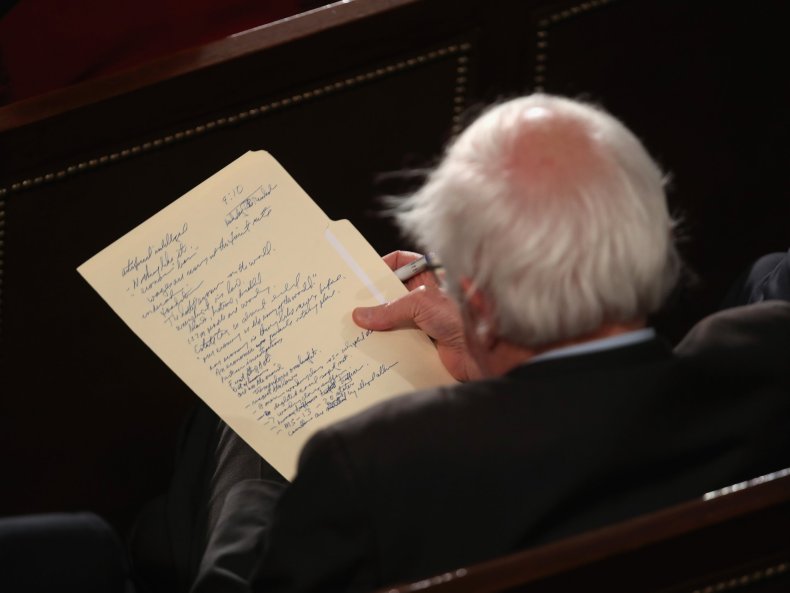 President Trump has repeatedly denied climate change. He has called it a "Chinese hoax" and has tweeted on cold days that he could use some "global warming." A recent United Nations report found that the world had 12 years to limit an irreversible climate change catastrophe, but Trump, unswayed by the research, questioned the political motivations behind the report.
The president did mention rollbacks of environmental regulation in his 82-minute speech, the longest State of the Union in nearly two decades. "My administration has cut more regulations in a short time than any other administration during its entire tenure," he said. A number of those regulations deal with clean air and loosen emissions standards of toxins known to contribute to climate change.
"Tonight, Donald Trump spoke of 'choosing greatness,' but there is nothing great about his administration's repeated choices to abandon U.S. leadership in the global fight against climate change, to eliminate vital protections for public lands and to roll back the clean air and water safeguards that make our communities safe and healthy places to live," said League of Conservation Voters President Gene Karpinski, who attended the speech as a guest of New York congressman Paul Tonko, in a statement.
A new study by the Yale Program on Climate Change Communication, however, found that the president's rhetoric has been less effective in changing the way Republicans and Democrats view climate change. Researchers found that 67 percent of registered voters were worried about global warming, the highest percentage since the survey began in 2008. Republican acceptance of global warming grew by 7 percent, compared with the 7 percent decline in belief in climate change after Trump's inauguration.
Stacey Abrams, who delivered the official Democratic rebuttal to the president briefly mentioned climate change as an important issue during her speech. "We can do so much more: Take action on climate change," she said.