Bernie Sanders Says Trump Voters Not 'Deplorables,' Hillary Clinton Democrats to Blame for Election Loss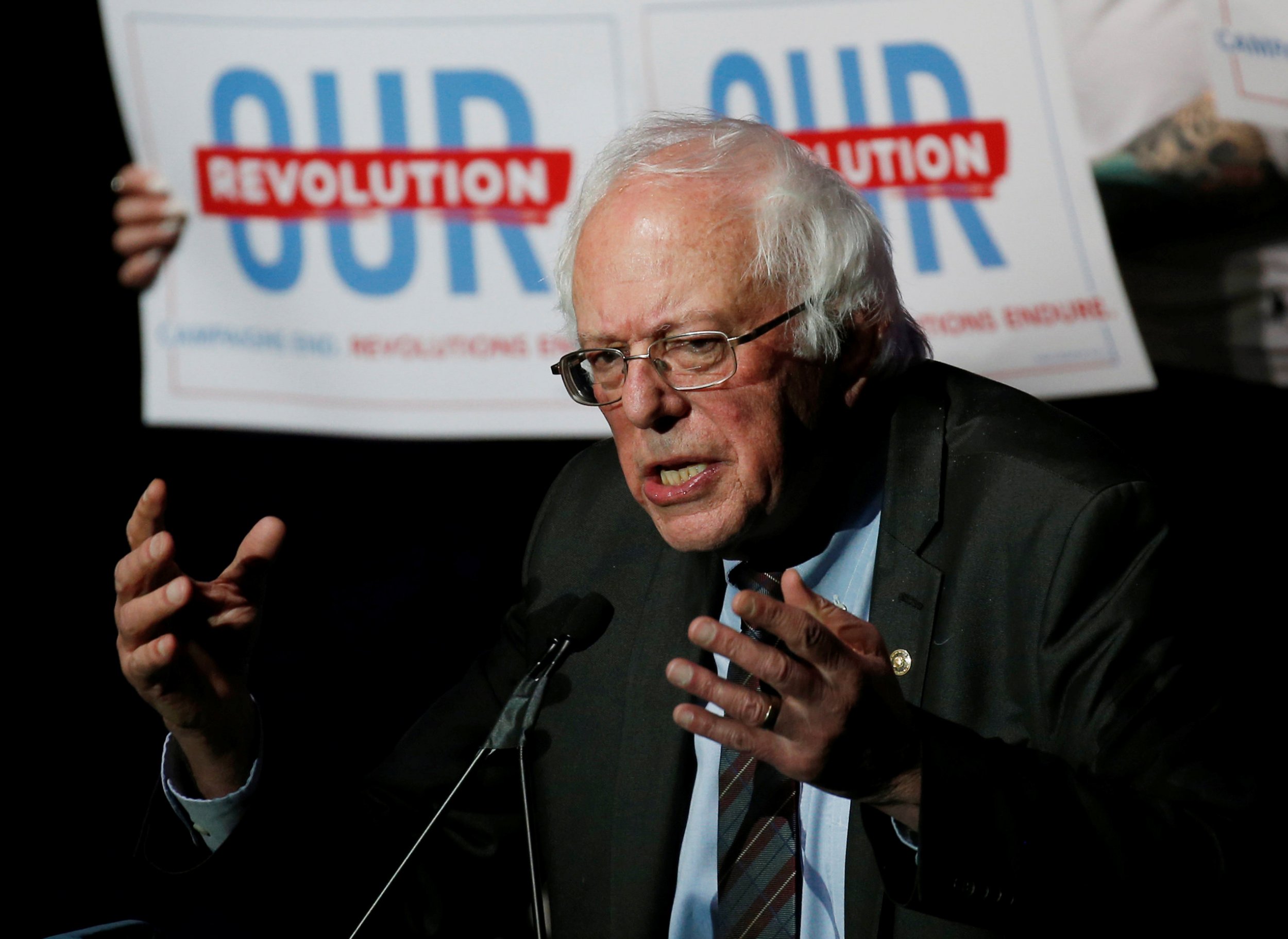 Donald Trump supporters are not racist "deplorables" and Hillary Clinton and the Democratic Party are to blame for November's shock election defeat: So said Clinton's defeated primary challenger Sen. Bernie Sanders during a rally in Boston Friday night.
In a comment seized upon by the Trump campaign, Clinton famously said in September that half of Trump's supporters were "deplorables," a comment which she almost immediately said she regretted.
Appearing alongside Sen. Elizabeth Warren, Sanders said Friday that to simply write off Trump supporters was to fail to understand the issues affecting them—and the Democratic Party.
"Some people think the people who voted for Trump are racists, sexist and homophobes, just deplorable folks," he said. "I don't agree, because I've been there. Let us understand what's going on."
Even before losing the primary to Clinton last year, Sanders, an independent, has been a frequent critic of the Democratic Party establishment, claiming that it had become too accommodating of Wall Street and has lost touch with the U.S. working class. It was a theme he returned to during Friday's sold-out event organized by his "Our Revolution" group.
"When we are competing against a right-wing extremist party who has an agenda that most Americans soundly and roundly disagree with, how in God's name do they win elections?" he said. "And the reason is, in my view, is that the time is well overdue for fundamental restructuring of the Democratic Party."
He added: "We need a Democratic Party which is not the party of the liberal elite but a party of the working class of this country. We need a party that is a grass roots party, a party where candidates are talking to working people, not spending their time raising money for the wealthy and the powerful."
During a day of appearances in the Boston area, Sanders also labeled Trump a "fraud." And he returned to many of his core campaign issues, such as guaranteed healthcare for all Americans.
"If every major country on earth guarantees healthcare to all people and costs a fraction per capita of what we spend, don't tell me that in the United States of America we cannot do that," he said to loud cheers from the crowd.
Along with Warren, Sanders has been touted as an early candidate to earn the Democratic nomination and potentially run against Trump in 2020. Despite the fact that he will turn 79 years of age prior to the election, Sanders again failed to rule out a second bid for the White House.
"Too often the media gets involved in what I call political gossip," he said in response to a question at an event earlier in the day at the EMK Institute, according to The Boston Globe. "The issue of today, in my view, is to try to address some of the concerns that I raised about a collapsing middle class, massive levels of income inequality, being the only major country not to guarantee health care. That's what we focus on."