Bernie Sanders' Vermont Co-Chair Cautions Campaign to 'Go Light' On Democratic Establishment: 'We Have a Shared Vision'
Congressman Peter Welch, who co-chairs presidential candidate Bernie Sanders' campaign in Vermont, said that the senator and his staff should "go light" on the Democratic establishment, insisting that the campaign has a "shared vision" with moderate Democrats.
Sanders and his supporters have repeatedly warned that the Democratic establishment is conspiring against his campaign. The progressive candidate has dismissed the slew of endorsements garnered by former Vice President Joe Biden ahead of Super Tuesday as more evidence of the party's opposition to his momentum.
"Look, we are taking on the establishment. And I fully understand—no great surprise to me that establishment politicians are not going to endorse us," Sanders said Monday after he was asked about moderates aligning behind Biden.
But Welch, who represents Vermont, cautioned against pushing back too critically against the Democratic Party during a Tuesday morning interview with CNN.
"I'd caution the campaign to go light on this establishment," he said.
"The fact is, the Democrats, whether he's calling them establishment or the progressives, we have a shared vision," Welch said. "Number one, we want to beat Donald Trump, and number two, we want a much stronger, improved health care. Bernie wants single payer [Medicare for All], but everyone else wants at least a public option. We want to shore up Social Security. We want to make college education affordable."
Although Welch noted that "distinctions" are being made during the primary race's campaigning, he argued that "the Democrats are pretty united on the direction they want to go."
"We've got to reach out to all Democrats and folks who are voting for other candidates. Ultimately, we're gonna need [them] in order to beat Donald Trump and win the nomination," he added.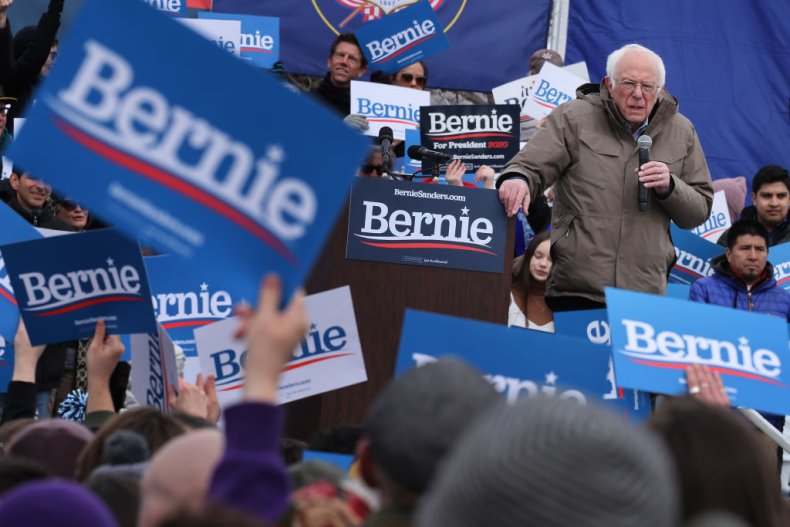 Sanders, who identifies as a democratic socialist and serves in the Senate as an independent, has thus far won the most delegates in the first four state contests. But Biden has surged following his big victory in South Carolina on Saturday. That win spurred fellow two Democratic contenders, Senator Amy Klobuchar of Minnesota and former South Bend, Indiana, Mayor Pete Buttigieg, to suspend their campaigns and formally endorse the former vice president on Monday evening.
Fourteen states and American Samoa are voting on Super Tuesday, and Biden and Sanders both look set to perform well. Polling suggests the two candidates will split the majority of the states up for grabs, while Sanders appears to have a strong advantage in California, the state that offers the largest number of pledged delegates.
The graphic below, provided by Statista, illustrates polling averages for the Democratic presidential candidates in Super Tuesday states ahead of voting.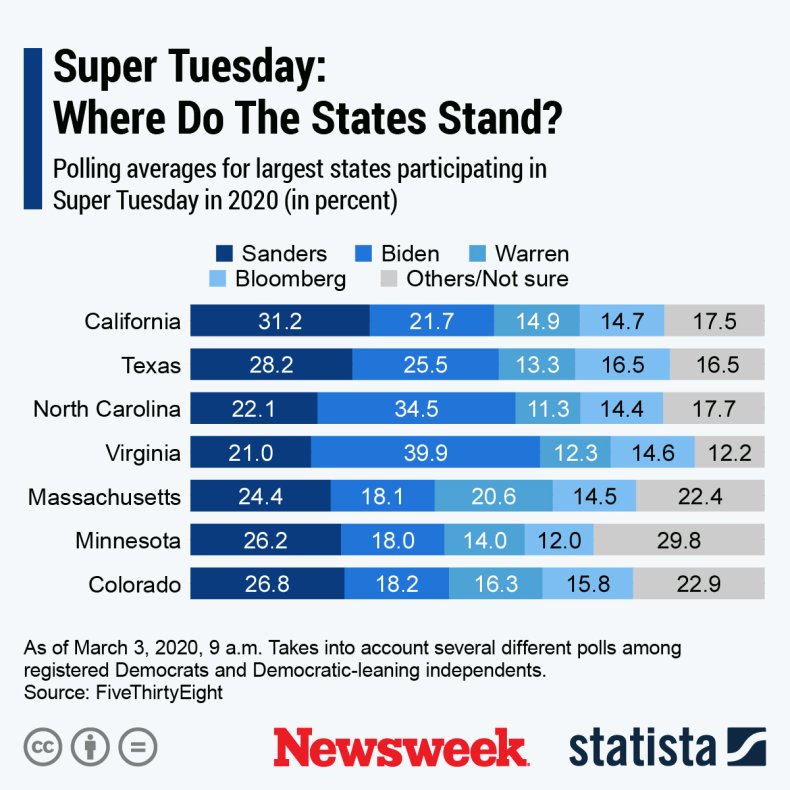 This article was updated to include an infographic.
Bernie Sanders' Vermont Co-Chair Cautions Campaign to 'Go Light' On Democratic Establishment: 'We Have a Shared Vision' | U.S.