Bernie Sanders Is Very Popular, but He and Elizabeth Warren Are Losing Ground: Poll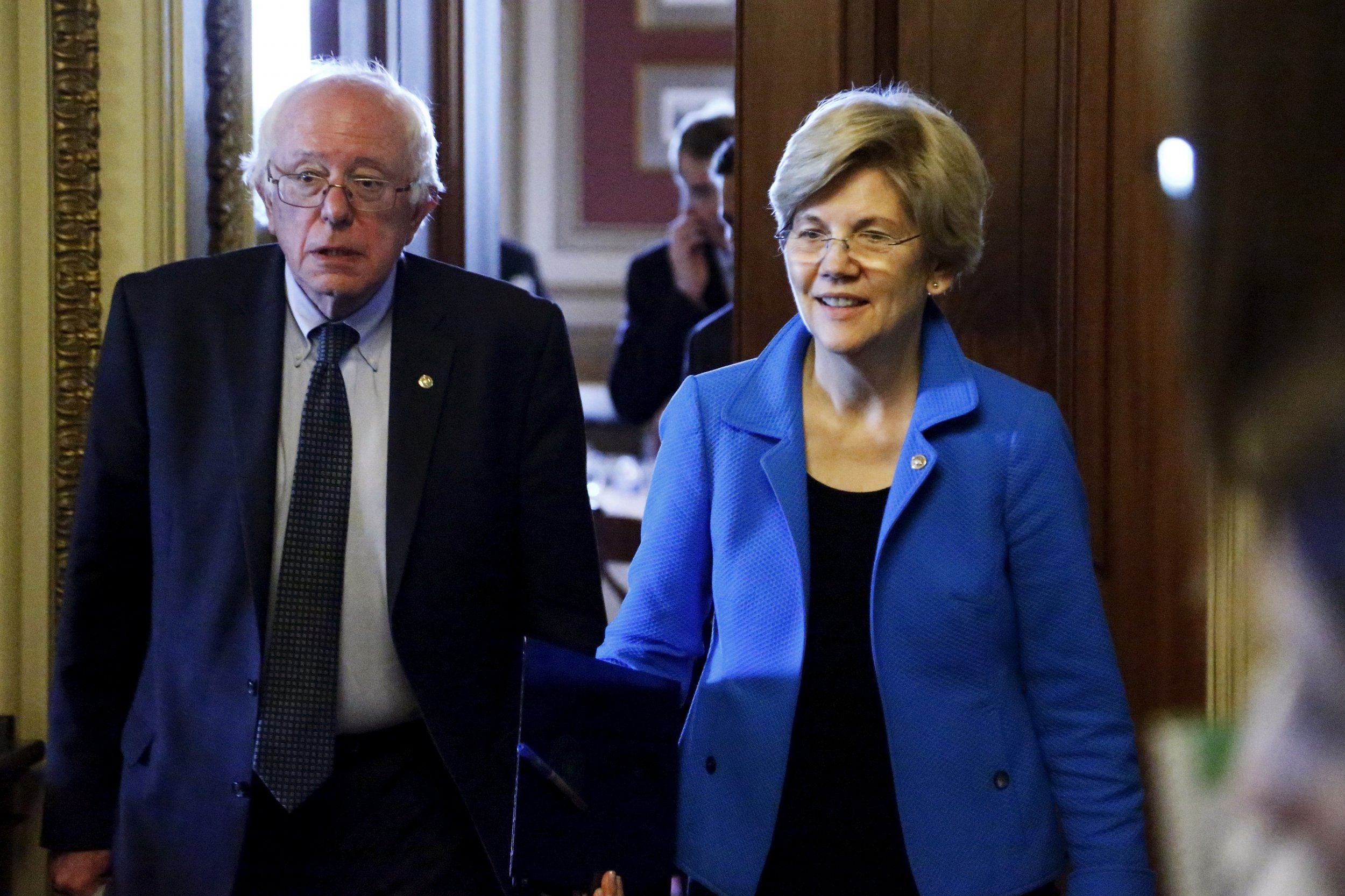 Senator Bernie Sanders is perhaps the most popular politician in the United States, and according to a new poll released Tuesday the independent from Vermont is also the senator most well-liked by his constituents. But the news is not all good: The survey also showed that both Sanders and Senator Elizabeth Warren (D-Mass.)—two famously progressive politicians—have recently taken a step backward in popularity.
Seventy-five percent of Vermonters approved of Sanders's job performance, according to the Morning Consult poll released Tuesday. That's the highest mark for any senator, but a 12-percentage-point dropoff since the last survey, just before November's election. Fifty-six percent of folks in Massachusetts approved of Warren's job performance, while 38 percent disapproved. That's a slight tick downward from her pre-election figure of 57 percent. In April 2016, Warren's approval rating stood at 61 percent.
Both Sanders and Warren have been prominent faces of the so-called resistance against President Donald Trump and a government entirely under Republican control. That national focus might have affected how constituents viewed the senators, with Morning Consult noting: "Sanders' elevation to national prominence does appear to have compromised his standing among some of his constituents."
Meanwhile, the poll singles out Senate Majority Leader Mitch McConnell (R-Ky.) for a dubious distinction: least popular senator. Just 44 percent of Kentuckians approved of his job performance, while 47 percent disapproved. He was the only senator to register a net-negative rating. Still, that was an improvement for McConnell, who has become quite familiar with the approval-rating basement. Before the election, 51 percent of his constituents disapproved of his work, while 39 percent approved.
The Morning Consult poll surveyed some 85,000 registered voters online from January through March. The Vermont figures had a margin of error of plus or minus six percentage points; Massachusetts and Kentucky were two percentage points.
In addition to Sanders, the other most popular senators were, in order, Patrick Leahy (D-Vt.), John Barrasso (R-Wyo.), Mike Enzi (R-Wyo.) and Angus King (I-Maine).