Bernie Sanders Vows to Reverse 'Every Single Thing' Trump Has Done on Immigration as He Surges to First in New Hampshire Poll
Senator Bernie Sanders has vowed to undo the "racist" immigration policies of President Donald Trump if his presidential bid is successful, while a new poll shows him racing into a significant lead in the New Hampshire Democratic primary.
Sanders has the support of 29 percent of New Hampshire voters in the upcoming primary, according to a Boston Herald/NBC10 Boston/Franklin Pierce University poll released Monday. Former Vice President Joe Biden now sits in second place with 22 percent, with Senator Elizabeth Warren in third at 16 percent. Two weeks earlier, the poll had shown Biden in the lead with 26 percent to 22 percent for Sanders.
As the poll was released, Sanders took to Twitter to promise that executive orders to reverse Trump policies would be among his first actions as president. Sanders insisted that "every single thing" Trump has done to target immigrants will be erased if he takes office.
"My first executive orders will be to reverse every single thing President Trump has done to demonize and harm immigrants, including his racist and disgusting Muslim ban," Sanders tweeted Monday.
Newsweek reached out to the White House for comment but did not receive a response in time for publication.
Immigration is one of many areas where the policies of Sanders stand in stark contrast to those of Trump. Proposals from Sanders include a moratorium on deportations pending a review of current practices, ending "the barbaric practice of ripping children from their parents and locking children in cages." He has also promised to reinstate and expand former President Barack Obama's Deferred Action for Childhood Arrivals program, which was cancelled by Trump, although subject to a pending U.S. Supreme Court case.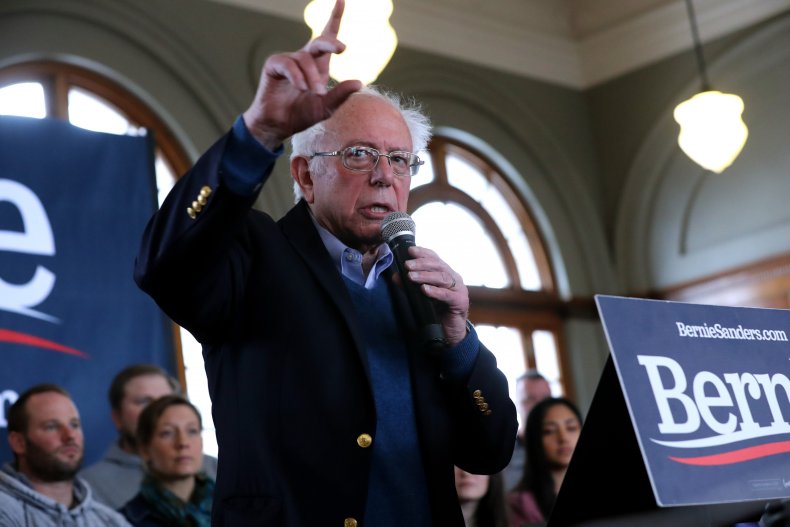 The new poll was taken from January 23 to 26 and conducted by New Hampshire firm RKM Research and Communications in collaboration with Franklin Pierce University and several Boston-area media outlets. The poll surveyed 407 likely Democratic voters and has a 4.9 percent margin of error.
Several other recent polls have also shown Sanders on the upswing in early Democratic primary states. A pair of polls released Sunday showed him clearly ahead in New Hampshire. The senator was also leading the field in Iowa by smaller margins, according to two additional polls released over the weekend.
Sanders has also seen significant gains in a number of national polls. Although Biden maintains his lead in most national polls, Sanders has been challenging his frontrunner status and closing the gap. Some polls now show Sanders with either a slight lead or within the margin of error.
The Iowa caucus is set to take place on February 3, with New Hampshire's primary eight days later on February 11.