Bernie Sanders Says Elizabeth Warren Is Beating Him in Some Polls Because People Want to Elect a Woman
Democratic presidential candidate Senator Bernie Sanders suggested on Wednesday that fellow 2020 contender Senator Elizabeth Warren was now beating him in some recent polls at least partially due to her gender.
"Well, I think we are running against a lot of problems," Sanders, who represents Vermont, told CNN host Chris Cuomo.
"I think that there are a certain number of people who would like to see a woman elected, and I understand that," the senator said. "There are people who would like to see somebody who was younger, and I understand that also. There are a lot of factors out there."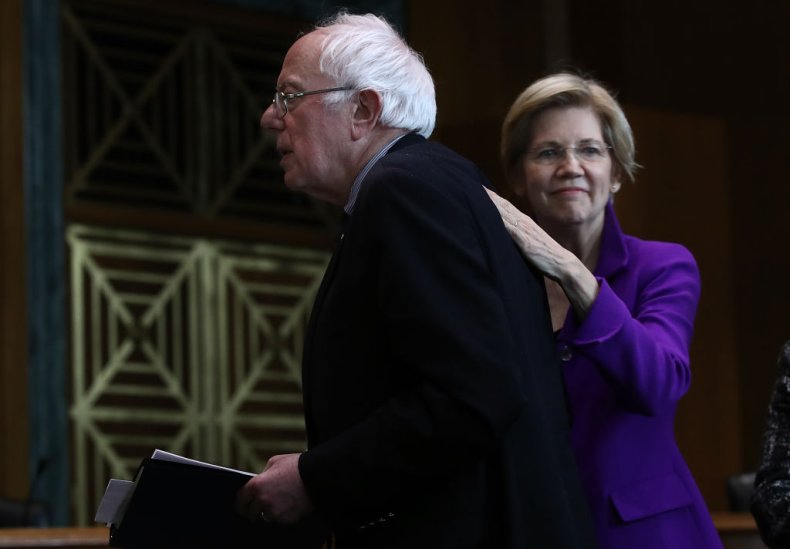 Sanders had been polling ahead of all other 2020 candidates, besides former Vice President Joe Biden, in national polls for several months. But a couple of recent polls have shown Warren, who represents Massachusetts, pulling ahead of Sanders to become the second place candidate. An Economist/YouGov poll from earlier this month showed Warren taking 16 percent compared to Sanders' 12 percent. Biden led them both, however, with 26 percent. In a separate Monmouth poll, Warren was ahead of Sanders by 1 point—15 percent to 14 percent—while Biden polled at 32 percent.
Sanders also insisted on Thursday that he and Warren are friends, and that they planned to run a campaign based on political issues.
"Elizabeth is a friend of mine, I think she's running a good campaign," the senator said. "But at the end of the day, Chris, whether it's Biden or Warren, Elizabeth Warren, or anybody else, what I believe is that in fact I am the strongest candidate to defeat Donald Trump, and I think some of the polling shows that," he asserted. Sanders also stressed in the interview that he would definitely campaign in support of any Democrat that won the party's nomination.
Sanders, 77, would become the oldest person ever elected president if he were to win the Democratic nomination and then go on to beat Trump in 2020. However, Biden, who is 76, would also be the oldest person ever elected as commander in chief. Trump, who is currently 73, would also break the age record, which was set by former President Ronald Reagan when he was re-elected in 1984 at 73. Trump already became the oldest person to be elected to a first presidential term.
Several male candidates seeking the 2020 nomination have signaled or even promised that they would select a female running mate if they were selected to be the Democratic challenger to Trump. Sanders, an independent, suggested earlier this year that he planned to tap a younger woman to be his potential vice president.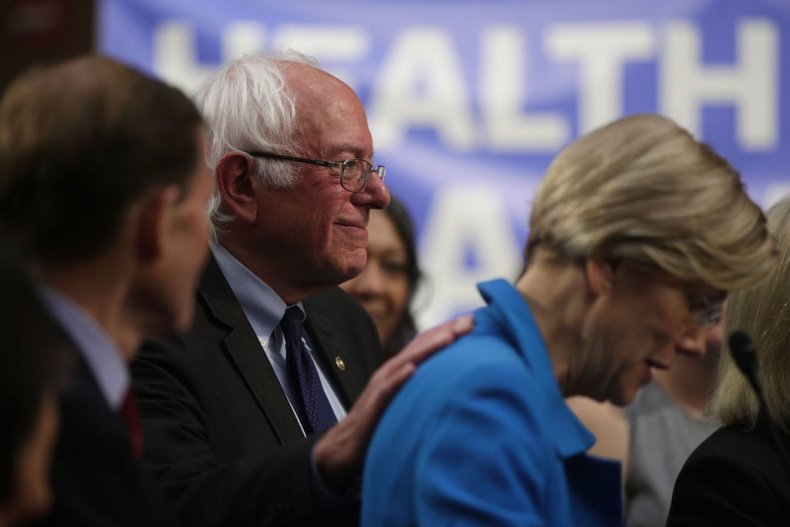 "I think we would look for somebody who is maybe not of the same gender that I am, and maybe somebody who might be a couple of years younger than me," the senator said in February.
Sanders—along with other white male candidates—has also been questioned as to why they believe the country needs another white man to serve as commander-in-chief. In March, radio host Lenard Larry McKelvey, known professionally as Charlamagne Tha God, pointed out to Sanders on The Breakfast Club that "44 out of 45 presidents in this country has been white men." He then asked the presidential candidate if he thought "we need another one?"
"Well, I think you need this one," Sanders replied at the time. He went on to stress that "the most important thing" was to get Trump removed from office. "I'm going to do everything I can to defeat him. I look forward to winning the Democratic nomination. And if I don't, I will support anybody else who's out there to defeat him, but this guy cannot win another term."