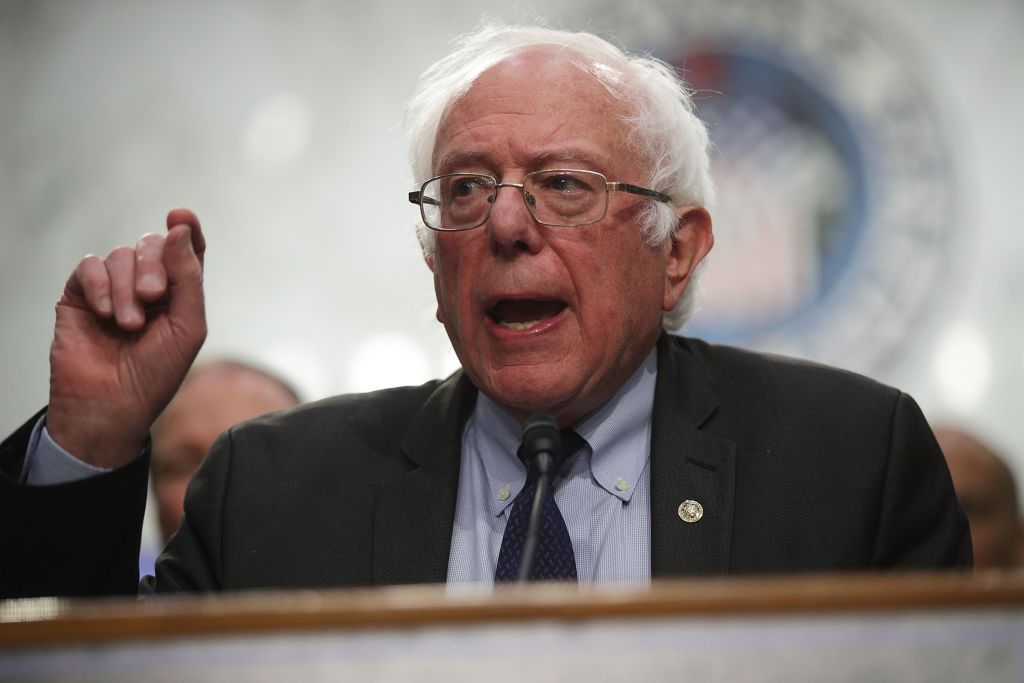 While speaking on the PBS series, Finding Your Roots, Senator Bernie Sanders showed his more vulnerable side as he talked about a relative who died defying the Nazis in World War II.
In the clip, the Jewish senator is visibly moved as he discusses the relative with Harvard professor Henry Louis Gates.
Related: Bernie Sanders Warns of Rise in 'Right Wing Extremism' in Speech Blasting War on Terror, Neo-Nazis, Trump
"I'm proud of his courage, and willingly going to his own death in order to protect innocent people," Sanders says. "So I'm very, very proud that I have a family member who showed that type of courage and decency."
The Jewish Telegraphic Agency reported many of Sanders's relatives perished in the Holocaust. His father, Eli, grew up in Slopnice Poland before immigrating to the United States at the age of 17. Almost all of Poland's Jewish population—90 percent—were systematically eradicated during the Holocaust.
Sanders rarely discusses his Jewish identity in depth, but talks in the show about how the horrors of the Holocaust motivated him to become involved in politics. He said his own career was borne out of a desire to "prevent the descent of humanity."
"It just makes us realize how hard we have got to work to not descend into this type of barbarity and to create a world where people can love each other," he said. "That's what this reinforces in me."
The show, which first aired in 2012, will include in its fourth season Scarlett Johansson, Amy Schumer and Paul Rudd, who also have Jewish heritage. In a past season, Dustin Hoffman wept when he learned of his own family's history. His grandfather and great-grandfather, both of whom were Jews, died at the hands of Soviet secret police.
The episode featuring Sanders's family tree also includes comedian Larry David, who impersonated the senator on Saturday Night Live, during last year's presidential campaign. In July, Sanders revealed he was a distant cousin of David, a fact that was discovered during the filming of Finding Your Roots. "I was very happy about that," David said at the time.
Since the campaign, Sanders has remained a vocal critic of President Donald Trump, warning of the rise of the extreme right. Earlier this month, he emphasized the dangers posed by the neo-Nazi rally in Charlottesville, Virginia, in August and authoritarianism abroad.
"In both Europe and the United States, the international order which the United States helped establish over the past 70 years, one which put great emphasis on democracy and human rights…is under great strain," he said.
"We also see a rise in authoritarianism and right wing extremism—both domestic and foreign—which further weakens this order by exploiting and amplifying resentments, stoking intolerance and fanning ethnic and racial hatreds among those in our societies who are struggling," Sanders added.