Bernie Sanders Could Have Won, U.K. Election Suggests, on Strength of Youth Turnout
If Senator Bernie Sanders wasn't too drained from James Comey's momentous day of testimony on Capitol Hill, he may have sat back Thursday night and glanced over at the equally dramatic events unfolding in the United Kingdom. If so, he likely smiled even while he dealt with feelings of what might have been.
Related: Who is Jeremy Corbyn, the 'British Bernie Sanders' who shocked the media with his election result?
Defying early polling and the consensus of opinion among the media and the political class, Jeremy Corbyn, like Sanders an avowed socialist, led the Labour Party to enough election votes to deny the Conservative Party a majority in Parliament. The snap election had been called by Prime Minister Theresa May with the intention of crushing Labour and likely finishing Corbyn as leader in the process. Instead, although the Conservatives retained the largest number of seats in Parliament and are likely to continue to govern through an informal coalition, by the end of a dramatic night it was May who was facing calls to resign and Corbyn who had forced a dramatic reassessment of his credentials.
One of the primary reasons for Corbyn's success was his energizing of the youth vote, something Sanders similarly achieved during his Democratic primary battle with Hillary Clinton in 2016. While official figures have not yet been released, there is plenty of evidence to suggest that young people turned out in force for Labour. Estimates have shown that the turnout among those between the ages of 18 and 25 was well above the 43 percent who went to the polls in 2015. Some unofficial estimates even put the number at 72 percent.
According to data from media company Sky, Labour attracted 63 percent of voters between the ages of 18 and 34. In the 2016 primary, Sanders won 70 percent of the under-30 vote across the board in his losing effort to Clinton.
There are, of course, obvious similarities between the two candidates, which spurred Sanders to congratulate Corbyn on Friday and use Corbyn's success as a rallying cry for his own message in the United States.
"I am delighted to see Labour do so well," he tweeted. "I congratulate @jeremycorbyn for running a very effective campaign. All over the world, people are rising up against austerity and massive levels of income and wealth inequality. People in the U.K., the U.S. and elsewhere want governments that represent all the people, not just the 1%."
Sanders may be a septuagenarian, and Corbyn only two years from it, but both have spurred youth who are frustrated with the rightward, corporate shift within Labour and the Democrats who left little to appeal to the wider political landscape.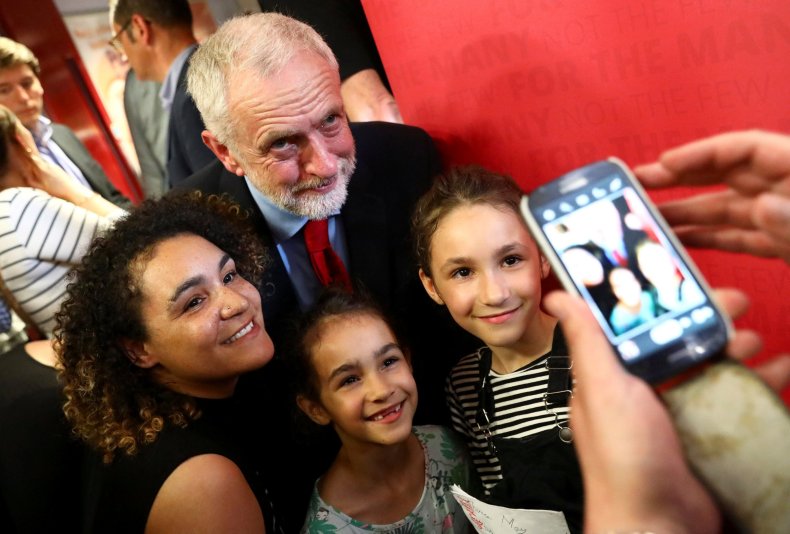 Both have also had to fight off establishments trying to hold them down. In Corbyn's case, the Labour faction of Blairites, aligned to the centrist policies of former Prime Minister Tony Blair, have repeatedly attempted to undermine him despite his populist support, and even forced him to survive a leadership challenge last year.
As for Sanders, the Democratic establishment, which quickly coalesced around Clinton, would prove an insurmountable hurdle, even amid accusations, and evidence, of favoritism from the Democratic National Committee. Still, he made the primary race far tougher than anyone expected.
With many doubting Sanders's appeal in the general election, Clinton would defeat him. But when it came to going up against Donald Trump, she failed to draw young voters to the polls in the way that Sanders had in the primary. Clinton won 55 percent of the youth vote, compared to Trump's 37 percent, though overall youth turnout was just 50 percent. Analysts found that younger registered voters, particularly minorities, were more likely to stay at home during the election than older ones, a factor that cost Clinton dearly.
Thus, while Corbyn's success should leave Sanders hopeful for the future of his movement and even a potential 2020 bid, he also is entitled to a tinge of regret over the thought that he could have been in the White House today had things gone a little differently.