Bernie Sanders Won Michigan in 2016—Here's What Could Ruin His Chances for Taking the State Again
Michigan could be a make-or-break moment for Bernie Sanders' presidential bid—again.
"Every state is terribly important, and I think coming Tuesday, maybe Michigan is the most important state," Sanders told reporters last week during a campaign stop in Detroit.
The Vermont senator unexpectedly won the 2016 Democratic primary in Michigan, narrowly beating Hillary Clinton by roughly one percentage point. The victory was a turning point for his campaign and highlighted his appeal among working-class voters in the Midwest.
But there's several indicators that he may not be as successful this time around. Adrian Hemond, a Michigan-based Democratic strategist, told Newsweek on Monday he thinks the 78-year-old senator "might be toast" in the state.
"There are a couple of things working against Senator Sanders this year that he didn't have to contend with last time," Hemond said, adding that there's still a "possibility" he could win, but it's not very likely.
One of those issues, the strategist said, is that his opponent isn't "toxic with white working-class voters."
"The former secretary of state was, she had virtually zero appeal with those voters. This time former Vice President Joe Biden doesn't need to win them to beat Sanders, he just needs to not get crushed like Clinton did," Hemond explained.
Sanders also hasn't had nearly as much black voter support as Biden so far this election cycle. On Super Tuesday, the former vice president received nearly 60 percent median support among black voters compared with Sanders' 17 percent. In 2016, Sanders lost to Clinton among Michigan's African American voters by roughly 40 percent.
Another potential problem for the Sanders team is voter turnout. The 2016 Michigan Democratic primary had roughly the same voter turnout as in 2012, when President Barack Obama ran unopposed.
"If turnout is down some, then he's got a shot," Hemond said, noting that Sanders has a "hard core of supporters" that will almost always show up to vote even if overall turnout in the state is low.
But low voter turnout is not expected this year. Tuesday's contest will also be the first statewide election under a new law that allows any voter to cast an absentee ballot. Almost 600,000 absentee ballots were turned in as of last week, which according to MLIVE is a 60 percent increase over the number of absentee ballots turned in ahead of the 2016 primary.
Polls currently show that Biden is dominating in the state. The former vice president has a 24-point lead in the latest survey from the Detroit Free Press. Biden garnered 51 percent support from likely primary voters, while Sanders had 27 percent support.
But four years ago, Sanders overcame a similar margin in the polls to win the state. In the newspaper's survey the weekend ahead of the 2016 primary contest, Clinton was shown with a 25-point lead on Sanders.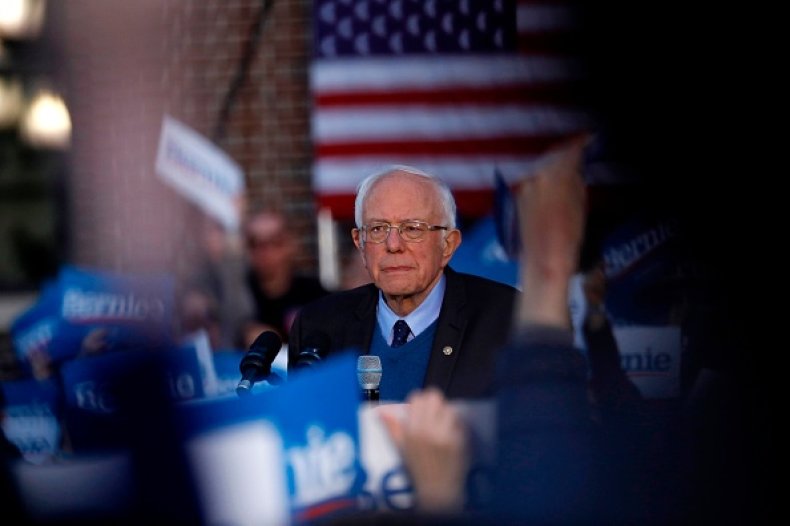 Michigan will be one of the first contests in which Biden and Sanders essentially go head-to-head for votes. The run for the Democratic nomination has dwindled to three candidates, after five others dropped their White House bids in the span of one week. The only other candidate is Hawaii Representative Tulsi Gabbard, but she's picked up just two delegates so far and is polling in the low single digits.
Support for Biden has surged since he won 10 of 14 states in the Super Tuesday contests. Michigan Governor Gretchen Whitmer and other prominent Democrats have also recently endorsed Biden ahead of the state's primary on March 10. Though Sanders did win a big endorsement from civil rights icon the Rev. Jesse Jackson on Sunday.
Michigan is not only vital for the Democratic presidential race, but it's also expected to play a key role in the general election. President Donald Trump won the state in 2016 by a mere 10,000 votes. It was his slimmest margin of victory in any state.
There are 125 delegates at stake in the Michigan Democratic primary. It will be the biggest delegate haul in play on March 10, when voters in five other states—Idaho, Mississippi, Missouri, North Dakota and Washington—also head to the polls to weigh in on who they want to see nominated at the party's convention this summer.
Biden is currently leading the delegate count in the Democratic primary race. As of Monday afternoon, Biden had 664 delegates. Sanders was in second place with 573.
In order to clinch the Democratic Party nomination, a candidate needs at least 1,991 delegates. The graphic below, provided by Statista, illustrates the candidates' delegate count heading into Tuesday's primaries.