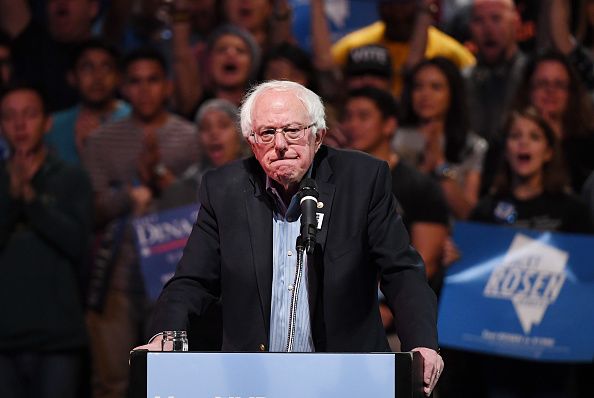 As independent Senator Bernie Sanders gears up for a possible 2020 bid for president, the Vermont lawmaker's wife said that had Sanders won the Democratic nomination in 2016, he would have defeated Donald Trump in the general election.
When asked by the Associated Press about Sanders's chances of success in 2020, Jane O'Meara Sanders said that "every single poll" showed that her husband would have taken down Trump two years ago. The senator never had the chance to go head-to-head with the Republican nominee after losing the Democratic primary to Hillary Clinton.
But many polls that hypothetically paired the two candidates showed Sanders with a large lead over Trump. According to RealClear Politics data, NBC/Wall Street Journal surveys had the independent lawmaker up by an average of 9 points. CBS News/New York Times polls showed Sanders ahead by an average of 15 points.
Sanders himself pointed out that he fared much better against the real estate mogul than Clinton, telling NBC during an interview in spring 2016 that "right now, in every major poll, national poll and statewide poll done in the last month, six weeks, we are defeating Trump, often by big numbers and always at a larger margin than Secretary Clinton is."
Even so, Sanders's grassroots campaign, mostly funded by small donations, was not enough to earn him the backing of the Democratic Party. Still, O'Meara Sanders said, it was "extremely inspiring meeting all the people all over the country" on the 2016 campaign trail.
When asked about 2020, O'Meara Sanders said that the guiding question regarding potential candidates will be: "Who can beat Donald Trump?
"That has to be the primary goal. To win. We think you win by a very strong progressive commitment," she said.
Jeff Weavers, Sanders's campaign manager, strongly hinted that the 77-year-old lawmaker planned on running for president again. Weavers told the Associated Press that Sanders would no longer be an underdog; instead, he'd be starting off "as a front-runner."
"It'll be a much bigger campaign if he runs again, in terms of the size of the operation," Weavers added.
During the November midterm elections, Sanders was easily re-elected to his third term in the Senate. He defeated his Republican opponent Lawrence Zupan by about 40 percent of the vote. Sanders has not announced his candidacy outright but has continued to attack the president and his administration. In a handful of television interviews last week, Sanders said that Trump must be "defeated" in the next election and that the president had "no political belief" and was a "total phony."