Berry Creek, California, Destroyed by North Complex Fire, 16 People Missing
A massive wildfire ripped through the town of Berry Creek, California, this week, damaging structures, wiping out trees and leaving 16 people unaccounted for, authorities said.
The fire, which is now being called the North Complex West Zone Fire, after previously being referred to as the Bear Fire, is the portion of the North Complex Fire that is in Butte County, Steve Kaufmann, a spokesman for the California Department of Forestry and Fire Protection (Cal Fire), said at a Thursday evening press conference.
The West Zone is currently showing 65,295 burned acres, and its fire is zero percent contained, Kaufmann said. It has threatened more than 4,200 structures, and approximately 2,000 of those have been damaged or destroyed, according to an assessment conducted Wednesday.
The Butte County Sheriff's Office has received 124 calls for service from residents requesting welfare checks on their loved ones, or to report them missing, said Captain Derek Bell. Out of those, authorities successfully located 98 people. Sixteen of them remain unaccounted for, although that number is changing rapidly, Bell said.
Bell reported an additional seven fatalities connected to the West Zone, bringing the total to 10. One of the deceased is a 16-year-old boy, his family confirmed.
The wind-driven wildfire has nearly leveled both sides of Highway 162, which runs through Berry Creek, a town of about 1,200 people, KCRA-TV reported. It left in its wake nothing but ash, debris and burned trees, with a thick layer of choking smoke in the air.
KCRA journalists described "empty charred shells of vehicles," the rim of an RV that was still smoldering, a "blackened family van" and the crumpled, melted remnants of what used to be a child's swing set.
The West Zone badly damaged the grounds of Camp Okizu, which serves families affected by childhood cancer and is nestled in the foothills near Berry Creek.
"We are heartbroken to let you know that we were notified today that there has been significant fire damage to our beloved Camp Okizu at Berry Creek," Suzie Randall, the interim executive director, wrote on the camp's website.
Several of the camps buildings, including its main hall and dormitories, were destroyed. The camp wasn't occupied at the time the fire overtook it, as it hasn't held in-person programming because of the coronavirus pandemic, The Sacramento Bee reported.
Firefighters are continuing to deal with what Butte County Fire Chief John Messina called a "massive amount of fire line" in the West Zone, as portions of the wildfire remain "extremely active." Circumstances can change rapidly, Messina added, stressing the importance of residents remaining vigilant.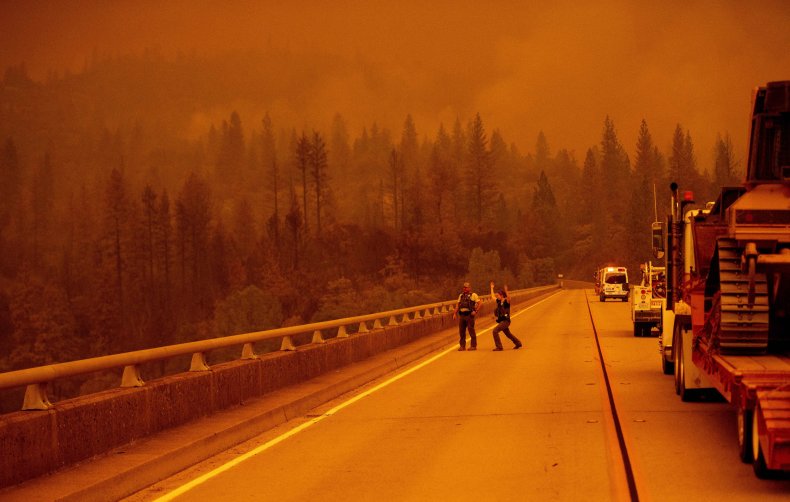 The North Complex Fire, which includes parts of Plumas, Butte and Yuba counties, has raged for 23 days and burned through nearly 245,000 acres, according to its Cal Fire incident page. It is 23 percent contained.
The massive blaze is just one of more than 29 major fires or complexes that are burning across California. At least 14,000 firefighters throughout the state are involved with trying to quell the flames, which have burned through more than 2.6 million acres, Kauffman said.
Photographs taken Wednesday in parts of California showed "apocalyptic" skies sporting shades of orange and red as a thick layer of smoke blankets the air. The smoke particles are scattering blue light and allowing only yellow-orange-red light to reach the surface, making the skies look orange, according to the Bay Area Air Quality Management District.
The state's fire season has only just begun, and 2020 is already breaking records. So far, wildfires this year have burned a record number of acres, and six of the top 20 largest wildfires in California's modern history have occurred this year, according to a tweet from Cal Fire.
California Governor Gavin Newsom has said the dire situation points to the mounting evidence of climate change.
"These pictures cry out for change," he tweeted Wednesday, including several photographs of the fiery skies. "Climate change is REAL."