Much like a "drunk Forest Gump," as he recently put it, comedian Bert Kreischer tells ridiculous stories in gut-bustingly hilarious fashion. In his new Netflix special, Hey Big Boy, he recounts times he wrote jokes specifically for one barista, threw a party to celebrate his daughter getting her first period, and was left to take care of his kids while his wife was on vacation.
His career took off when he told a story about getting involved in the Russian Mafia while he was in college. After a clip of that went viral, fans wanted to hear more about his life. While the stories on Hey Big Boy—streaming now on Netflix—are less ridiculous than that, Kreischer still finds new ways to grow as a comic, diving into political topics such as gun ownership in the only way he knows how: by telling stories about his experiences as a gun owner.
In an interview with Newsweek, Kreischer spoke about what makes a story better, drunk audiences and the creation of a joke that first appeared on a late-night show into an essential part of a special.
This interview has been edited and condensed for length and clarity.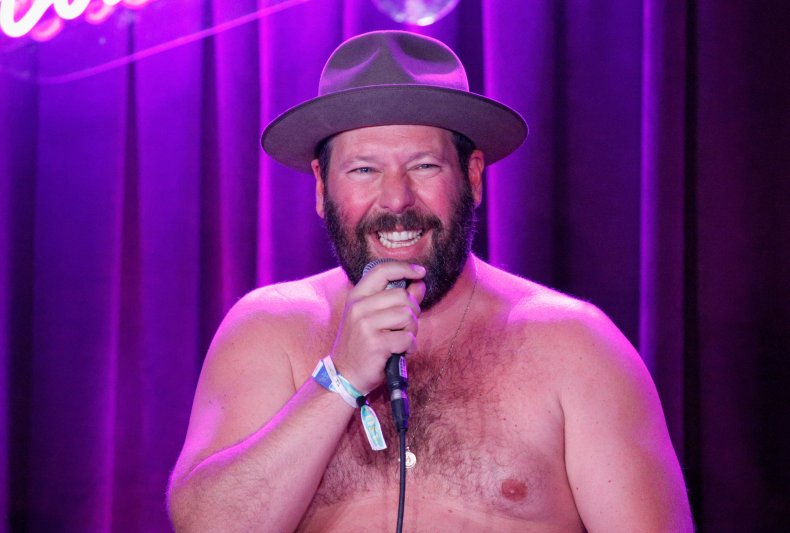 Your special opens with you talking about laughing at your own jokes. Is that a barometer for whether or not something gets into your act?
Yes, that is 100 percent the barometer. I love giggling more than anything in the world. It's my favorite thing in the world to do. I can't stop laughing at a subject, usually a story that happens within our family. Immediately, my wife will be like, "This is going in the act." It's one of those giggles where you can't stop. Every time you re-envision it again, you start giggling.
Your jokes are based around stories from your life. When things are happening, do you pause and think, "This is going in the act?"
"Black Starbucks"—that happened April 13. The reason I know that happened is that [it] was also the day my daughter got her period. If I'm not mistaken, that was a Friday the 13th and the day that two black kids got arrested at Starbucks. I literally walked outside that Starbucks and grabbed a napkin and wrote down that joke right there. I was like, "Oh my God, this is a bit." Conversely, something will happen and everyone will acknowledge, "Oh, that's gonna be a bit," and you can't see it. Then you're sitting with it and going, "I don't find it funny," but everyone else is like, "Why aren't you talking about it?"
Can you talk about the "Period Party" chunk? You told that story on Conan months ago, but it changed a lot leading up to what we see on the special.
I initially was going to leave it out. I did it with a bit called "Flying Dildos." I recorded it online [for Ari Shaffir's series This Is Not Happening], and a lot of people were bummed at me that I didn't put that on a special. With this one, I did such a minuscule part of it on Conan that I felt like it deserved to be the whole bit.
[That] many people saw that on Conan is great. It definitely has such a global reach. I did part of that joke on TV in Australia, and I got so much s**t from men. The guy on that show trashed me in the media. He was like, "This is disgusting. Women shouldn't be talking about their periods, and men shouldn't be talking about their periods," and feminists came out in droves. I'm not technically brand-friendly to feminists. I've got two daughters and a wife. I support all the issues, but like come on, man! I'm a meathead who just started getting tickets to the XFL.
In the credits, you included pictures and videos of things you talk about in your special. Is that a response to people who may not believe your stories?
I'll tell you why I did that: "The Machine" I told a number of times, obviously on different platforms, and then I told it on my Showtime special and posted it online. What had happened on Facebook was, within the first couple comments at the time when the story was going viral, some girl from my class posted under the comments. She wrote, "This story is 100 percent true. He was in our class. He robbed us." Then, she posted pictures from the trip and tagged all my classmates. It is a true story. I think for the most part, people are like, "It's a good story, but is it true?" I think when you find out stories are true, they get so much more juicier.
I'm not saying I don't punch up stories or make stories better. I'm a comedian. I want you to laugh. That's my main goal. I punch things up to get things tighter, quicker and get you to the joke faster.
Your audience tends to be heavy drinkers and you thank the audience at the end of the special for pacing themselves. Have you had any recent encounters with an audience that was too drunk for one of your shows?
[Laughs] One hundred percent. We're taping a special [in Cleveland], and people were coming up stage trying to get me to do a shot with them. I'm like, "I'm in the middle of a f**king special." There's certain places that they're going to go hard. I know already that Boston does not give a f**k about the structure of my show. In all honesty, they want to hear "The Machine" story. They want to hear two new good jokes, and then they want me to have a beer onstage. I was working on material last time I was there, and they sent up a Sam Adams. I was like, "Oh, you guys know I'm working," and they started booing me. I was like, "Oh okay." So I drank the beer, and then they were like, "Okay, now you can talk."
You're not an offensive comic, but some of the things you say could be construed as politically incorrect. Yet you avoid a lot of the blowback that other comics experience. Why do you think you avoid it?
When you write jokes, you just don't know—especially when you're trying to lean in and be the most edgy guy. At a certain point I felt like what people were responding to was that I was like them, but I wasn't like them in the bad way. I was like them in the way they see themselves: fun, goofy, adventurous, kind of a regular person frustrated with his family. I'm just kind of a regular guy.
I did a joke the other night that did not work well. The joke's about my wife, and it wasn't complimentary. It was kind of a slam on her. It was kind of a s***ty joke, and [comedian and podcaster Joe] Rogan said to me, "Why are you telling that? You subtract all likability when you tell that joke." I was like, "Yeah, but it's a good joke." He's like, "Not for you. That's a joke for the kind of person that doesn't love their wife. You absolutely adore your wife. All of a sudden, you're telling this joke, and everyone's like, 'Are they getting a divorce?' You don't need that, man." So, I still f**k up and run the risk of saying something horrible. Whether or not it makes it into my special is another story.
How is Hey Big Boy different from your 2018 special, Secret Time?
I think I did things better on Secret Time than I did on [2016's special] The Machine. But for the most part, if you liked The Machine, then you were gonna love Secret Time. [Comedian] Bill Burr said this to me: "If you're not challenging yourself to write stronger and differently and do new things, then you're gonna leave your audience bored."
In Hey Big Boy, I was very cognizant to challenge myself in different areas that maybe I hadn't shown you in Secret Time. For instance, "Black Starbucks" and the gun joke. Those two jokes I felt were a tad bit of the same with a little bit of new. That is the direction I wrote in. I'm gonna bring the stuff you love from Secret Time [and] The Machine: stories about my daughter, about me, about my wife, about my dad, about marijuana. They're all in there, but there's also, "Hey, I bought a gun." I would hope that any fan would be like, "I know Bert. I wonder where this is gonna go." That is the difference. I challenge myself to try and work a little harder and smarter at different avenues of what I can also do, but do the stuff you can also do.
It's like if you love pizza, and all of a sudden a guy gives you a carbonara pizza. You're like, "How'd you do this?" And he's like, "Oh it's easy. I put an ice cube on top of the egg, and then once it cooked enough, I broke the egg yolk and started in, and then it started cooking." You're like, "This is everything I f**king wanted."