Berwick Deadly Mass Casualty: Man Slams Car Into Crowd at Fundraising Event
One person has died and several others have been injured after a car reportedly plowed into a crowd of people Saturday evening at a fundraiser in Berwick, Pennsylvania. The man who did this might is possibly linked to a deadly fire last week, in which the fundraiser was held for on Saturday.
The Intoxicology Department bar was holding a day-long fundraiser to benefit families of the Nescopeck fire victims, according to WNEP ABC-16. The cause of Saturday's wreck, whether accidental or intentional, is unknown. The medical conditions of the victims hadn't been released, nor have their names. The incident happened around 6:30 p.m. ET. There were reportedly 18 victims from the crash, including one death, according to reporter Steve Lookner.
"1 dead, 17 injured after man drives car into crowd at fundraiser in Berwick, PA. Man then drove to Nescopeck, PA and beat a woman to death (scanner traffic said with a hammer). Man is now in custody," Lookner tweeted. "(Number of dead & injured is according to police statement)."
The name of the suspect, who has reportedly been apprehended, hasn't been released either.
Newsweek reached out to the Borough of Berwick Police Department for more official details.
There have been reports online that three helicopters were in the area, and that a fourth was requested, along with a heavy presence of first responders. A report on the Twitter feed of 12 County (PA) Fire Wire/News Page stated that a black Honda fled the scene, went across the river and was involved in another incident in which the driver used a hammer to beat a female.
The Nescopeck fire happened last Friday, August 5, when a fire destroyed a home in the northeast Pennsylvania area and took the lives of 10 relatives, which included three children and seven adults.
The fire reportedly began after 2:30 a.m. Friday, in which several family members were staying and a children sleepover was happening.
One firefighter who responded was a family member of those tapped inside.
"We tried the front way, the back way," Nescopeck Volunteer Fire Co. firefighter Harold Baker told The Citizens' Voice newspaper. "There was no way we could get into it."
The fundraiser Saturday took place as funerals were beginning to happen.
"Tragedies like this don't happen around here, like anything of this magnitude," Intoxicology Department owner Lauren Hess told WNEP before the benefit.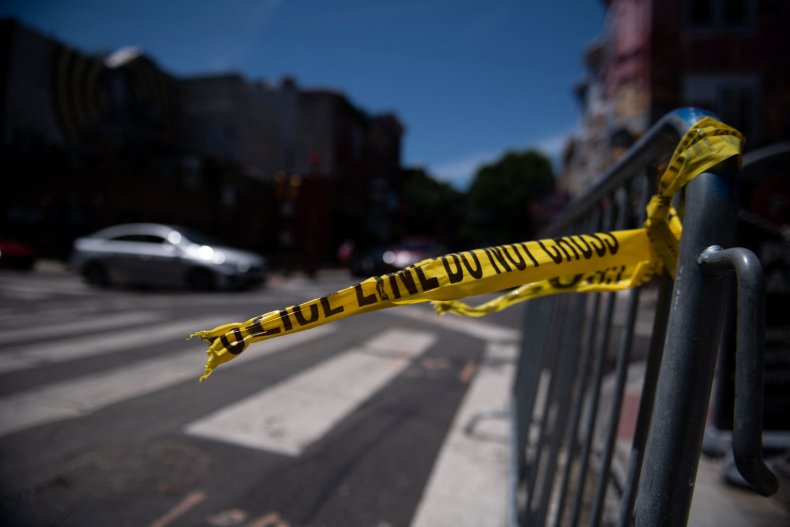 Though not confirmed yet by Newsweek, the suspect in Saturday's car crash into the fundraiser was allegedly a suspect of arson into the house fire.
This report will continue be updated as more details emerge.