Tropical Storm Beryl 2018 Location, Path: Where Will Storm Hit And When?
Hurricane season officially started last month, but the Atlantic hasn't seen much activity until recently. There are currently two disturbances in the Caribbean waters that the National Hurricane Center has its eye on.
The stronger of the two weather patterns is Tropical Storm Chris, currently sitting out in the Atlantic off the coast of the Carolinas but expected to head north. Another storm, Beryl, was causing heavy rains and a disturbance Monday.
Though Beryl has lost strength and is no longer considered a tropical storm as it was Thursday, it is still threatening some areas with heavy rains.
The storm was upgraded from a tropical depression to Tropical Storm Beryl Thursday, due to maximum sustained wind speeds of 40 miles per hour, according to the National Hurricane Center. But as its wind speeds decreased and the storm weakened, it was downgraded.
Beryl was less of a threat Monday than it was last week, but would still likely drop plenty of heavy rain on some of the islands in its path. An update from the NHC said that there were "showers and thunderstorms associated with the remnants of Beryl" that was causing some localized heavy rains and strong winds.
The U.S. Virgin Islands and Puerto Rico were expected to get hit with those remnants Monday. On the U.S. Virgin Islands, non-essential government employees were told to stay home as summer schools and government offices were closed in anticipation of bad weather.
A map from the NHC showed that the storm had a 40 to 60 percent five-day cyclone formation chance. But there was a zero percent chance of formation over the next two days.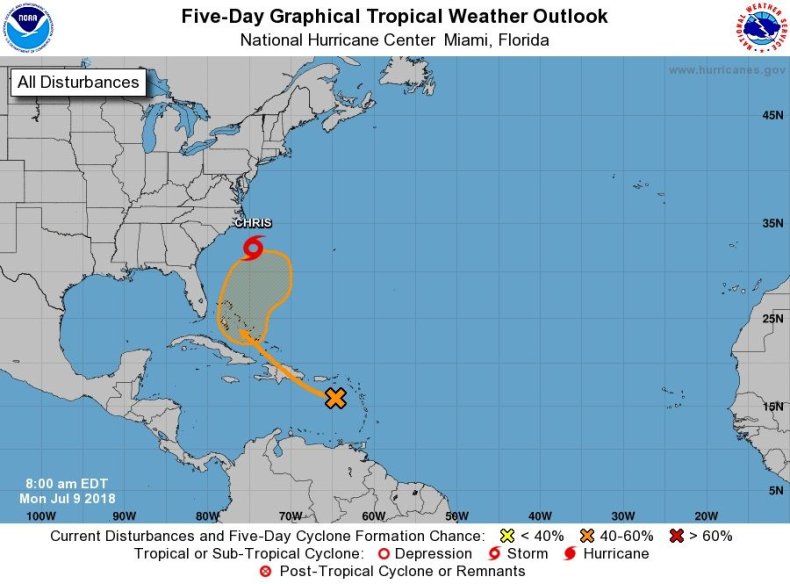 After the storm passes over that land it will likely head to Hispaniola Monday night before it heads north in the direction of the Bahamas and the western Atlantic region, the NHC said. The forecast for the Bahamas showed that there were showers and thunderstorms expected for Tuesday and into Tuesday evening with winds and swells between four and six feet, according to the National Weather Service.
There was another tropical storm called Beryl back in 2012—the strongest tropical cyclone to form in the off season that year. The storm made landfall in Florida before the hurricane season officially began. Atlantic hurricane names are recycled every six years, while some of the worst storms have their names retired.