Best American Distance Runner Never to Make Olympics Has No Regrets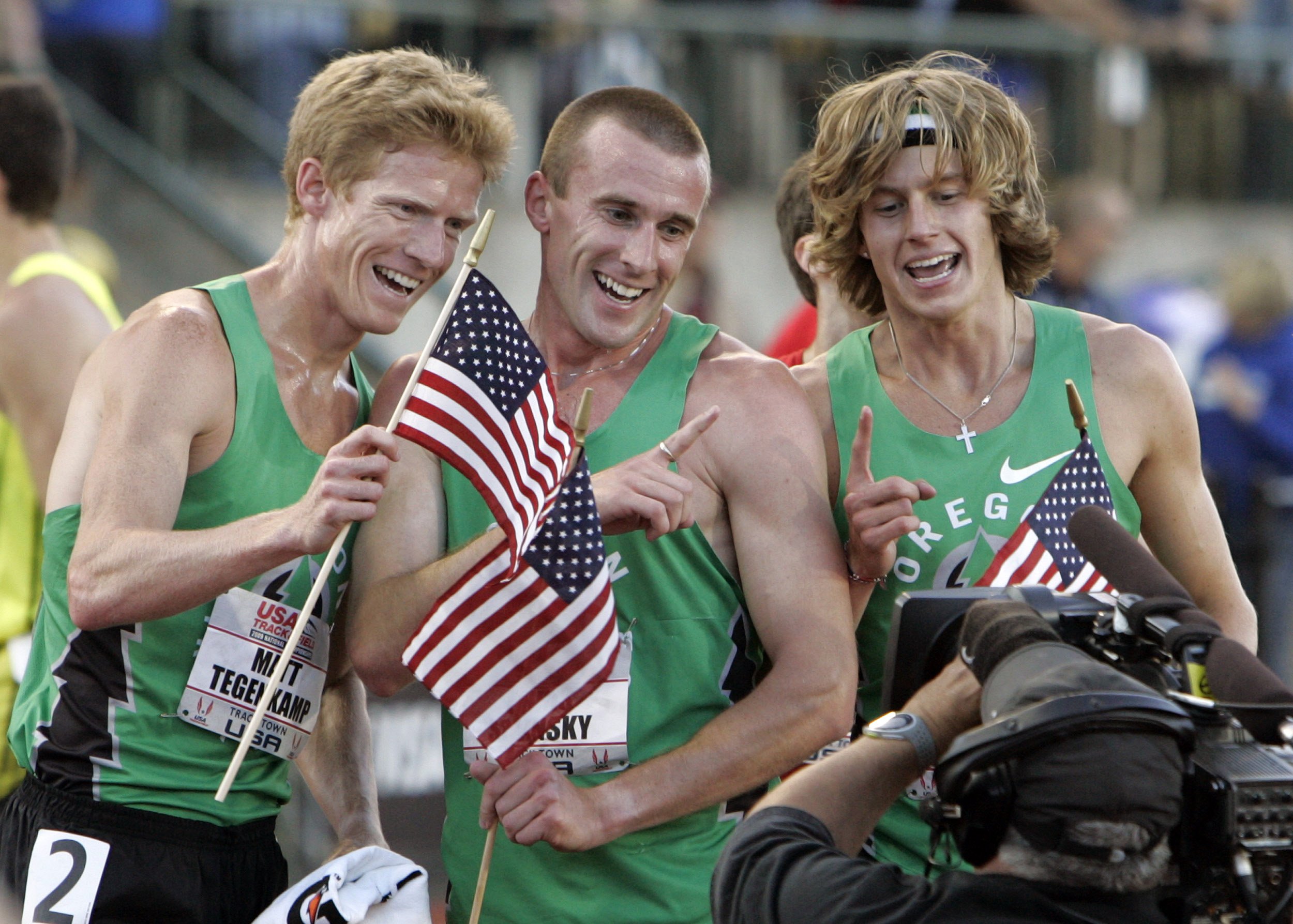 Updated | Chris Solinsky retired last week. If you do not know his name, or that he is 31 and the first non-African-born person to eclipse 27 minutes in the 10,000 meters, that is understandable. "You can be the best in the world in track and field," says Solinsky, who abandoned plans of making a run at the U.S. Olympic Trials last Wednesday due to nagging injuries, "and you'll never be as cool as the backup punter."
The two most popular races in middle-distance running, not to mention in every town in America where road races are staged, are the 5,000 (5K) and 10,000 (10K). Think of all the millions of runners who have traversed those distances. Only two men born outside Africa have eclipsed 13 minutes in the former and 27 in the latter: Galen Rupp, 29, who earned a silver medal in the latter event at the 2012 London Olympics and is likely head to Rio this summer; and Solinsky, who never made an Olympic team.
If four minutes was once the mystical barrier in the mile, 13 minutes in the 5K and 27 minutes in the 10K remain so everywhere outside the African continent. "Those two numbers are even more exclusive than the four-minute mile," says Ryan Fenton, a former runner at Clemson who announces races for FloTrack, a running website. "Not to disparage any sub-four minute miler, but lots of Americans have broken that mark [467, beginning with Don Bowden in 1957]. When Galen and Chris stepped to the line in Palo Alto back in 2010, no one had yet broken 27 in the 10,000."
Six years ago this weekend at Stanford University, Solinsky shocked the track-and-field community when he became the first non-African to break 27 minutes in the 10,000. Running at the Jordan Payton Invitational, Solinsky clocked a 26.59.60. The race was momentous not only for the barrier broken but also because it was Solinsky, not Rupp, who broke it. Imagine showing up at the Iffley Road Track in Oxford, England, on May 6, 1954 to see Roger Bannister be the first human to run a sub-four minute mile, only to witness some chap named Archibald break the tape.
"Both Galen and Chris ran for Nike, but Nike had sent down a film crew to record Galen breaking the record," says Fenton, who both filmed and called the race for FloTrack, a running website.
"The conditions were ripe for the existing record to fall, and it was a who's who of runners at the starting line. But nobody expected Solinsky to be the one who'd be the one to break it."
Indeed, Solinsky, who had won five NCAA individual championships at the University of Wisconsin, had never run a 10K before. Ever. "I guess I was the unknown equation in the race," says Solinsky, who is now an assistant track coach at William and Mary College in Virginia.
Both Rupp, who was born and raised in Portland, and Solinsky, were part of the Nike Oregon Project, the sportswear monolith's cadre of sponsored elite runners, at the time. They were under the tutelage of two different coaches, though, two men who at best maintained a frosty relationship. Rupp was and still is mentored by Alberto Salazar, while Solinsky was coached by Jerry Schumacher, who had also been his coach at Wisconsin.
Salazar and Schumacher both coached a group of Nike runners, but beyond the swoosh, the overlap was minimal. "The Schumacher-Salazar rivalry is pretty real...pretty intense," says Fenton, choosing his words carefully. "And this race, Alberto and Galen had set it up like it was their show. Everyone overlooked the fact that Chris was even in the race."
Promotional posters had been printed featuring Rupp. The top Canadian 10,000 runner, SImon Bairu, a Nike teammate of Solinsky's, as well as the nation's top collegian at that distance, Sam Chelenga, were all entered, each of them taking dead aim at American Meb Kefligihzi's record of 27:13.98, set nine years earlier on that very track. "If you had asked me who had the best chance of winning from my own [Schumacher's] group, I would've never said me," says Solinsky. "I had no idea if I'd blow up at that distance."
Fast forward to the final 2 ½ laps of the 25-lap race. Solinsky has surprised everyone, himself included, by finding himself with Rupp in the lead. "My favorite part of the race is with about 900 meters to go," says Fenton, who also was filming the race. "You can see that Chris is trying to decide what to do."
"Solinksy's itching! Ohhh, God…. This is a territory he's never been in before. He's confused. He doesn't know what to do…And he's going. He's going. Chris Solinsky is taking off!"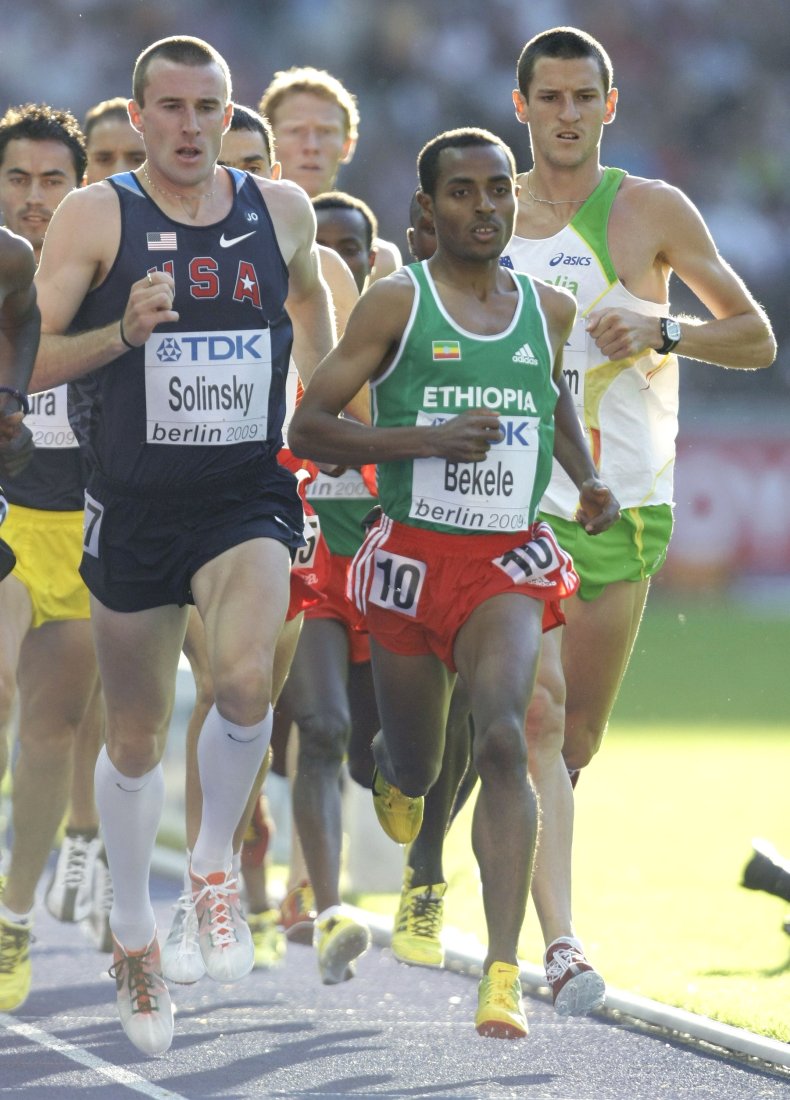 Fenton, 34, has run, watched and called hundreds of races. When he set up his perch at Cobb Track on the evening of May 1, 2010, next to his spotter, Brad Aagaard, he expected that he might witness an extraordinary feat. As the final two laps unfolded, however, his voice betrays his shock—and awe. It registers on a number of levels.
First, there is the possibility that Solinsky, in his 10K debut, may just steal this race from the top North Americans at this distance. His next epiphany comes as he recognizes that Solinsky, not Rupp, may be the one to break Kefligizhi's 27:13.98 mark.
"Chris Solinsky, could anyone even predict that he would go for a record like this?"
On the backstretch of the penultimate lap, Solinsky and Rupp, both clad in green singlets and navy shorts, lap slower runners with about 10 meters between them. Has Solinsky taken off on his final sprint too soon? Rupp appears to sense the urgency of the moment, and accelerates his pace.
"I'm not a guy who waits for a final kick," says Solinsky. "Not to compare myself to [Steve] Prefontaine, but I always had the mentality of, 'If you're going to beat me, I'm going to make you hurt.' I liked making a move early just to challenge you...even if I was bluffing."
This time Solinsky was not bluffing. "Once I got to 600 meters [one and one-half laps] to go, I thought, Okay, I got this," says Solinsky.
"Look at this! Look at this gap. It's growing. Chris Solinsky!"
As Solinsky hit the bell, or final lap, he was no longer in a race with humans. He was in a race with history, and he knew it. His time was 26:02. "I heard '60' [seconds] for that previous lap," says Solinsky, "and I thought, No way. No way I was going that fast. And then I thought, If I get on my horse, let's see what I can do."
"OH MY GOD! Can he break 27? Chris Solinsky is going to have the American record...there's no question who's going to win this race!"
On the final lap, Solinsky lapped five runners, only one of whom moved out to the second lane to let him pass. With less than 100 meters remaining, the fans and Fenton at last recognize Solinsky's true aim. He has left victory and the American record, like his fellow runners, in the dust. Can he break 27 minutes?
" He might break 27 minutes. Here we go...c'mon, Chris! OH MY GOD!"
As thrilling as Solinsky's 26:59.60 is, Fenton's impassioned call of his achievement is nearly on par with it. "I tend to get enthusiastic, but on that race I was so excited that you can hear me yelling in the background on Stanford's feed of the race," says Fenton.
"It's Ryan who deserves the credit," says Solinsky. "I don't think it could have been done any better. I love how much passion he brought to it."
"Chris has always been very complimentary to me regarding that race call," says Fenton. "I don't think he realizes that he gave us a gift that night, and that he inspired a lot of people with what he did. That's why they remember it."
The aftermath was surreal. Rupp, who finished fourth (27:10.74) while setting out what he had aspired to do—break Kefligizhi's record—shook Solinsky's hand. Then Solinsky was mobbed by three of his Nike/Schumacher teammates, one of whom, Bairu, had just set the Canadian record. Chelanga, who had finished third (27:08.39), set the collegiate record. Solinsky signed autographs for fans on posters featuring Rupp.
The following morning Solinsky and Schumacher were booked for an appearance at a local Niketown store, having bumped Rupp and Salazar for the spot. "We saw them walking along the sidewalk looking for a place to have brunch," recalls Solinsky. "It was definitely a sweet 24 hours."
Two months later in Stockholm, Sweden, Solinsky would become the third American-born to eclipse 13:00 in the 5,000, clocking a 12:55.53. The following year Solinsky tripped over his dog descending the stairs, leading to a hamstring avulsion, an injury in which the hamstring tendons separate from the pelvis. He never recovered his form.
In the summer of 2012 he watched the Olympic 10,000-meter final with what he says was "a pit in my stomach." Mo Farah of England won gold in a tactical race with a time of 27:30, and Rupp took silver, finishing a half-second behind. "I could have told you exactly how that was going to play out and that was the perfect race for me," says Solinsky. If you're going to beat me, I'm going to make you hurt.
Rupp has since topped both of Solinsky's marks and, as he prepares to compete in his first Olympic marathon this August, is deservedly hailed as the greatest American distance runner of his generation. Still, the gap between the two in terms of name recognition is much wider than any that ever existed between them on a 400-meter oval.
"Timing," explains Fenton. "Chris had that unbelievable summer in 2010, which is neither an Olympic year nor a world championships year [the Worlds are staged biannually in odd-numbered years]. It's the worst possible year to have done it."
A few weeks after his 26:59.60 in Palo Alto, Solinsky went for a training run in Portland. The American Roger Bannister, at least for the 10K, had an apple core and 7-Eleven Slushee tossed at him from cars that passed by. He chuckled. "Jerry [Schumacher] always says that you're only as good as your second-best race," says Solinsky, "and I only ever finished one more 10K, where I failed to break 29 minutes. So I guess I'm really a 29-minute 10K guy."
CORRECTIONS: This article originally incorrectly referred to the Payton Jordan Invite as the "Jordan Payton Invitational."
This article originally incorrectly referred to Meb Keflezighi as "Meb Kefligizhi."
This article originally incorrectly referred to Sam Chelanga as "Sam Chelenga."
This article originally incorrectly stated "Rupp has since topped both of Solinsky's marks" where it should have stated "Rupp has since become the only other American-born male to eclipse 27 minutes in the 10,000 and 13 minutes in the 5,000."