Family, friends and colleagues gathered at the Washington National Cathedral on Saturday to pay their respects to the late senator John McCain with eulogies delivered by George W. Bush and Barack Obama.
The two men bested McCain in his two presidential bids in 2000 and 2008. In his eulogy, Obama noted that "President Bush and I are among the fortunate few who competed against John at the highest levels of politics. He made us better presidents, just as he made the Senate better, just as he makes this country better."
During his remarks, Bush honored his late colleague. But he also made what seemed like veiled references to Donald Trump.
Below are some of Bush's remarks that seemed to offer a subtle rebuke of Trump and his brand of national politics.
"Perhaps above all, John detested the abuse of power. He could not abide bigots and swaggering despots. There was something deep inside him that made him stand up for the little guy – to speak for forgotten people in forgotten places."
"It is this combination of courage and decency that makes the American military something new in history – an unrivaled power for good. It is this combination of courage and decency that set America on a journey into the world – to liberate death camps, to stand guard against extremism, and to work for the true peace that comes only with freedom."
"It is a tribute to his moral compass that dissidents and prisoners in so many places – from Russia, to North Korea, to China – knew that he was on their side. And I think their respect meant more to him than any medals and honors life could bring."
"If we are ever tempted to forget who we are, to grow weary of our cause, John's voice will always come as a whisper over our shoulder: We are better than this. America is better than this."
"He respected the dignity inherent in every life - a dignity that does not stop at borders and cannot be erased by dictators."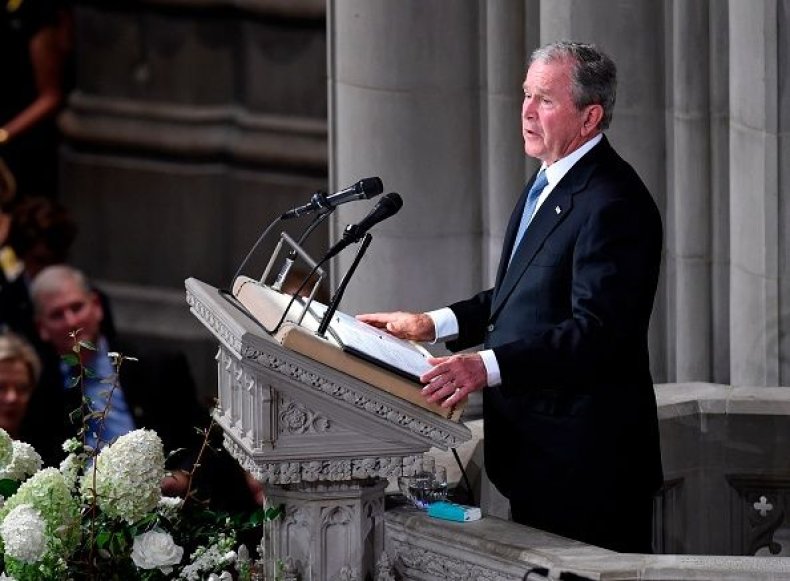 McCain, who served in Congress for over three decades after being a prisoner of war in Vietnam, passed away on August 25 after a year-long battle with brain cancer. The political maverick has been honored over the past week with memorial services in Arizona, Washington D.C. and Annapolis, Maryland.
Donald Trump did not attend any of the memorial services, and in his place sent top members of the administration like Mike Pence, John Bolton, James Mattis and John Kelly. Ivanka Trump and Jared Kushner were also in attendance at McCain's funeral in Washington on Saturday.
Following the funeral service, McCain will be laid to rest at the cemetery of his alma mater, the U.S. Naval Academy in Annapolis, Maryland on Sunday. The late senator will be buried alongside his best friend and former classmate Admiral Charles Larson.