Ranked: 25 Best Beaches in the U.S. According to TripAdvisor Users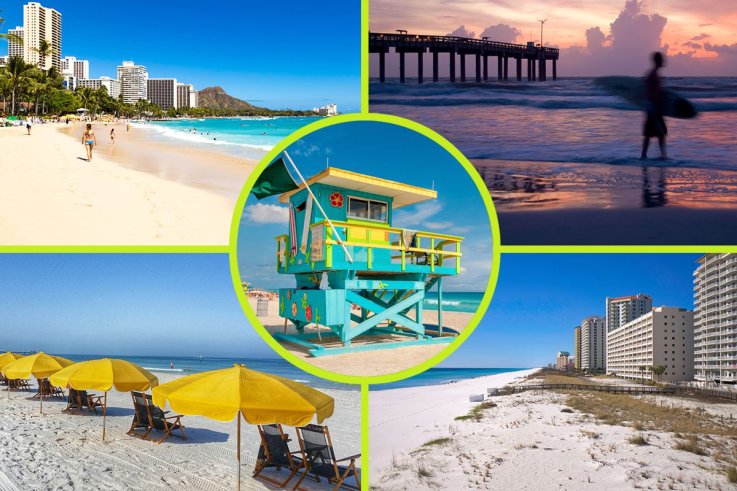 A Florida seaside resort has been named America's best beach for the second year in a row in TripAdvisor's annual Travelers' Choice awards.
Clearwater Beach in Clearwater, Florida, is located on the Gulf of Mexico, and known for its 2.5-mile stretch of soft, white sand. The beach enjoys warm temperatures year-round, and is popular with paddle boarders and parasailers. It is a half hour drive from Tampa.
Florida beaches did well in the travel review website's 2019 U.S. beach rankings. Some 40 percent of the top 25 beaches were in Florida. The state's Panama City Beach came in at third place, followed by St. Pete Beach and Pensacola Beach.
"Clearwater Beach continues to be one of the best beaches in the world, and it's special to have the millions who make up the TripAdvisor community reaffirm that it truly is the number one beach in America for the second-straight year," said Leroy Bridges, vice president of digital and communications for Visit St. Pete/Clearwater.
Award winners were calculated by TripAdvisor, who looked at the quantity and quality of traveler reviews and ratings for beaches on the review site over a 12-month period.
Although Florida dominated the list, the Aloha State also did well—almost 30 percent of the top 25 are in Hawaii. Ka'anapali Beach in Lahaina, Hawaii, nabbed second place. Located on the west coast of the island of Maui, Ka'anapali Beach was once a retreat for the royalty of Maui. The white sand beach has a daily sunset cliff-diving ceremony, a tradition popularized by Maui's revered King Kahekili in the 18th century.
Driftwood Beach in Jekyll Island, Georgia, is the only beach not in Florida or Hawaii to crack the top ten. Located on Georgia's smallest barrier island, the beach is a surreal, desertlike stretch of sand created from constant erosion on the north side of the island. Gnarled trees and driftwood emerge from the beach like sculptures, making it a popular spot for local photographers.
TripAdvisor is the world's largest travel site, with over 730 million reviews of around 8.1 million accommodations, airlines, experiences, and restaurants. These are the 25 beaches that their users have rated as the very best in America. Read more about each beach at TripAdvisor.