Ranked: The 25 Best Beaches in the World, According to TripAdvisor Users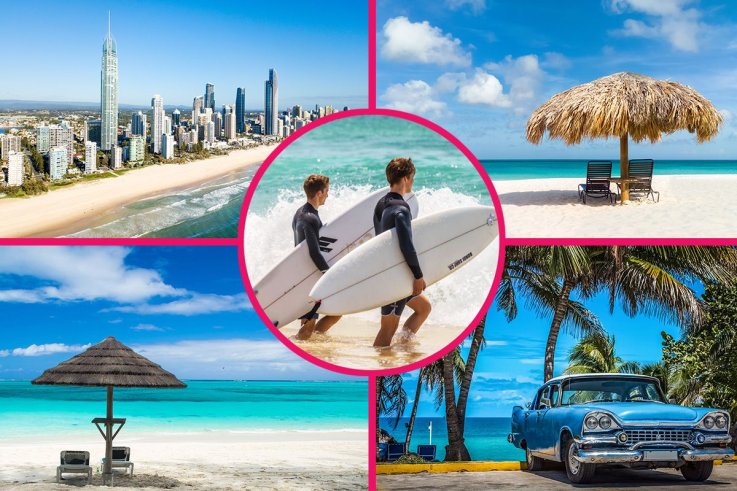 A secluded cove on a tiny Brazilian island has been named the best beach in the world in the TripAdvisor Travelers' Choice Awards.
The gorgeous Baia do Sancho beach is fringed by cliff faces and a tangle of trees on the island of Fernando de Noronha. Located 220 miles off the coast of Brazil, the island was designated a UNESCO World Heritage Site in 2001 for its rich natural diversity. Visitors must pay an environmental preservation fee to enter the island.
This remoteness has preserved it from touristy hordes. "As you walk through a small trail, you can't imagine what awaits you. The heavenly view seems like a mirage," wrote one TripAdvisor user. Baia do Sancho's clear, warm waters and abundant sea life mean it's a highly-rated snorkeling spot.
Baia do Sancho rose one spot to knock off last year's winner, Grace Bay in the Turks and Caicos Islands. The Caribbean beach slipped down to fifth place in the 2019 rankings. With year-round sunshine, white sands and turquoise waters, Grace Bay resembles a typical paradise beach.
The best beach in the U.S. was named as Florida's Clearwater Beach. Its white sand and balmy temperatures helped it secure a spot at sixth place in the global rankings. The beach, which is a 30-minute drive from Tampa, enjoys year-round warm temperatures, and is popular with paddle boarders.
Ka'anapali Beach in Maui, Hawaii was the second-highest rated U.S. beach, coming in at 14th place globally. With a rich cultural heritage dating back to the independent Maui kings, the beach also draws visitors with its crystaline waters and snorkeling.
La Concha Beach in Basque Country, Spain was the highest ranking European beach at fourth place. The crescent-shaped beach on the Bay of Biscay fringes the elegant 19th century resort town of San Sebastián, a tourist destination in its own right. Visitors can also swim out to a small island in the middle of the bay which has its own small beach.
Travelers' Choice Award winners were calculated by TripAdvisor, who looked at the quantity and quality of traveler reviews and ratings for beaches on the review site over a 12-month period. These are the 25 best beaches on the planet, according to the travel review website's users. Read more about each beach at TripAdvisor.