Best Beer Halls and Gardens in New York
New York City is overflowing with spacious beer halls and leafy beer gardens.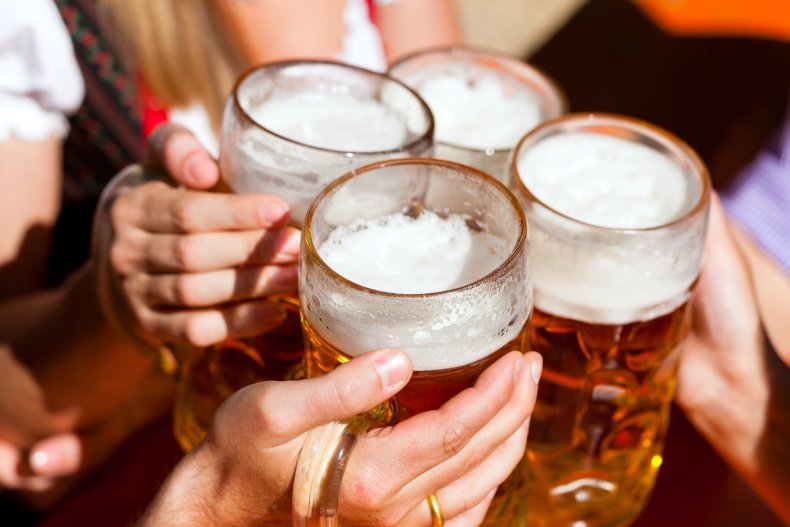 About 100 years ago Brooklyn boasted almost 50 breweries. At the same time, there were nearly 300 beer gardens and halls in which to imbibe beer in Queens. Anti-German sentiment after the World Wars changed all that. But beer has made a serious comeback in the Big Apple and there are some ambient beer halls and gardens to drink in. Here are the best.
View a Google Maps list of some of the best beer halls and gardens in New York City.
This huge 6,500-square-foot space along the Hudson River in Harlem is home to "Beer Street," a beer garden in summer and a beer hall in winter. There are 11 German beers on tap and an equal amount of American and German varieties available in cans and bottles. The better-than-average pub grub includes a grass-fed burger, a sausage platter, German meatballs and a bacon bourbon brownie for a sweet finish.
701 W. 133rd St.
This Czech beer-swilling institution in Astoria is one of the few surviving spots from the pre-World War I days. Nearly 1,000 hops-imbibing beer lovers can cram into the verdant garden. In winter, there's a spacious beer hall in which to down luscious Czech lager—try the Czechvar on tap, the original Budweiser from southern Bohemia—and fill your tummy with hearty Czech staples like beef goulash and fried cheese. And when you hoist your beer with friends, don't forget to say Na zdravi!
29-19 24th St., Astoria
Draft Barn
Unsung probably due to its location deep into Brooklyn (and the name which has a sort of sad-sack Midwestern vibe about it), Draft Barn offers a large selection of beers on tap—everything from German to Czech to Belgian. The back beer garden with its long wooden tables is an ambient spot to sip some suds.
317 Ave. X, Brooklyn
Long anchored on the Lower East Side, this German beer garden and hall is modeled after the Brauhaus culture, or brewery restaurants, in Cologne. It's all German beer on tap, including a few that one doesn't normally find outside of the Central European country's borders. There are plenty of Teutonic food staples on the menu—usually a variety of sausage and schnitzels—but also above-average nachos, buffalo wings, and burgers.
7 Rivington St.
Since 2007, this Williamsburg beer hall with a retractable roof has been pouring hoppy Mitteleuropa madness to the masses. With several beers on tap—most hailing from Germany and a few from the United States—Radegast is a Central European beer lovers dream. You can come for the beer but you'll stay for the food. The menu travels around Central Europe offering excellent Hungarian goulash, veal schnitzel, homemade pierogis, and, of course, variations on the theme of sausage.
113 N. 3rd St., Brooklyn
While "Spritzenhaus" may sound like something Sasha Baron Cohen's character Bruno might have uttered, it's actually a large beer hall on the Williamsburg/Greenpoint border with floor-to-ceiling windows that open up in the warm-weather months, making you feel like you're in some kind of hybrid beer hall/garden. There are two dozen beers on tap and 10 different sausages in which to help soak up that beer to prolong the night of quaffing the sudsy stuff.
33 Nausau Ave., Brooklyn
Located right under the High Line and connected to the Standard Hotel—or Standard High Line, as it's now officially called—this fun beer garden offers a genuine Teutonic experience to go along with your plus-sized stein of beer and soft pretzels. Don't be put off that it's related to a scene-y hotel; the beer garden is legit. In summer, reserve a table called a Stammtisch—German for "a regular get-together of friends at a pub"—in which you can pour three different tapped beers right at your own table. Now that's service.
848 Washington St.
Best Beer Halls and Gardens in New York | Culture