Best Bets and Picks for 49ers vs. Eagles and Bengals vs. Chiefs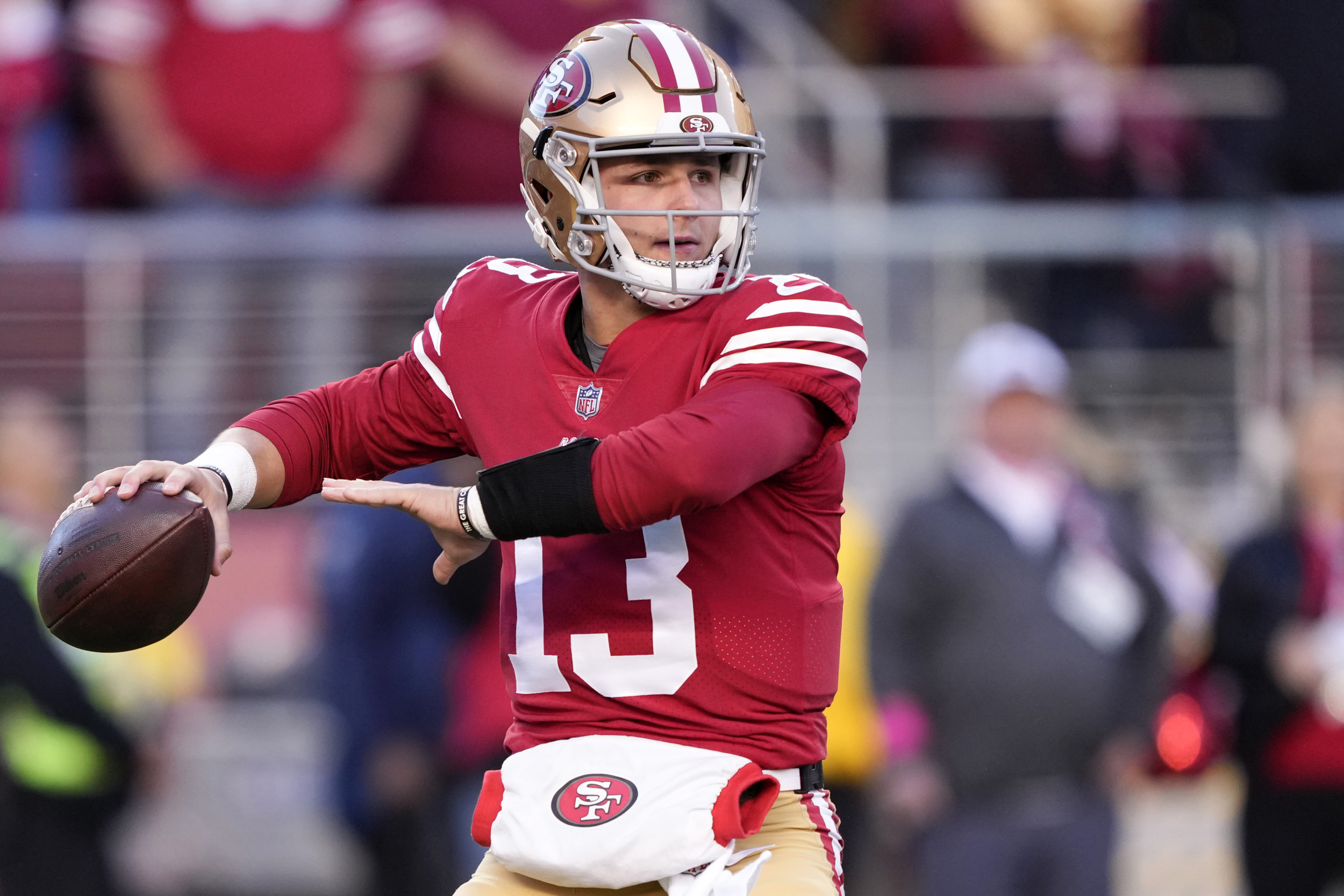 Sports Betting Dime provides exclusive sports-betting content to Newsweek, including picks, analysis, tools and sportsbook offers to help bettors get in on the action. Please wager responsibly.
The NFL's 2023 conference championships get underway in just over 24 hours' time. The action starts with the San Francisco 49ers (15-4, 5-3 away, 13-6 ATS) visiting the Philadelphia Eagles (15-3, 8-2 home, 9-9 ATS) at 3 p.m. EST on Sunday, Jan. 29, at Lincoln Financial Field. The Cincinnati Bengals (14-4, 7-3 away, 13-5 ATS) vs. Kansas City Chiefs (15-3, 8-1 home, 6-11-1 ATS) follows at 6:30 p.m. EST from Arrowhead Stadium in Kansas City, Missouri.
The odds forecast a pair of tight games, but I have a strong lean in both.
49ers vs. Eagles Odds
| | | | | |
| --- | --- | --- | --- | --- |
| Team | Spread | Moneyline | Total | Date/Time |
| 49ers | +2.5 (-105) | +126 | O 46.5 (-110) | Sunday, Jan. 29 |
| Eagles | -2.5 (-115) | -148 | U 46.5 (-110) | 3:00 p.m. EST |
Unlike the AFC title game (more on that later), the spread for the NFC matchup between the 49ers and Eagles has stayed relatively constant over the past six days. After briefly opening at Eagles -1.5, the line quickly shifted to -2.5 and has remained there all week.
The total opened at 47 last Sunday, dropped to 45.5 the same night, but has come back up to 46.5.
Eagles deserve to be favored at home
Seeing this line open at just 1.5 points was surprising, and the movement in Philly's favor is sensible. This is a nightmare matchup for San Francisco's rookie QB, Brock Purdy.
Philadelphia boasts the best pass rush in the league, and by a wide margin. It was almost historically good. The Eagles racked up 70 sacks in 17 regular-season games, 15 more than the second-best team and just two shy of the all-time record set by the 1972 Chicago Bears.
While the NFL has only been playing a 17-game regular season for a couple years, it's been nearly a decade since a team managed to even reached 60 sacks (2013 Carolina Panthers). Four different Eagles finished with at least 11 sacks during the regular season and they have half-a-dozen ways to pressure the quarterback.
San Francisco's offensive line is one of the better units in the league in pass protection. They allowed just 31 sacks during the regular season and three combined in the playoffs against Seattle and Dallas. But Dallas' own top-tier pass rush was able to generate significant pressure, and the results from Purdy were not pretty.
This Philadelphia front seven is a different beast, and with Purdy playing his first career playoff game in one of the league's most-hostile environments, things could go south very quickly.
Led by Nick Bosa's NFL-best 18.5 sacks, San Francisco has a capable pass rush as well (44 sacks, tied for 10th in the NFL) but it will be going up against literally the best offensive line in the league, according to Pro Football Focus. The Eagles' o-line graded out number one both for its ability to pass protect and dominate in the run game.
In the divisional round against the New York Giants, Philly leaned on that strength, piling up 268 rushing yards (and three rushing touchdowns) at 6.1 yards per carry during a 38-7 rout that was decided by halftime. The group allowed just one inconsequential second-half sack while the team was ahead by three touchdowns.
San Francisco's defense has been a top-three unit all season in most metrics. Their average of 310.0 yards allowed per game was third-best in the NFL. But it's also been opportunistic, sitting second in the NFL in takeaways (30) and leading the league in turnover differential (+13), a stat that tends to even out over time. Philadelphia was among the best teams in the league at protecting the football (19 turnovers) and QB Jalen Hurts tossed just six INTs on the year.
Philadelphia is a more-complete team with a more experienced quarterback playing at home. The team has covered the spread in seven of its ten home games to date, while the 49ers are just 3-4 ATS on the road. There is no doubt the Eagles should be favored here and the -148 moneyline price at FanDuel is the play.
Pick: Eagles moneyline (-148)
Bengals vs. Chiefs Odds
| | | | | |
| --- | --- | --- | --- | --- |
| Team | Spread | Moneyline | Total | Date/Time |
| Bengals | +1.5 (-110) | +102 | O 48 (-111) | Sunday, Jan. 29 |
| Chiefs | -1.5 (-110) | -120 | U 48 (-105) | 6:30 p.m. EST |
The point spread for the AFC Championship Game has been all over the map. The opening odds had KC at -2.5. As fears over Patrick Mahomes' high-ankle sprain spread, it shifted all the way to Cincinnati -1.5. When the news around Mahomes' health turned more optimistic, the line moved back and it's now nearly where it started, with the Chiefs favored by 1.5 points at home.
The total opened at 50.5 and fell all the way to 47.5. It gained half a point back during the week and sits at an even 48 across the board.
Most of the build-up to this game has focused on the Bengals' three recent wins over the Chiefs. Cincinnati took a 34-31 decision at home in Week 17 of last season, added a 27-24 (OT) road win in last year's AFC title game and, most recently, won a 27-24 verdict at home in Week 13 of this season.
All three wins were razor-thin, back-and-forth contests, and it would be completely disingenuous to imply that the Bengals have dominated anywhere other than in the win column. Kansas City held a 21-10 halftime lead in the AFC Championship last year before an uncharacteristically awful second half from Mahomes (which included two interceptions) allowed Cincinnati to mount its comeback.
I won't bury the lede any further than I already have. My favorite play on this game is over 48 points.
Expect Mahomes to dominate
Kansas City was the highest-scoring team in the league this season (29.2 PPG) and Mahomes is a virtual shoo-in to win his second MVP. He's the best football player on the planet right now and, unless his ankle injury is worse than is being reported, there is every reason to think he'll look like it on Sunday. The 2019 Super Bowl MVP has an impeccable playoff track record. He boasts a 106.2 passer rating in 12 career postseason games - half a point higher than his career regular-season average - and a 30-to-7 touchdown-to-interception ratio.
While Cincinnati's defense has found a modicum of success against the Chiefs over the past couple seasons, it's not a dominant group by any stretch of the imagination. The Bengals' D just squeaked into the top half of the league in yards allowed (335.7 per game, 16th in the NFL) and sits 11th in Football Outsiders Defensive DVOA. The bend-but-don't-break unit showed an excellent ability to stiffen up in the red zone, leading to a top-five scoring defense (20.1 PPG). But you can expect Mahomes to move the ball up and down the field with regularity. Even if he is slowed by his ankle injury, Cincinnati doesn't have the pass rush to capitalize. They finished the regular season with just 30 sacks, fourth-fewest in the league.
Burrow has torched the Chiefs
On the opposite side, Joe Burrow has absolutely obliterated the Kansas City secondary. In their three matchups since 2021, Burrow has 982 yards, eight touchdowns, one interception, and a 71.6 completion percentage. Between Ja'Marr Chase, Tee Higgins, and Tyler Boyd, Cincinnati has a legitimate claim to the title of best receiving corps in the NFL, while the Joe Mixon/Samaje Perine-led backfield is more than serviceable. Facing a KC defense that sits 17th in DVOA and 16th in scoring (21.8 PPG), Burrow will have every opportunity to continue his impressive run.
It would be tempting to say that Kansas City's pass rush - which finished second to the Eagles with 55 sacks - will give Cincinnati's injury-riddled offensive line problems. But the Bengals' retooled o-line dusted aside an excellent Buffalo front seven last week (allowing just one sack) and KC has managed just two sacks against the Bengals in the last two games.
Pick: Over 48 (-110)
Newsweek may earn an affiliate commission if you sign up through the links in this article. See the sportsbook operator's terms and conditions for important details. Sports betting operators have no influence over newsroom coverage. If you or a loved one has a gambling problem call the National Council on Problem Gambling 24/7 at 1-800-GAMBLER. Must be 21 or older to gamble.