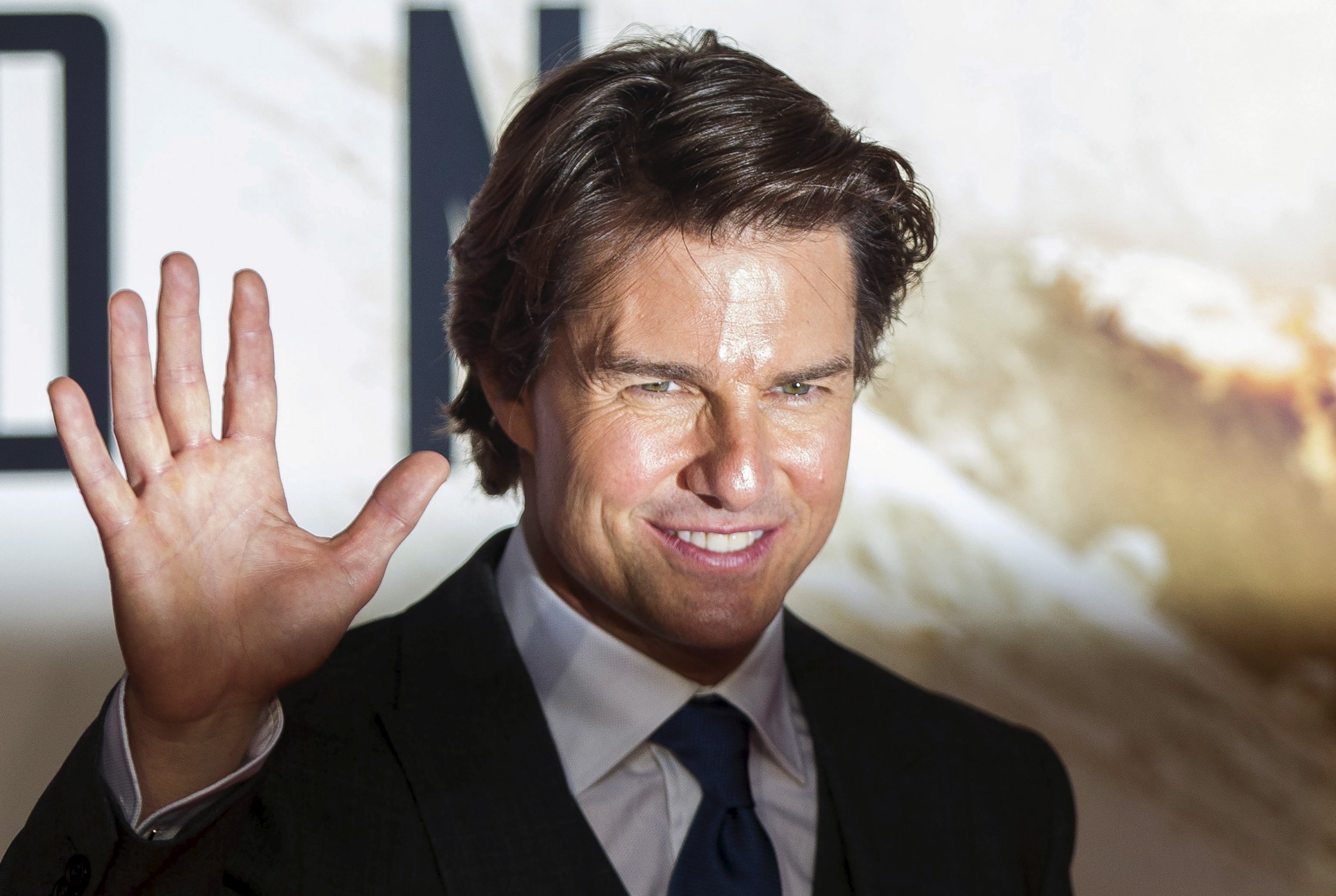 Updated | Gone are the days when a Scientology exposé had the impact of a classified document dump—defections from the notoriously insulated religion now occur with all the frequency of Justin Bieber meltdowns. In 2013, Lawrence Wright's Going Clear documented the experiences of several formerly high-ranking Scientology members; Alex Gibney's HBO adaptation aired in March. Jenna Miscavige Hill, niece of Scientology leader David Miscavige, wrote a memoir about her time in the church, as have a half-dozen other former practitioners. The secrets of a church that claims its secrets are too mind-blowing for the average person to know have long since been revealed.
Still, Leah Remini's Troublemaker: Surviving Hollywood and Scientology was highly anticipated. A member of the church for more than 30 years—she joined as a child after her mother started dating a Scientologist—Remini had long been a committed, if not hugely vocal, Scientologist. Her defection was a blow even for a church that knows a lot about bad press.
"Leah Remini has become what she once declared she never wanted to be known as: 'this bitter ex-Scientologist,'" the church wrote in a statement about the book. "She needs to move on with her life instead of pathetically exploiting her former religion, her former friends and other celebrities for money and attention to appear relevant again."
Given Remini's no-nonsense personality, it's hard to understand how she could have been so committed (like $5 million committed) to a church with such controversial policies. But in Troublemaker, a breezy and snarky 250 pages of Scientology dirt, Remini rattles off church ideology and acronyms like a pro: There are Operating Thetans (OTs) and Training Routines (TRs); Master-at-Arms (MAAs) and MEST work (matter, energy, space and time). Knowledge Reports. The Tone Scale. The Rehabilitation Project Force (RPF). The Commodore's Messenger Org (CMO). It's clear from the book's first page that Remini was in, and she was in deep. And while much of the information in Troublemaker is not new, Remini does offer up some juicy tidbits from her decades in the church.
All of Scientology's members could fit in Yankee Stadium.
Although not necessarily dedicated to member retention—Scientologists are forced to disconnect from anyone the church has declared a "Suppressive Person"—the church has claimed some 10 million parishioners worldwide. Remini clarifies: "[This] number apparently includes anyone who has ever bought a book, taken a course, or entered a church building. Estimates of the actual worldwide members are closer to 35,000." She also says the Sea Organization, Scientology's clergy of sorts, is estimated to have 4,000 members in the United States.
Kevin James is the best.
Remini's co-star on King of Queens, Kevin James, pops up a few times in Troublemaker, and always as a voice of reason. After Remini agrees to take a meeting about King of Queens after first rejecting the part, she meets James on set. "Kevin took one look at me and said, 'I'm sorry. Were you too busy not counting the money you weren't making on your canceled shows to make it to this meeting?' I was in love." Later he makes a "wrap it up" motion during Remini's wedding (held in 110-degree Las Vegas heat) and after she leaves the church he calls her to say he's proud of her. "[Kevin] has ruined me for life," Remini writes. "He was my first leading man; and despite doing other shows with other leading men, I've never found anyone who could compare favorably to him."
Remini paid the church $40,000 for stealing hamburgers.
During a brief stint in the Sea Org as a teenager, Remini would use a false name to order food at public restaurants on base, and then flush the evidence. Years later, she admits this in an auditing session at the same base, to which she has returned as a regular parishioner. "[My] auditor asked how much I thought I owed to make up the damage for the food I stole twenty years earlier," Remini writes. "'I don't know,' I said. 'How much was custard and hamburgers for three months in the eighties?'" Her auditor replies, "'[Let's] just round it up to forty thousand dollars.'"
Remini met Tom Cruise after making her first $1 million donation.
After their initial meeting at Scientology's Celebrity Centre, Remini joins what she calls Cruise's "Scientology entourage." Other members included EarthLink founder Sky Dayton, actress Marisol Nichols, actor Ethan Suplee and actress Jenna Elfman and her husband Bodhi. "Noticeably absent from the chosen few were Kirstie Alley and John Travolta," Remini writes. "I had heard that Tom didn't like them."
Cruise invited Remini and Jada Pinkett Smith to play hide-and-seek.
The eccentricities of Tom Cruise abound in Troublemaker, including in one anecdote where Cruise invites a few Scientologists and other celebrities to his home and tells them he wants to play hide-and-seek. "At first I thought he was joking, but no, he literally wanted to play hide-and-seek with a bunch of grown-ups in what was probably close to a 7,000-square-foot house on almost three full acres of secluded land," Remini writes.
Later that same night, Cruise gets angry when he can't find the ingredients to make cookies; the dough is right in front of him but everyone's too scared of him to point it out. "Still not noticing the log of pre-made dough on the counter, Tom raised his hand above his head," Remini writes. "'LRH is here,' he said, then lowered his hand to his chin and said, 'And Dave and I are here.' Then, with his hand down at his waist, he said [to his assistant], 'And you are here.'"
Cruise asked Remini to invite Jennifer Lopez and Marc Anthony to his wedding.
Remini has long been friends with Jennifer Lopez, and several times she and her husband Angelo brought J. Lo and Marc Anthony to Cruise's house for get-togethers. When Cruise and Katie Holmes were planning their nuptials, they asked Remini and her husband to invite Jennifer and Marc to the wedding. "'Don't you think you guys should?' I asked, confused. 'Well, we don't really know them that well,' Katie said."
Everything goes south at the Cruise/Holmes wedding.
The beginning of the end for Remini and Scientology kicks off at the star-studded Italy wedding of Cruise and Holmes. After getting to Rome, Remini is reprimanded for arriving late (she came with J. Lo instead of the Scientology crew) and makes waves again after requesting that she and Jennifer be seated at the same table. Later, she finds a 7-month-old Suri, Cruise and Holmes's daughter, crying in the bathroom, surrounded by Scientologists. "Rather than talking to her in a soothing voice, they kept saying, 'Suri! Suri!' in a tone that sounded like they were telling an adult to get her shit together," Remini writes. She gives Suri a bottle, but several Scientology members later write Knowledge Reports claiming Remini's behavior at the wedding was rude.
Remini also writes some Knowledge Reports of her own, claiming to have seen an abundance of "off policy" behavior at the wedding: two senior Scientology officers (both married) making out; another Scientology officer drunk and hitting on Brooke Shields; David Miscavige flirting with his assistant (his wife Shelly is MIA). "All of these rules appeared to have been broken because of or in relation to [Tom Cruise] and his standing in the church," Remini writes. "Was my church falling apart? Was Tom in charge?"
After the wedding, Katie Holmes tattles on Remini.
As Remini's own Knowledge Reports go unaddressed, she is told that Holmes wrote one on her, "in which she referred to my behavior during the wedding weekend as 'very upsetting,' and accused me of disrupting the party, which she claimed was a 'poor example to others.' She went on to say, '[She] made the party all about her,' and concluded the report with reference to the fact that all of this so-called bad behavior 'disturbed me greatly.'"
Remini is insulted—"What do I say about this childish report that looks like it was written by a seventh grader with all the exclamation marks?" she scoffs at her MAA (sort of a Scientology disciplinarian)—but is still made to apologize for the incident. She later frames the wedding invitation and other mementos in a picture box, which she sends to Holmes with a note: "I'm so sorry that I destroyed your wedding." Katie responds with a text: "Just handle it with your MAA."
Remini asks for her money back.
After Cruise and Holmes split in 2012, Remini assumed Holmes would be declared a Suppressive Person over the very public divorce. Since Knowledge Reports written by SPs are usually expunged, Remini campaigned to have Holmes's report about the wedding removed from her file. She also asks about the roughly $300,000 in services she was made to pay for after the wedding, when she spent weeks being interrogated over her alleged transgressions. "Well, if it was all wrong, are you going to give me back my money?" Remini asked. "Because, as a Scientologist, when I'm reprimanded I'm asked what I'm going to do to make up the damage. So now I'm asking you, what are you going to do to make up the damage?"
After six years of haggling, Remini is eventually reimbursed, but the incident underscores a central critique in Troublemaker: that the church makes insane monetary demands of its regular practitioners. "Most members, regardless of their income, over a lifetime in the church spend upwards of $500,000 to get to the highest levels, which often takes more than twenty years," Remini writes. "During this time, they are required to purchase roughly 300 books, 3000 lectures, and 100 courses." She also accuses the church of helping its members rack up enormous credit card debt. "[They] 'help' you call Visa or Amex and they know exactly what to say to get your limit upped. And once they've helped you get that $10,000 or $25,000 credit limit increase, you end up charging that amount to your card as a donation."
Nobody, and I mean nobody, wants to talk about Shelly Miscavige.
Perhaps even more than her rift with Cruise and Holmes, Remini's frequent questions about the whereabouts of Shelly Miscavige earn the ire of many high-ranking Scientologists, including Miscavige himself. Before her disappearance, Shelly and Remini were friends, and the latter asks anyone who will listen why no one has seen or heard from Shelly Miscavige in years (indeed, some variation on the words "where's Shelly" appears 48 times in Troublemaker). Attempts to contact Shelly directly are thwarted by the church, and at one point Remini even goes so far as to file a missing person report with police—several days later the LAPD closes the case, calling Remini's report "unfounded." (Remini claims a detective told her no one spoke with Shelly Miscavige directly, though there are conflicting reports on this.) During a conversation with David Miscavige, Remini is told that Shelly has to be kept away "because SPs are constantly trying to have her subpoenaed," and in another conversation she is told that Shelly is on Gold Base, Scientology's 500-acre compound near Hemet, California. To date, Shelly Miscavige still hasn't been seen in public since 2007.
This story has been updated to reflect the LAPD's response to Remini's missing persons report, and to add a statement from the church regarding the release of Troublemaker.