Best Burgers in the U.S. Revealed
It's now official: these are the 10 best burgers in the U.S., from California to Rhode Island.
In a report compiled by The Daily Meal, the ultimate go-to source for all things food, patty-based menu items were tested out across the nation, making sure to include female- and Black-owned businesses. It also focused on smaller establishments and local favorites rather than fast-food chains—so don't expect the Big Mac from McDonald's to be included in this list.
"We did not limit our search to burger joints only, although that is the majority of the list," the report says. "To find them, we used internal expertise, scoured Yelp and other review sites, looked at coverage by local journalists and gathered suggestions from readers."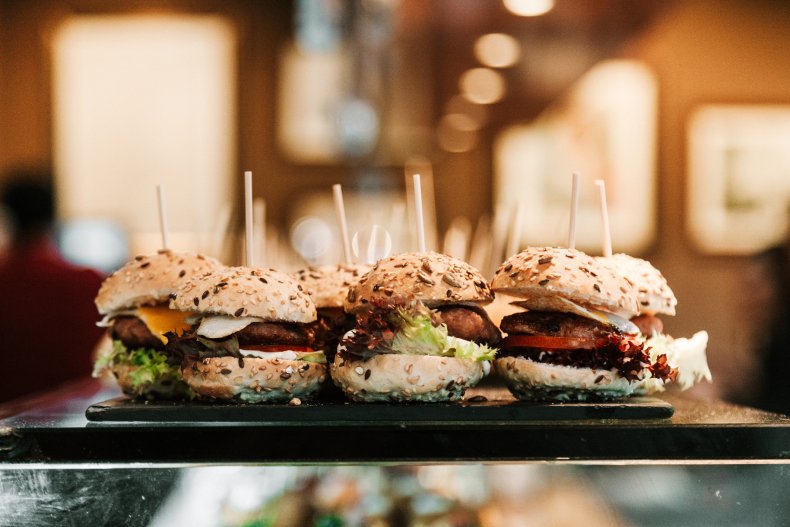 10. Dance Hall Queen, The Slutty Vegan—Atlanta, Georgia
This Black-female-owned business covers the majority of pallets, from vegan to meat-lovers. The owner, Pinky Coleman, has created unique names for her burgers—from Fussy Hussy to Ménage à Trois.
The winning patty though is Dancehall Queen. This burger is a plant-based patty loaded with vegan bacon, vegan cheese, caramelized onions, lettuce, tomato and a secret sauce on a vegan Hawaiian bun. It is also topped with sweet jerk plantains.
9. Nookie Supreme Burger, The Nook—Saint Paul, Minnesota
Famous for its freshly made burgers since 1938, this establishment has created "eccentric" burgers like the Harris Buckin Bronco burger—a patty topped with onion straws, bacon, smoked cheddar and pulled pork.
The Nookie Supreme Burger, which is a double-decker cheeseburger with lettuce, special sauce and three layers of fresh-baked bun, is the winning formula for this place.
8. Cheeseburger, Port of Call—New Orleans, Louisiana
According to the report, Port of Call is the best place to go in the city for a burger. Its cheeseburger is a half-pound of beef topped with lettuce, tomatoes and onions as well as pickles on the side.
Unusually, unlike most burger places that serve their burgers with fries, Port of Call's burgers are paired with a baked potato with butter, chives and bacon on top.
7. Cheeseburger, Husk—Charleston, South Carolina
Another unusual creation—at Husk, the bacon is ground right into the patty. The cheeseburger has two thin patties topped with American cheese, thinly sliced onions, pickles and a secret sauce placed between a warm brioche bun.
6. Americana Burger, Causwells—San Francisco, California
This burger joint has been open since 2014 and has already established itself a great reputation for being the best burger in San Francisco. The Americana starts with two patties covered in American cheese, topped with Causwells sauce, lettuce, pickles and onions and sandwiched toasted bun.
5. Stella's Staple Burger, Stella's Bar and Grill—Bellevue, Nebraska
This restaurant, which was founded in 1936 by a working lone mother of four children, cooked up the now-famous Stella hamburger.
The Staple burger is a 6.5-ounce beef ball hand-pressed onto a cast-iron grill and topped with lettuce, tomato, pickles, onions, mayo, cheese, bacon and a fried egg. It is then tucked into a warm Rotella's bun.
4. The Stack, Chomp Kitchen and Drinks—Warren, Rhode Island
This restaurant has nearly 10 different burgers on the menu such as the mac and cheese burger or the French onion burger.
But the locals seem to love The Stack, which is a beef patty topped with cheddar and American cheese, bacon, a pork patty, pepper jack cheese, pickled jalapenos, Mozambique fried chicken, chomp sauce, pickles, lettuce, tomato and melted onions. You also get a side of crispy fries.
3. Luger Burger, Peter Luger—Brooklyn, New York
This steakhouse has been operating since 1887 and its house Luger Burger is popular with its patrons. It comprises of is a freshly grilled patty served on a warm bun.
Pretty simple, but effective... and delicious.
2. Sliders, White Manna—Hackensack, New Jersey
Founded in 1939 at the New York World's Fair, this establishment is a Hackensack staple. Its burgers are so legendary, according to The Daily Meals, that celebrity chefs like Anthony Bourdain and Guy Fieri stopped by. Its burgers are topped with onion and cheese and served on a Martin's potato roll.
You can pair with a side of crispy fries or add a 12-ounce cup of pickle chips.
1. Cheeseburger, Au Cheval—Chicago, Illinois
Chicago is already home to the deep pan pizza and now it's home to the best burger in America.
Au Cheval's burger is another simple staple—two patties (or three, if you order a double cheeseburger) served medium, topped with American cheese, Dijonnaise and a few pickles, served on a toasted bun.
For those who want to get a more daring meal, egg, bacon or both can be added to the burger.