Best Buy at 50: Future's Bleak for Brick-and-Mortar Giant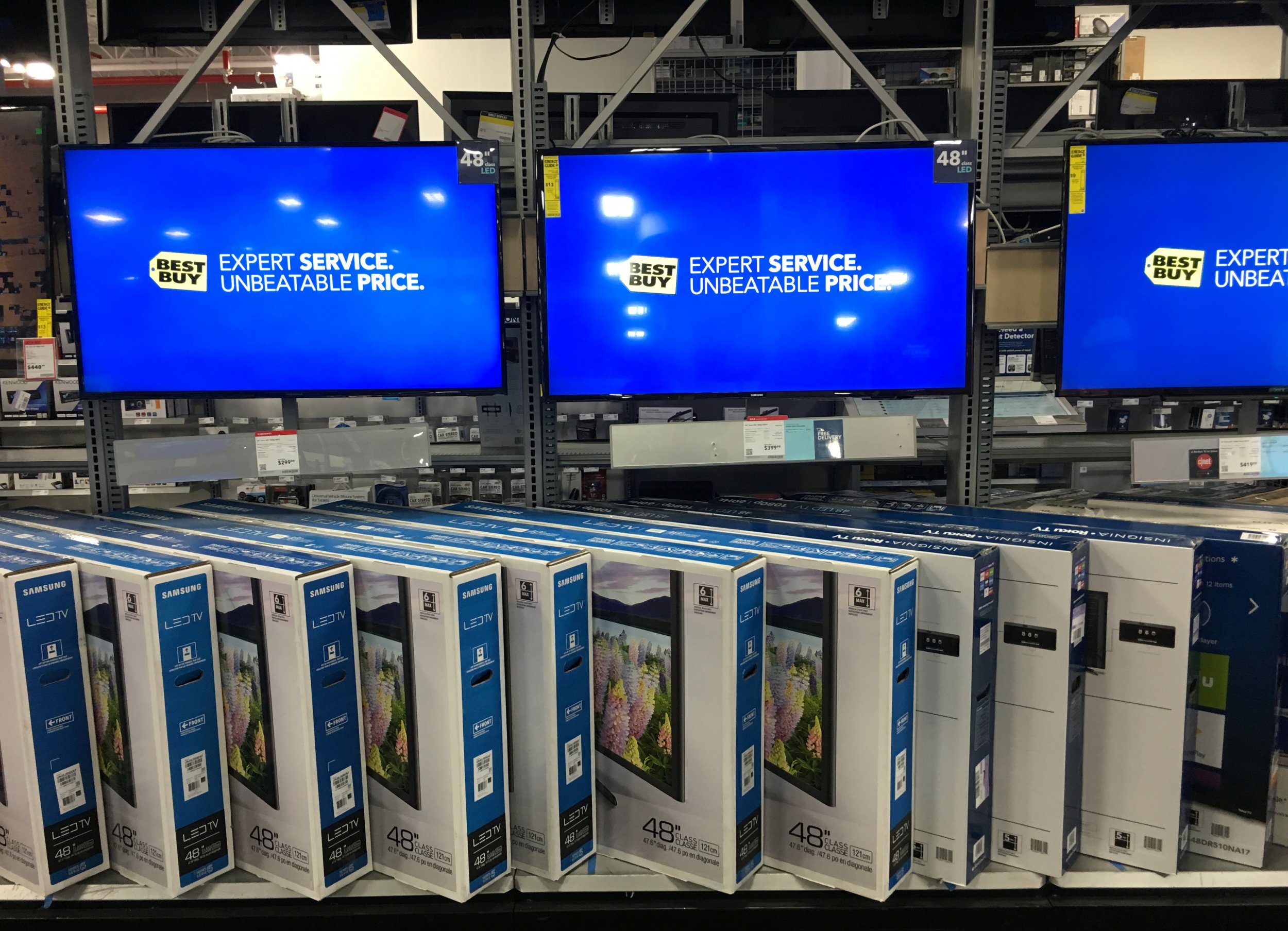 This article was originally published on the Motley Fool.
There's a pretty big sale taking place at Best Buy through Saturday night, with large markdowns to celebrate Best Buy turning 50 years old. A golden anniversary is as good a reason as any to host a massive sale, and some will argue that it's not the only thing that's on sale. Pull up a Best Buy stock chart, and you'll find a stock that's trading slightly higher so far in 2016 but still trading 25 percent below its all-time peak set three years ago.
Best Buy is holding up far better than the thinning ranks of publicly traded rivals, but it's hard to get excited about the superstore concept's future. Best Buy has made it through half a century, but it's going to be a real challenge to make it through another decade.
Best Buy reports its latest quarterly results next Tuesday. It's not likely to be pretty. Best Buy's guidance in May called for flat comps and $8.35 billion to $8.45 billion in revenue, a slight dip in both year-over-year and quarter-over-quarter revenue. Even after aggressively buying back stock over the past year, something that will pad earnings by roughly $0.04 a share, the meandering retailer expects to check in with a profit between $0.38 a share and $0.42 a share. It earned $0.49 a share a year earlier.
There will be a couple of one-time items holding profitability back. Best Buy's bottom line won't be as ugly as it looks at first glance. However, at the end of the day, Best Buy is just another physical retailer at the wrong end of the digital revolution.
You can save $400 on a 65-inch Samsung 4K UHD TV at Best Buy through Saturday night, but you're not likely to go back to Best Buy for Blu-rays and DVDs after that. Why would you when the top premium streaming service offers a growing catalog of 4K content?
You can save $180 on Beats Studio wireless headphones, only to never buy another CD because your entire audio library is on a flash drive or a streaming service.
Select MacBook Pro computers are being offered at $150 off, and the iPhone 6s starts at $1 with two-year activation, and either device will free you from the physical media items that would drag you into Best Buy on a weekly basis when the chain was relevant and e-commerce was not.
Best Buy will be selling a lot of heavily discounted electronics that will require less visits to physical stores in the future. Best Buy stock has held up better than its smaller and weaker rivals as a beneficiary of their demise, but sooner or later Best Buy won't be able to lean on taking market share from lesser competitors and online sales to merely post flat comps. It will be gnawing on itself, and that's why it's dangerous to make a long-term bet on the Best Buy.