Best Buy Black Friday 2018 Ad, Flyer: TV, Apple Products and More Listed as Deals
With Thanksgiving just two weeks away more and more stores are releasing their Black Friday flyers for shoppers.
Thursday Best Buy released its flyer with all of the "Black Friday doorbusters" included. The flyer is 52 pages long and full of deals on televisions, phones, games and more. There are going to be thousands of deals for the Black Friday shopping day and the flyer said hundreds of those deals were already available online Thursday through Sunday.
The prices listed in the Black Friday ad were going to be valid November 22 to the 24 and the doors at the stores were scheduled to open at 5 p.m. Thanksgiving Day in states where it is allowed.
Stores were scheduled to open at 8 a.m. on Black Friday for those who don't get all the deals they want on Thursday night or who would rather stay home with their families for the night before heading out to shop.
Some of the deals Best Buy was offering were discounted by hundreds of dollars, those looking to buy big-ticket items that normally would set them back hundreds or even a thousand dollars should check the deals.
Best Buy Black Friday Deals:
Televisions - The latest more up-to-date televisions would be on sale for the day from brands like Samsung, LG, Insignia and more. Some deals priced the televisions at less than $350 and those who purchase a television that is 51" or more were eligible for free delivery.
Computers - The Apple MacBook Air will be sold for $799, a $200 discount from its usual price, the regular MacBooks were already on sale at a $250 discount Thursday. Other laptops will also be on sale including the HP ENVY touchscreen laptop that will be discounted $220 to $749.99. On the less expensive side of things, there will be an HP laptop on sale for $289.99.
Electronics accessories - There will be deals on phone cases and other accessories like portable chargers and PopSockets as well. Speck phone cases would be discounted 50 percent and LifeProof cases discounted 40 percent come Black Friday. Shoppers would also be able to get 50 percent off PopSockets and some phone portable charging battery packs.
Smart home - A number of smart personal assistants were advertised in the Black Friday flyer from Best Buy. Those from Google and Amazon would both be on sale as would home cameras and smart lightbulbs. The Google Home will be on sale for $79.99 while several Amazon devices will be discounted. The Amazon Echo Dot will be just $24.99, the Amazon Echo will be $69.99 and the Echo Show will be $99.99.
Health and fitness - For those looking to step up their fitness game around the holidays or come the new year, there will be plenty of fitness wearables on sale. The Fitbit Versa, usually about $200 will be on sale for $149.95 while the smaller Alta HR will be $79.95. Garmin and Samsung smartwatches will be on sale as well with one of the most expensive options being the Fenix 5X Plus Garmin smartwatch at $699.99.
Small appliances - Some of the largest discounts the store is offering will be on small appliances. Many of them will be 50 percent off on Black Friday like the Nespresso Inissia Espresso Machine that will be on sale for $99.99. Certain robot vacuums will be 30 percent off, like the iRobot Roomba that will be selling for $199.99. The KitchenAid Pasta Cutter will be on sale for $99.99 and the Ninja blender for $59.99. Mini-fridges, microwaves, air purifiers, electric toothbrushes and shavers will be on sale as well.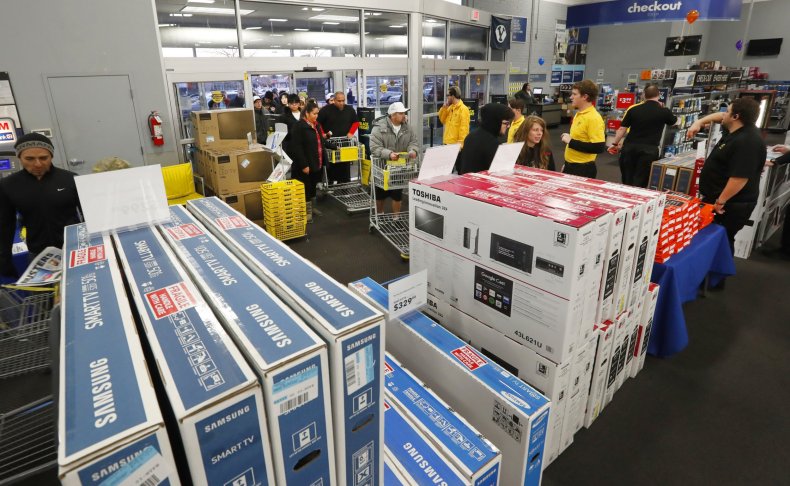 ​