Last week at CES, the biggest event of the year in consumer technology, more than 4,400 exhibitors unveiled some 20,000 new products across a broad array of tech and tech-infused categories.
There were TVs, audio gadgets, smartphones, smart homes, cars, computers, wearables, health and wellness devices, kitchen appliances, drones—and that's just the hardware. Next-gen services and software powered by AI, AR, 5G and a multitude of other acronymed technologies also figured prominently throughout the 2.9 million net square feet of exhibition space across several far-flung venues on and off the Las Vegas Strip.
Dazzling future-forward demos and displays of products that are more conceptual and tech-aspirational than realistic typically garnered the most attention. The problem: Many of these won't ever see the light of day and, if they do, their launch is years away. What matters most to consumers, though, is the stuff they'll be able to buy soon—the innovative products, equally cool, that can make your life better in the months to come.
Now that the show is over, the verdict about the very best of these products is in. Here are 12 standouts from CES 2020 that you'll be able to buy this year, plus a bonus pick that can be experienced this summer.
---
---
---
THE WORLD'S FIRST FOLDABLE PC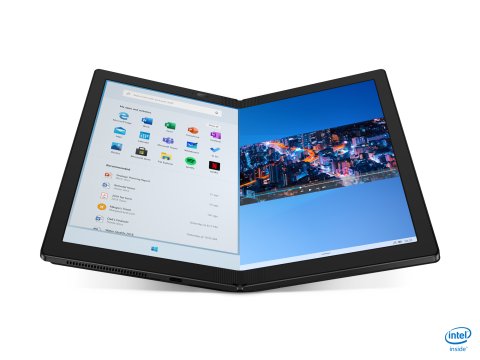 Lenovo ThinkPad X1 Fold

It's a laptop. No, it's a tablet. Wait, it's a mini-desktop PC. Actually, this foldable computer is all three—and more, thanks to a first-of-its-kind flexible 13.3-inch OLED screen that literally bends. The 2.2-pound device folds flat for use as a tablet or, when combined with the included Bluetooth keyboard and optional stand ($24), becomes an all-in-one computer on your desk. Bend it into a perpendicular shape, stick the keyboard on one half of the bezel (which doubles as a wireless charger), and suddenly it's a laptop. Remove the keyboard and use it a dual-screen tablet, taking notes on one half while you watch a presentation on the other. The unit packs away in a supple leather folio case and is 5G-ready, making it ideal for everything from video conferencing to TV-watching to gaming.
Availability: Summer 2020
Price: $2,500
---
---
---
A CLASSIC WATCH WITH CUTTING-EDGE SMARTS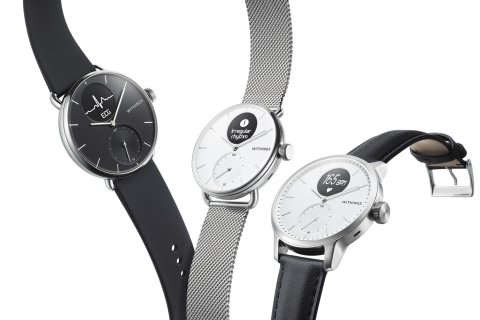 Withings ScanWatch
Unlike a typical wrist-worn health tracker, the Withings ScanWatch, which comes in a plethora of trendy and classic styles, looks like a fashionable timepiece, with a traditional watch face that sports mini OLEDs for displaying steps, messages and health alerts. But the ScanWatch's stylish good looks belie the powerful health-monitoring capabilities inside, including sensors to monitor the irregular heart rhythms of AFib, on-demand ECG readings and sleep apnea detection via light wave-based measurements in blood vessels to detect low oxygen levels (an indicator the sleeper may have temporarily stopped breathing). The waterproof watch also tracks calories, heart rate and exercise distances, which can be viewed, managed, and archived with an accompanying app, so you can take your health data to your doctor and trainer alike.
Availability: June 2020
Price: $249
---
---
---
AN AI-POWERED WASHER AND DRYER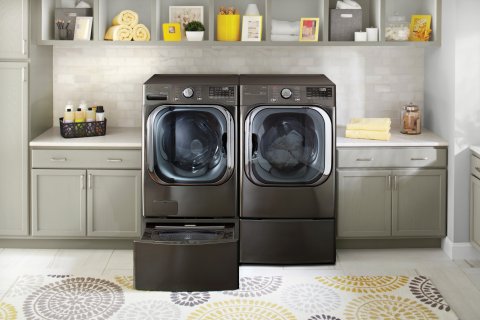 LG ThinQ Washer/Dryer with AI DD
Until now, smart washers have mostly just allowed you to start and stop your machine remotely from your mobile phone. LG's new ThinQ ushers in a new generation with an array of sensors and algorithms that enable it to detect the volume, weight and types of fabrics in a load, then optimize the mix of motions in the wash cycle for the best results. A smart dispenser automatically releases precise amounts of detergent and fabric softener at strategic times. This reduces skin irritations, sudsy build-up and needless extra rinses, which saves energy and money and helps clothes last longer. The washer will also notify a companion dryer of the best cycle for your just-washed load and issue alerts when you use too much detergent or the unit needs maintenance.
When available: Summer 2020
Price: To be determined
---
---
---
SAVING THE PLANET ONE FLUSH AT A TIME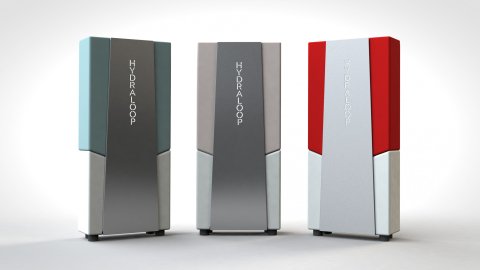 Hydraloop
Most toilets use perfectly potable drinking water to wash down waste. Plenty of systems exist to recycle and reuse water for toilets or watering lawns, but they tend to be bulky, expensive and require a lot of maintenance (those filters need to be cleaned out, after all). Not so with the Hydraloop, a self-cleaning water recycling appliance for the home that connects directly to your plumbing. Employing six different cleaning methods, none of them chemical- or filter-based, the unit automatically collects the water you use for showering and washing clothes and recycles it for use in flushing toilets, watering lawns, replenishing pools and doing laundry. Hydraloop can save up to 85 percent of your overall water usage, while also reducing energy consumption.
Availability: Second half 2020
Price: $4,000
---
---
---
A SOUND-SHIFTING BLUETOOTH SPEAKER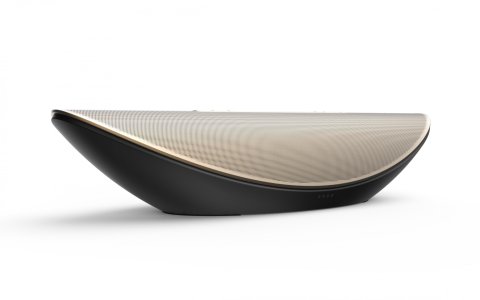 Cleer Audio Crescent
High-end smart speakers that deliver audiophile sound are a dime a dozen these days, but the WiFi- and Bluetooth-enabled Cleer Audio Crescent stands out for its impressive sound modes, including a wide-angle stereo setting for concert hall-like sound and a "room filling" mode that distributes audio evenly across a room, enabling everyone to get a balanced listen. It's the "3D Immersive" mode that rocks, though. It uses beamforming technology—the same used to create 360-degree spatial effects in video games—to deliver surround sound from all directions, without the need to bounce audio off of ceilings or walls, making it just as convincing outside on the deck as in a basement rec room. That this arc-like stainless steel and aluminum unit looks great on a shelf is just icing on the cake.
Availability: August 2020
Price: $600
---
---
---
THE GREENEST SUV EVER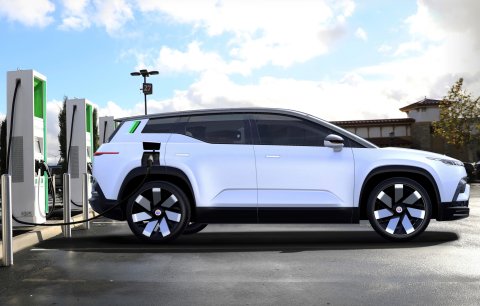 Fisker Ocean
At CES, most auto manufacturers showed off tech-focused concept cars that will never see the light of day. But the Fisker Ocean, which made its debut at the show with a functioning prototype, will go into production next year. The all-electric luxury SUV puts sustainability first, with carpets manufactured out of recycled plastic bottles and fishing nets, eco-suede trim made from recycled t-shirts and protective surfaces consisting of recycled rubber. The car will go 300 miles on a single charge with a solar-panel roof that adds about 1,000 miles per year of power for free. It's fun, too, with a "California" mode that opens all the windows, including the rear windshield and solar roof, to evoke the feeling of being in a convertible.
Availability: Reserve now for $250; first cars ship 2022
Price: $30,000 (after a $7,500 federal rebate); $379 per month lease (with $2,999 down)
---
---
---
A TV FOR THE TIKTOK ERA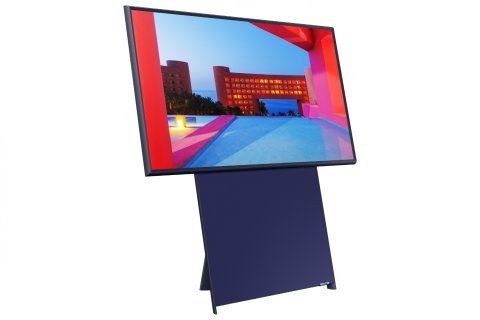 Samsung Sero
Watching Instagram stories and Snapchat or TikTok videos on the big screen is an enticing proposition. The problem is, vertical video just isn't the same when bordered by black bars on a fixed landscape-oriented TV. Released last year in Korea, the Samsung Sero 43-inch 4K QLED TV flips the script: Pair it with any Android phone and it'll automatically rotate between portrait or landscape mode depending on what you're watching (for now, iPhone users will need to use the remote). The bottom half of the TV's base contains a 4.1 channel, 60-watt sound system. The Sero may seem gimmicky, but it's still a nifty way to keep televisions relevant in an era where mobile viewing reigns supreme.
Availability: Second half of 2020
Price: $1,600
---
---
---
AN ACTION CAM FOR ALL VANTAGE POINTS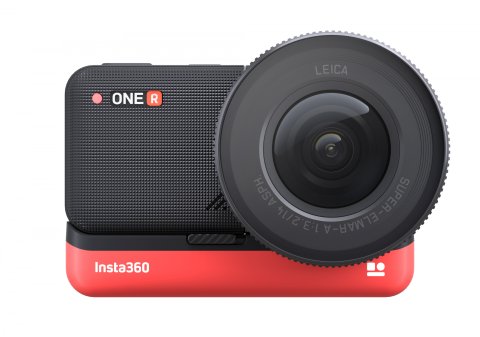 Insta360 ONE R
GoPro-style action cams come in two flavors—those that shoot stills and 4K video and those that shoot everything in 360 degrees. Social media influencers and adventurer-videographers don't mind carrying several cameras, but the rest of us? Not so much. The Insta360 ONE R offers an ingenious solution: Go modular. The adaptive action camera lets shutterbugs swap out different mods for different situations and output. The software is as dazzling as the hardware: Built-in computer vision algorithms enable the camera to track specific people, objects and scenes both in real time and while editing, which helps users cut to the chase when going through hours of 360-degree footage. Also cool: The FlashCut feature will automatically edit your footage based on user-chosen subject matter such as food, pets, sports and travel.
Availability: Now
Price: $300
---
---
---
A HEARING AID THAT'S ALSO AS AN EARBUD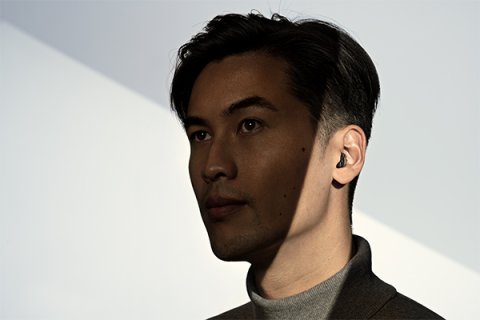 Phonak Virto Black
More than 40 percent of people who need hearing aids don't wear them—there's still a stigma—but the increased popularity of Airpods and earbuds, along with advances in small processors and microphones, have created appealing new options for those with hearing loss. Case in point: Phonak's Virto Black, which looks like a pair of earbuds but is actually a pair of medical-grade, high-performance hearing aids that adjust to different environments automatically and can be synched up to smartphones, laptops and other Bluetooth devices. Besides the ability to take calls and listen to music, the Virto Black is compatible with Phonak's Marvel technology, connecting to remote mics that can be placed strategically in noisy environments, enabling users to hear what someone is saying even if they're on the other side of a room.
Availability: February
Price: $6,000 (exact price depends on insurance coverage)
---
---
---
THE KITCHEN HELPER THAT HEARS, SEES AND COOKS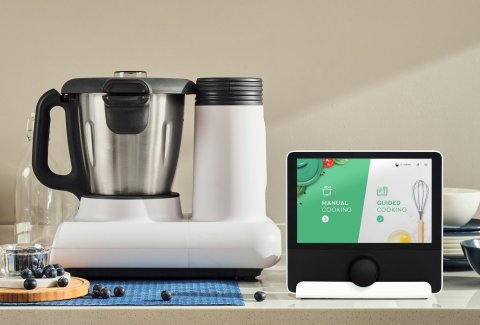 CookingPal Julia
All-in-one countertop cookers are hugely popular around the world—except in the U.S. Resembling blenders or food processors, these do-it-all cooking appliances usually tackle everything from weighing and chopping to mixing and steaming in the same bowl, with real-time step-by-step instructions when human input is needed. The CookingPal Julia does all that, plus is the first to include a splash-proof Android tablet with voice command capability to make cooking even easier. Choose from hundreds of recipes in the database or aim the tablet's camera at the food in your cabinets, and the device will identify what's there, suggest recipes and provide nutritional information. CookingPal says it's working on partnerships with retailers so that any missing ingredients can be ordered for delivery with just a couple of clicks.
Availability: September 2020
Price: $1,000
---
---
---
THE TELESCOPE THAT'S ALSO A TOUR GUIDE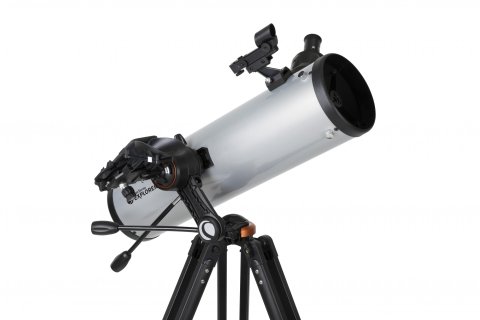 Celestron StarSense Explorer
It's an irresistible proposition for amateur astronomers and other stargazers: Get the capabilities of a professional observatory in a telescope that costs less than $500. You simply download the Starsense Explorer app to your smartphone, open it, and mount your device to the telescope's dock. Your synced-up phone then displays a rendered, augmented reality version of what's in the viewfinder and the system's AI-powered "sky recognition" capability identifies constellations and stars in real-time, offering additional information about them from an interactive database. The app will also generate a list of currently viewable stars and help you point the telescope at them. Best of all, this telescope doesn't require you to have a wireless connection, meaning you can comfortably stargaze where the night skies are clearest—usually the middle of nowhere.
Availability: Now
Price: $180-$400
---
---
---
SMART SWITCHES THAT'LL WORK IN ANY HOME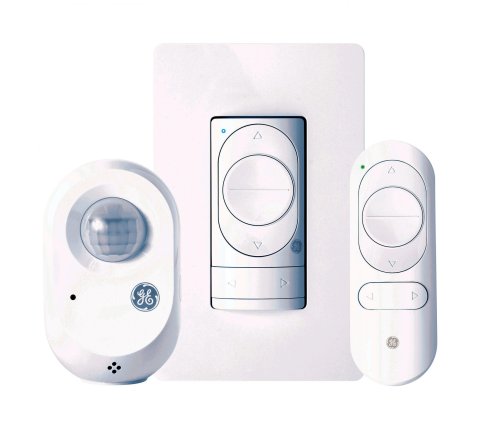 C by GE Hubless Three-Wire Smart Switches and Dimmers
The dirty little secret of smart home light switches is that they generally need either a neutral wire or separate smart home hub to work properly. But many houses built before the 1980s don't have the former, and the latter can be costly and complicated to set up. C by GE, which already makes smart bulbs that don't need separate hubs to work, has now launched the world's first hubless smart switches and dimmers. This means you can turn them on and off by voice or remotely, as well as set up routines and schedules, with nothing more than an Alexa, Google Assistant, or C by GE app on your smartphone. These switches and dimmers also don't need a neutral wire to function, which means they'll work in old and new homes alike.
Availability: March 2020
Price: $30–$50
---
---
---
BONUS PICK: THE FLIGHTBOARD OF THE FUTURE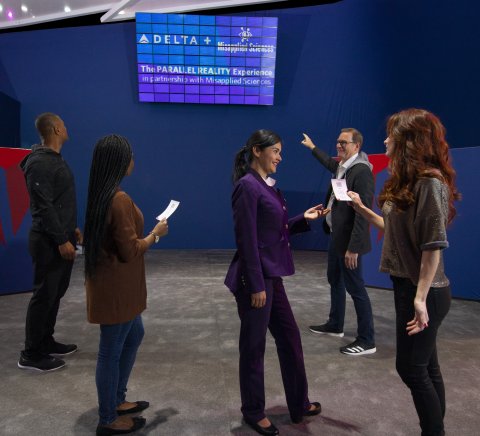 Delta Parallel Reality
Developed in conjunction with Misapplied Sciences, this new technology from Delta Airlines enables one airport screen to display unique personalized travel information—specific boarding gates, departure delays, Sky Club locations—to 100 different people simultaneously as they walk by, and all in their respective preferred languages. Parallel Reality, which will be an opt-in service when it launches at Detroit Metro Airport this summer, doesn't use facial recognition to identify specific travelers; instead, a camera captures individuals as unidentifiable blobs as soon as they scan their boarding passes, assigns them anonymous IDs, then follows them around in order activate their personalized views. Given some of the privacy concerns around facial recognition and calls for regulation of the technology, this anonymized tracking approach is a nice workaround that protects passenger privacy. As soon as the traveler leaves the Parallel Reality zone, the data is scrapped.
Availability: Summer 2020
Price: Included with your ticket.
---
---
---
Tom Samiljan has attended CES without a break since the turn of the millennium. He covers technology and culture, having written about both topics for everyone from Rolling Stone and Men's Journal to Travel + Leisure and The Wall St. Journal.