Best Christmas Gift Idea? 'Stop Fucking Tweeting and Go the Fuck to Sleep, Mr. President' Book Is It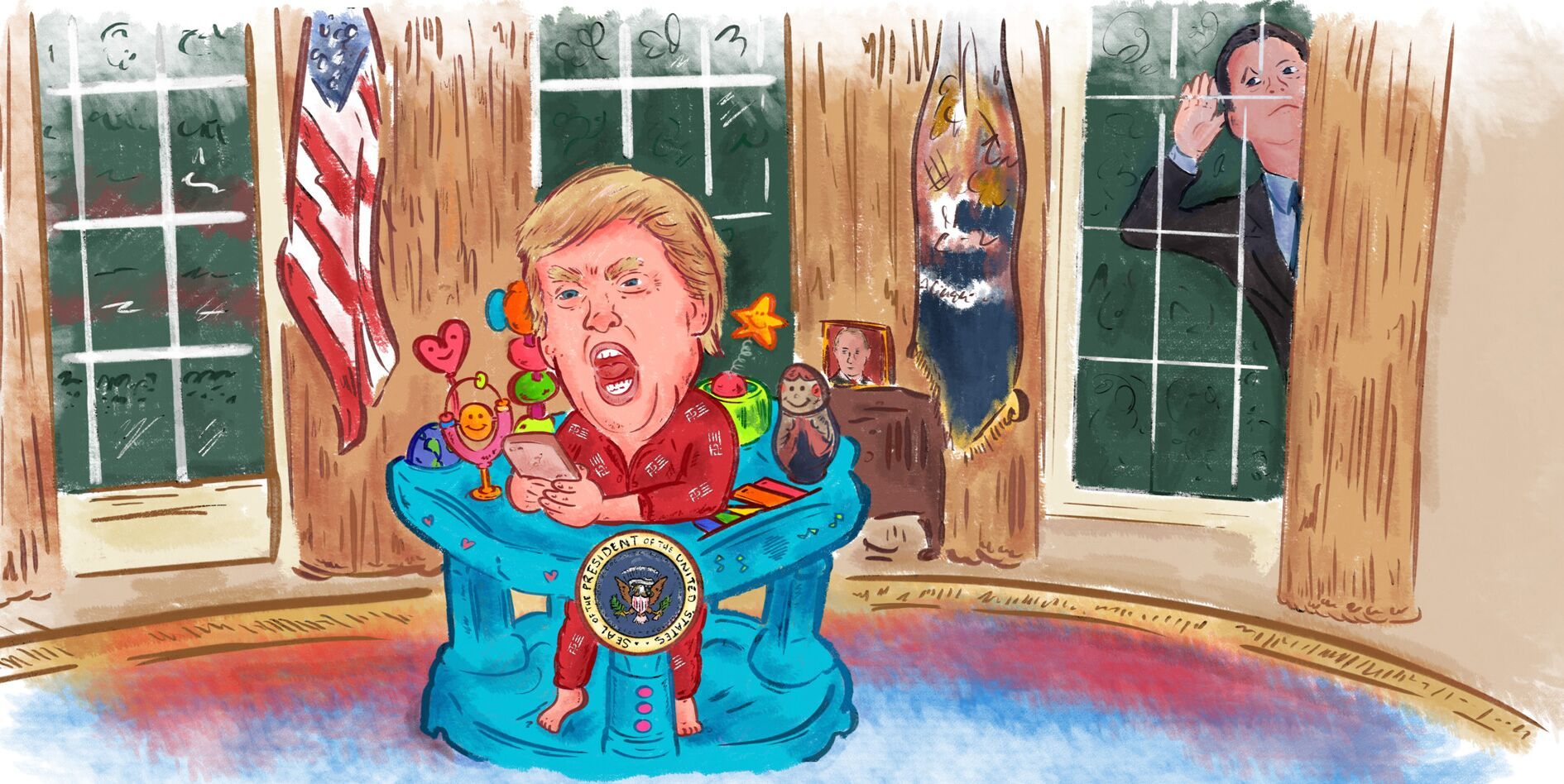 Once upon a time, Donald Trump was supposed to go to bed,
But tweeted instead.
This happened to such an extent,
Someone wrote a book titled Stop Fucking Tweeting and Go the Fuck to Sleep, Mr. President.
One page reads:
The wind whis—where the fuck are you going.
Lay down. You've got a schedule to keep.
I don't care what ESPN said about you.
Your phone's out of battery and, like you, it needs some fucking sleep.
The book, released on November 30, was written and illustrated by John Spreincer McKellyanne Huckamucci, a pseudonym that scrambles up the names of some of the most prominent members, current and former, of Trump's administration (including Reince Priebus, Kellyanne Conway, Sarah Huckabee Sanders and Anthony Scaramucci).
The author, who spoke with Newsweek by email and over the phone on Tuesday, asked that his real name not be disclosed at this time. "I don't know if my day job would love it," Huckamucci said. "I don't know if certain family members would love it." The author is a full-time web developer who has previously written and illustrated children's books for adults on the side, though none quite as profane as his new publication.
Huckamucci said the idea for the book "was one of those find-inspiration-in-the-shower moments." He had been thinking of another popular "children's book for adults" called Go the Fuck to Sleep (2011), written by Adam Mansbach and illustrated by Ricardo Cortés. One day, he got frustrated with the news and thought it would be funny to put the two together.
He didn't immediately set out to write the thing, unsure if it was a terrible idea. When he finally did, though, it took about a month and a half to complete. He then self-published the book using IngramSpark under his own made-up imprint Koyillb Books.

Less than a week after the book's publication, it's already temporarily out of stock on Amazon and has surpassed Alec Baldwin and Kurt Andersen's You Can't Spell America Without Me: The Really Tremendous Inside Story of My Fantastic First Year as President Donald J. Trump (A So-Called Parody) to snag the number one spot on the site's list of new releases in political humor.
The author supports the idea of the book as a holiday present, perhaps as a stocking stuffer for the right recipient. But "use your best judgement," he said. "Don't give it to person who's going to get mad and have it ruin Christmas."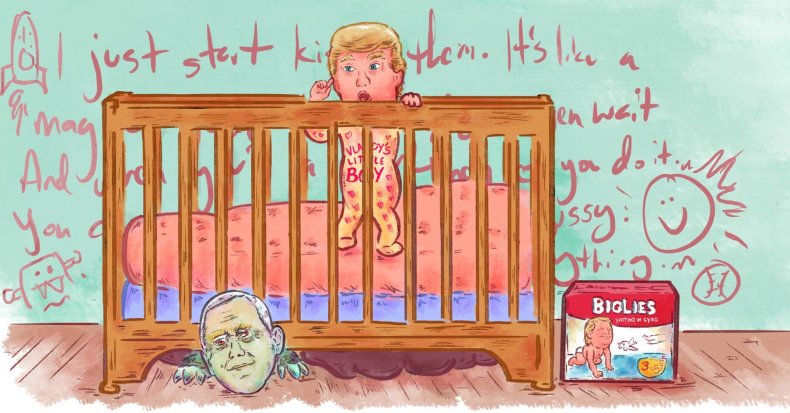 Stop Fucking Tweeting and Go the Fuck to Sleep, Mr. President is "for people who need a little catharsis," he said. He described all those who tweet back at Trump but get no response, those who shout into "the void, frustrated and angry and not really getting through," he added. "It's not going to change anything, but it says, 'Here have a laugh, you're not alone.'"
The book depicts Trump as a naughty, diapered toddler who, like any toddler worth his salt, is trying to evade bedtime and stay up for just one more story. Or in this case, one more tweet. The format of the book—and the juvenile Trump character—pointedly comment on the president's real-life maturity level.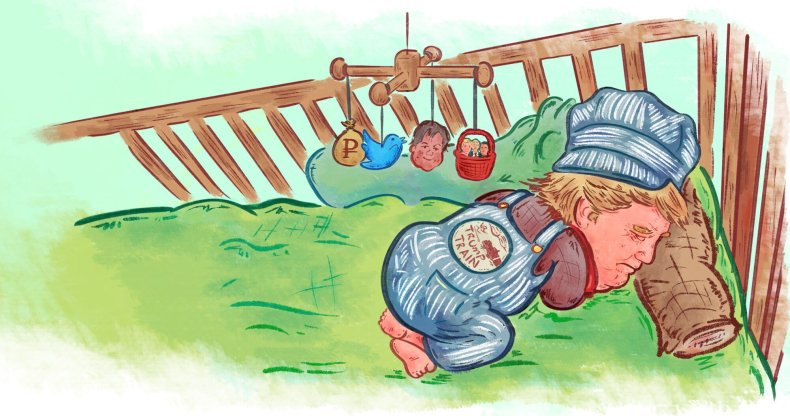 "Trump supporters probably wouldn't find the humor in this," the author said, though he believes it's for anyone of any political affiliation who is disheartened by how Trump's presidency is going. That audience skews Democratic and liberal, but Huckamucci said some of his Republican friends share some of the same sentiments. The book is for people who "want him to stop embarrassing us," he added, and hope he will just "sit down and get to work, and be a president."
The author hopes Trump himself will read Stop Fucking Tweeting and Go the Fuck to Sleep, Mr. President, even though Trump doesn't generally read books. "But this one's really short!" Huckamucci insisted. "There aren't that many words in it. It's shorter than some of his tweet storms."
If Trump were to read it, Huckamucci predicted, "I think he would fall for the ruse that it was written inside the White house and he would call for an investigation and collect phones."