Best Christmas Vacations 2019: 10 Top Picks for Beach Escapes, City Breaks, Romantic Getaways
Still fixing your Christmas plans? It's not too late to book a Christmas vacation, whether it be a quiet romantic retreat, a beach break or the trip of a lifetime from your travel bucket list.
Here are some of the best places for a Christmas getaway this year. All prices and dates are subject to availability.
1. Classic New York
Christmas in New York City has such a familiar classic feel, as the setting of several iconic Christmas films—from Miracle on 34th Street to the Home Alone series and Serendipity. The city is full of places to visit for a quintessential Christmas experience, from the Christmas tree overlooking the ice rink at Rockefeller Center and a postcard view of snow-blanketed Central Park to catching the annual spectacular show from the Rockettes.
With the reopening of the MoMA and annual Christmas shows at the Metropolitan Opera, as well as a few indie programs offered at the Brooklyn Academy of Music, there's no better time to be in the Big Apple than during Christmas.
Five nights at the Blue Moon Boutique Hotel in Manhattan near Fifth Avenue, Washington Square Park and New York University, costs from $766 per person on Expedia. Includes return flight from Los Angeles to New York City departing on December 21.
2. Hipster Prague
Tourist numbers in Prague have been surging, having welcomed a record 7.9 million visitors in 2018 and ranked among the cities with the highest density in tourist traffic, according to the World Travel and Tourism Council's (WTTC) Destination 2030: Global Cities' Readiness for Tourism Growth report.
The Czech capital is ideal for a quirky city break with traditional Christmas touches. Citygoers will enjoy its Christmas markets, sprawled across Old Town Square and Wenceslas Square, and historic Gothic architecture, combined with modern museums, galleries and lesser-known corners like Holesovice, an arty hip area away from the crowds that adds to the city's burgeoning reputation as a capital of cool on the rise. Prague offers the romance, sophistication and culture of bigger, more popular European capitals like Paris—minus the sky-high prices.
Five nights at the INNSiDE by Meliá Prague Old Town costs from $1,668 (reduced from $2,944) per person on Expedia. Includes return flight from Boston to Prague departing on December 21.
3. Party in New Orleans
Vibrant New Orleans is in party mode year-round, and that doesn't stop for Christmas. Enjoy traditional festivities with a twist, from free jazz and indie folk Christmas concerts at the historic St. Louis Cathedral and St. Augustine Church in December to spectacular Christmas Eve bonfires along the Mississippi River and light displays in the French Quarter.
Five nights at the four-star Marriott New Orleans hotel, located 0.3 miles from the legendary Bourbon Street, costs from $952 (reduced from $1,011) per person on Travelocity. Includes return flight from Los Angeles departing on December 22.
4. A Hawaiian escape
There's really no bad time to visit Hawaii, with average temperatures hovering between 73 F and 81 F throughout the year and December seeing an average of 75 F, according to Holiday-weather.com. With more than 130 islands spread across nearly 1,500 miles, the archipelago offers a coastline of nearly 750 miles with plenty of beaches to choose from for a sizzling Christmas getaway.
Celebrate Christmas with a run through the town of Kona on the Big Island, the largest of the Hawaiian Islands, at the annual Jingle Bell Beach Run on December 22 this year. The event offers a 5K run at the Coconut Grove Marketplace. Children ages 6 and under can join Santa's Keiki Dash at the same location, which features shorter races from 50 to 200 yards. Others can also try the 1-mile race designed for runners and walkers of all ages, especially those who might be too old for the kids race but not quite ready for the 5K.
Four nights at the four-star Hilton Waikoloa Village near Waikōloa Beach and the Waikoloa Beach Golf Course costs from $2,757 per person on Hotwire. Includes return flight from New York City to Kona departing on December 22.
5. Feed your Seoul with K-pop in South Korea
The spread of K-pop fever, thanks to the likes of BTS and a string of other K-pop artists, has sparked fans around the world to aspire to visit South Korea. Nearly 90 percent of people hope to visit the country one day, while more than 75 percent want to do so in less than a year, according to a new survey of more than 12,600 K-pop fans in 111 countries conducted by the Korean Tourism Organization, Pulse reports.
Explore the home of K-pop in the heart of Seoul, the South Korean capital, where fans can enjoy various K-pop-themed tours and spaces such as K-Star Road, which features a giant 3-meter tall'GangnamDol' (said to be a combination of the words Gangnam, idol and doll) representing Psy, the K-pop singer/rapper who took the global music stage by storm with his song "Gangnam Style". The road displays 17 GangnamDols representing various other K-pop artists from BTS to Girls' Generation.
Korean cuisine, from bibimbap to Korean barbecue, has also conquered the planet in recent years, with the city now having its own Michelin Guide, in its 3rd edition this year. Tuck in at the city's 26 Michelin-starred restaurants, including two venues with 3 stars and five 2-starred restaurants.
Four nights at the Conrad Seoul, centrally located five-star luxury hotel just 6 minutes from the National Museum of Korea and a 5-minute drive from the trendy area around Hongdae University, costs from $2,326 per person at travelocity.com. Includes return flight from Los Angeles to Seoul departing on December 22.
6. Phu Quoc, Vietnam
Vietnam is still largely underexplored, in comparison to some of its tourist-saturated neighbors like Thailand, so places like Phu Quoc still remain as one of the region's best-kept secrets. The largest of Vietnam's 105 islands, Phu Quoc sits just off the coast of Cambodia in the Gulf of Thailand. Its palm-fringed coast offers a host of unspoiled remote beaches blanketed by ice cream-like soft white sand.
Around 90 percent of the island is covered in forest and nature lovers can explore Phu Quoc National Park, which forms part of UNESCO's Kien Giang Biosphere Reserve. The reserve is made up of three national parks housing several protected marine areas and coral reefs including 89 hard coral species, 19 soft corals, 125 coral reef fishes, 132 mollusks, 32 echinoderms and 62 seaweed species, according to UNESCO.
7. Romantic Mauritius
The popular honeymoon island is an ideal spot for an intimate romantic retreat on stretches of powdery sugar-white private beaches and emerald bays and offers activities beyond just camping out on the beach. Active visitors can also enjoy snorkeling as well as a variety of mountain activities from trekking to ziplining.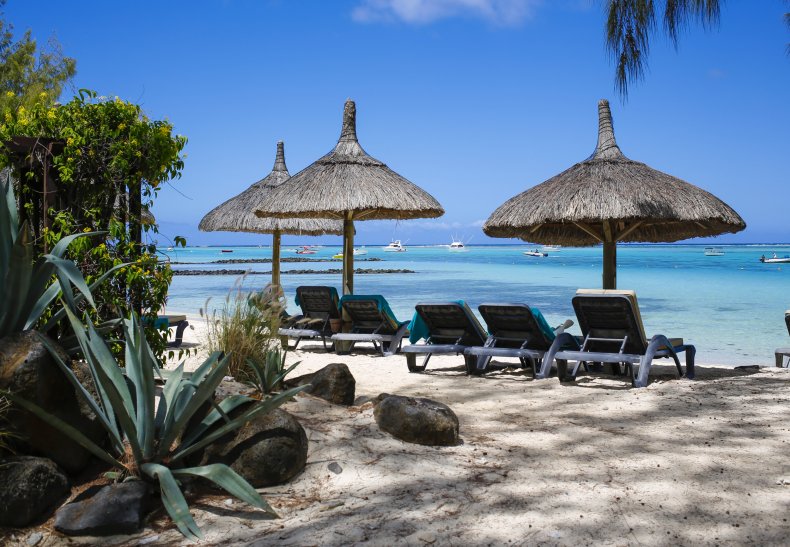 Five nights at The Address Boutique Hotel, near the coast of Turtle Bay, costs from $3,084 per person on Expedia. Includes return flight from Washington D.C. to Mahébourg departing on December 21.
8. A non-Christmas in Marrakech
The popular winter sun destination is a bit cooler in December but still enjoys around 7-8 hours of sun, with average temperatures around 60F. With Christmas not celebrated among locals in the country, a trip to Marrakesh in December makes for a refreshing break from Christmas festivities elsewhere.
Visitors in December can enjoy the city's popular attractions, from the labyrinths of its UNESCO-designated medina and the traditional DJemaa El-Fna market to cultural spaces like the recently opened Musée Yves Saint Laurent, a museum devoted to the work of the late French fashion designer.
Four nights at the Moroccan House Hotel Marrakech costs from $1,246 per person (reduced from $1,319) at Hotwire. Includes return flight from Philadelphia departing on December 22.
9. Family-friendly Dubai
Similar to Marrakesh, Dubai offers plenty of sun (with average temperatures ranging between around 66 F and 70 F) and something for the whole family, including water parks, beaches and the Dubai Mall, one of the largest malls in the world. Adventurists can try desert jeep buggy rides along undulating sand dunes, while city dwellers can admire Dubai's grandiose architecture such as the Burj Khalifa, the world's tallest building.
Four nights at the Mercure Gold Hotel Al Mina Road Dubai costs from $2,289 per person on Travelocity. Includes return flight from Newark to Dubai departing on December 22.
10. Kick back in Bequia
This off-beat tiny Grenadine island makes a great, low-key Caribbean escape, lined with patches of palm-fringed sandy beaches and surrounded by crystal clear turquoise waters.
Described as the Caribbean as it once was, the island has a largely untouched remote feel, buzzing with mostly locals and the humdrum of boats. Activities on offer including yachting (island-hopping through the rest of the Grenadines on the small chartered yacht is a great way to explore the local area) and generally just lounging on the "island of the clouds," which is what Bequia is said to mean in the ancient Arawak language.
Five nights at the beachfront Bequia Plantation Hotel costs from $2,727 per person on Expedia. Includes return flight from New York departing on December 21.