'Clash Royale' League Challenge: Best Decks & Strategy for Getting 20 Wins
"Looking for the best Clash Royale League Challenge decks to get you to 20 wins? Check out our list of top performing decks and strategies for using them, here.
Clash Royale's League Challenge kicked off just hours ago, and if you're planning to participate in the five-day qualification event, you may be wondering which decks are best for getting you 20 wins and a chance to be drafted by a pro league team. Though it's early in the challenge, already a number of players have managed to successfully get the 20 wins. Below we've put together a list of winning decks as confirmed by the Royale API website. We've featured the top 10 most winning decks in the competition along with strategies for using them. As the competition progresses and more winning deck become available, we'll add to the list.
Your chances of getting 20 wins with these decks will largely depend on the cards you own, their levels and how comfortable you are using the given decks; however, they are the choices winners are utilizing the most. As you peruse the decks, it's a good idea to play a few regular matches with them before going into the challenge. To help you prepare, we've added video links with strategies for using each of the decks posted.
Good Luck and Happy Clashing!
Best Clash Royale League Challenge Decks & Strategy For Getting 20 Wins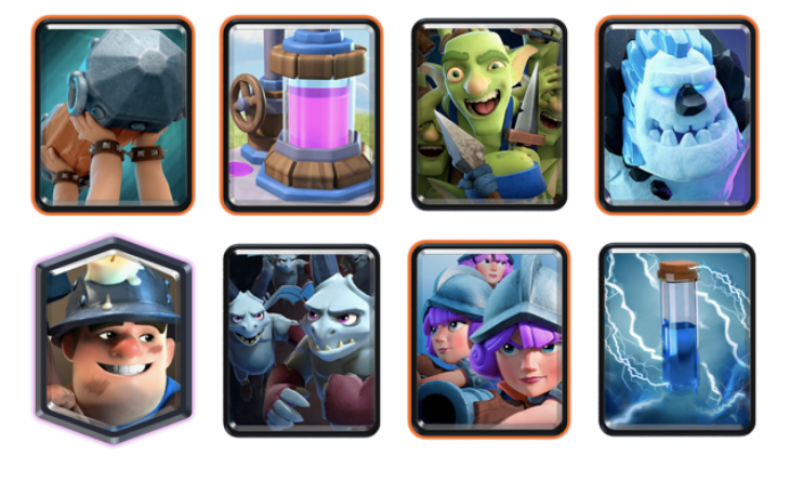 Deck #1 - 3M Miner Horde Pump
Battle Ram
Elixir Collector
Goblin Gang
Ice Golem
Miner
Minion Horde
Three Musketeers
Zap Spell
Deck Strategy
Deck #2 - X-Bow 2.9 Cycle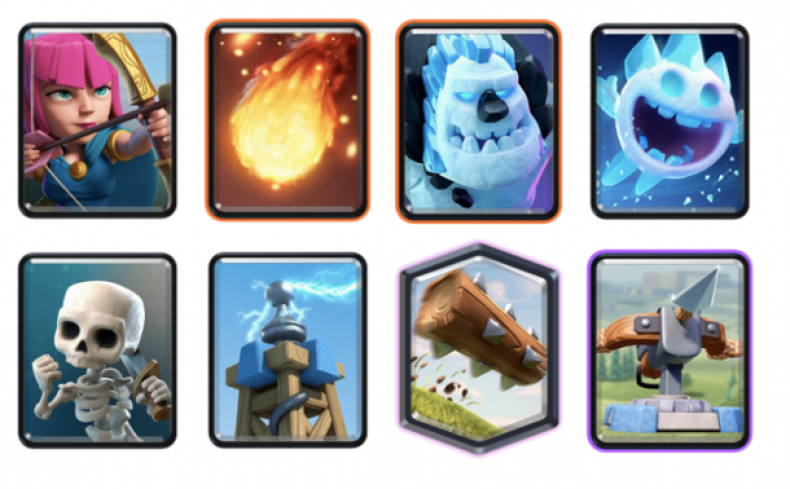 Archers
Fireball
Ice Golem
Ice Spirits
Skeletons
Tesla
Log
X-Bow
Deck Strategy
Deck #3 - DP Bridge Spam Log Bait Nado 2.9 Cycle
Bandit
Dark Knight
Goblin Barrel
Goblin Gang
Princess
Spear Goblins
Log
Tornado
Deck Strategy
Deck #4 - DP Ram Bridge Spam Triple Spells
Arrows
Bandit
Battle Ram
Dark Knight
Fireball
Ice Golem
Inferno Dragon
Zap Spell
Deck Strategy
Deck #5 - Lavaloon
Balloon
Fireball
Guards
Lava Hound
Mega Minion
Tombstone
Zap Spell
Minions
Deck Strategy
Deck #6 - 3M DP Horde Bridge Spam Pump
Bandit
Dark Knight
Elixir Collector
Ice Golem
Miner
Minion Horde
Three Musketeers
Zap Spell
Deck Strategy
Deck #7 - PEKKA Miner Poison Gobhut Control
Flying Machine
Goblin Hut
Miner
PEKKA
Poison Spell
Royal Ghost
Log
Zappies
Deck Strategy
Deck #8 - DP Ram Bridge Spam
Bandit
Battle Ram
Dark Knight
Fireball
Ice Golem
Inferno Dragon
Minions
Zap Spell
Deck Strategy
Deck #9 - Log Bait Nado 3.0 Cycle
Goblin Barrel
Goblin Gang
Ice Spirit
Knight
Princess
Rocket
Log
Tornado
Deck Strategy
Deck #10 - Giant 3M Swarm Bait Pump
Bats
Battle Ram
Elixir Collector
Giant
Goblin Gang
Minion Horde
Three Musketeers
Zap Spell
Deck Strategy
​
What Is Clash Royale League Challenge?
The Clash Royale League Challenge is an opportunity for any players who think they have what it takes to go pro to show off their skills. The in-game event, which kicked of March 14, follows similar rules to all events with players being disqualified once they have lost 3 battles. Players who make it to 20 wins without losing gain the opportunity to compete in further events which could lead to a contract with a pro league team. According to Supercell's informational post, completing the 20 win challenge doesn't guarantee players a spot on a pro team. Rather, it's an opportunity to become visible to pro teams.
"Teams are independent businesses that will make their own decisions on who to sign. On top of skill, they also consider other factors such as maturity, leadership skills and chemistry with other team members. Furthermore, teams and players would need to come to agreement about salary and other requirements. A good player may not get signed if they demand too much money, aren't available on competition dates, or are unable to secure proper travel visas (so they can travel to competitions)."
Supercell intends to offer further online tournaments in the near future which will "further help players and teams find each other," after the Clash Royale League Challenge ends. Though these future events aren't required for gaining a spot on a team, serious players are encouraged to participate as they yield the following benefits:
Gain experience performing under pressure in a tournament environment
Become even better players by competing against the best of the best
Showcase their skill to CRL teams that will be watching and scouting
All players that reach 20 wins should watch News Royale, reddit and his or her in-game inbox for further details about these online tournaments.