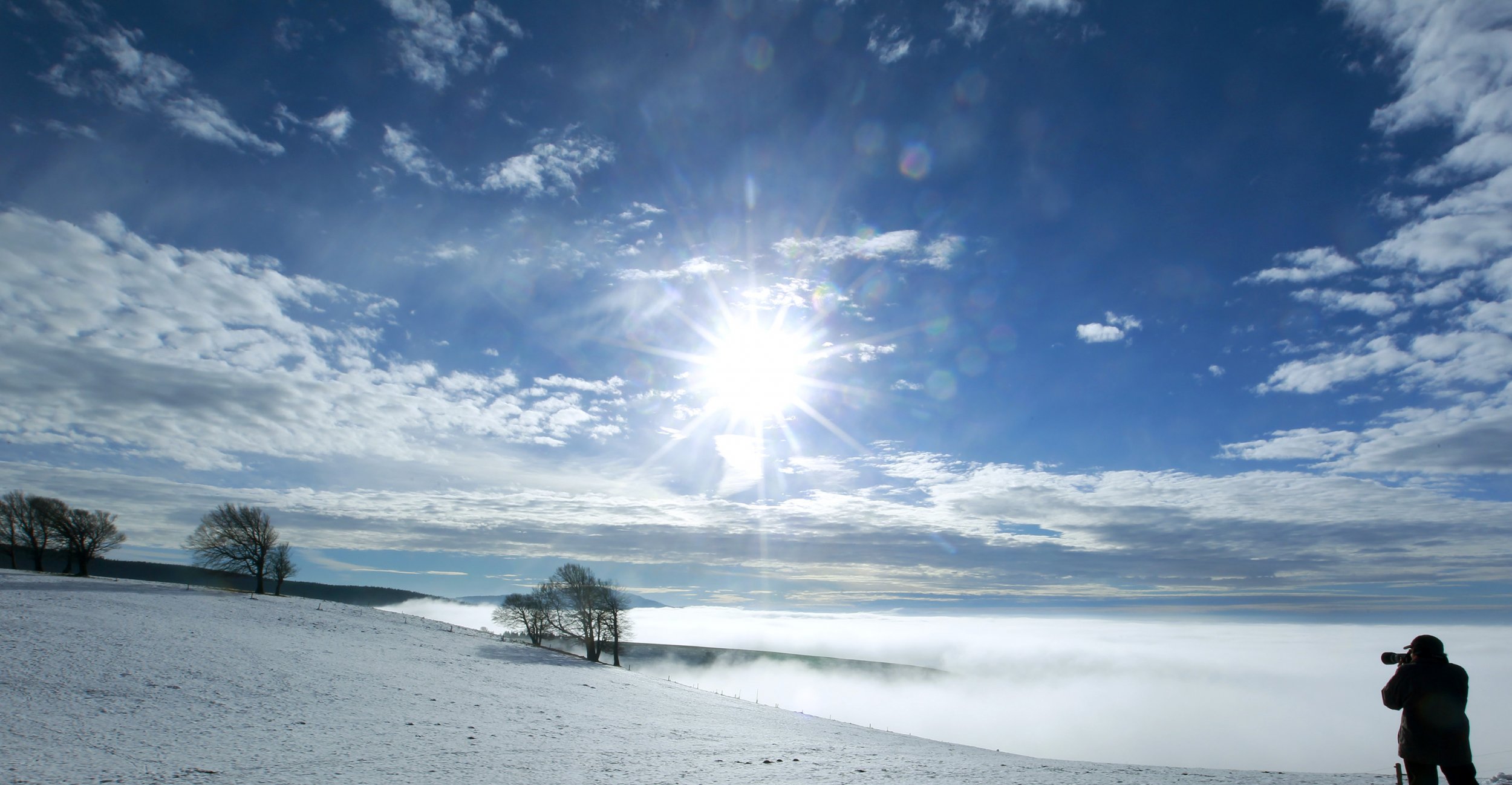 In the film world, 2015 was the year of women's war on Hollywood, the rise of the remake and the perfect moment for the mainstream documentary tour de force. In just music documentaries alone, hordes of harrowing films documenting the life of late fallen stars, like Amy Winehouse (Amy), Kurt Cobain (Montage of Heck) and Frank Sinatra (Sinatra), tugged at our heartstrings and reminded us why we listen to music at all.
We went through treacherous passages with the mountain climbers in Meru, dissected notorious police corruption in New York's 75th precinct with the filmmakers of The Seven Five and questioned a megachurch's mysterious ways in Going Clear. It was hard to nnarrow them down, but here are thirteen documentaries that captivated our imaginations this past year.
ALL THINGS MUST PASS
Hollywood heir-apparent Colin Hanks steered away from his dad's path and spent years on this love letter to the late and beloved record store chain Tower Records. In his telling, the store's ex-employees (Dave Grohl included) and colorful founder, Russ Solomon, give the human side of the retail giant's rise and fall. There's debauchery (backroom drug binges and all), but there are also very real tears. Better yet, All Things works as an educational retracing of the retail music industry more broadly, from the 1960s to Napster. Of course it premiered at SXSW—where else?
AMY
The untimely death of the 27-year-old neo-soul powerhouse Amy Winehouse rattled the world in 2011. Her well-publicized breakup with ex-hubby Blake Fielder-Civil, her propensity for substances and her acid tongue frequently made her a tabloid target, especially when she'd fire back with hits like "Rehab." Asif Kapadia's take on the late singer's life offers a sympathetic, wrenching view of the girl behind the beehive 'do and heavy eyeliner. Through interviews and paparazzi footage, viewers become voyeurs, and we see the forces that often cause our favorite stars to fade at work firsthand, in a way that nearly implicates the viewer in that fraught relationship. The intimate, spine-jolting footage of the Back to Black studio sessions alone, though, is enough to run mascara down your cheeks.
GOING CLEAR
Though Lawrence Wright's chilling book Going Clear: Scientology, Hollywood, and the Prison of Belief is far more comprehensive, if you haven't got time for its nearly 450 pages you can't go wrong with the much-discussed HBO documentary of the same name (minus the "Hollywood" part), directed by Alex Gibney and featuring interviews with real-life church defectors as well as Wright himself. While lighter on the nitty gritty details of Scientology founder L. Rob Hubbard's life than its bound counterpart, the documentary presents a creepy account of the sheer power wielded by Scientology leaders and the revenge the organization exacts on practitioners who decide to get out (including instances of what sure seems like kidnapping and psychological torture). It'll blow your mind in ten different directions, but among the most striking revelations are the details of the Church's stalking practices and the power-grabbing Scientology gets away with because of their tax exempt status.
HITCHCOCK/TRUFFAUT
Back in 1962, two silver screen stalwarts, Alfred Hitchcock and Francois Truffaut, locked themselves away from the world one fateful week to discuss the nuances of film, life and everything in between. Their subsequent conversation was eventually immortalized in Truffaut's book Cinema According to Hitchcock, now a film school staple. Fifty years later, Kent Jones has brought that long-lost conversation to life in the documentary Hitchcock/Truffaut. Interviews with Richard Linklater, Martin Scorsese, Olivier Assayas and David Fincher—all formidable directors who happen to be Hitchcock stans—threaded through the film illuminate the brightest points of this short-lived, immensely influential creative partnership. Plus you get to hear Hitchcock himself break down the infamous Psycho shower scene.
IRIS
Albert Maysles' final film (he passed away in early 2015) profiled the free-spirited, ever-fashionable Iris Apfel, a former interior designer who unassumingly evolved into a fashion's most forward-thinking It girl. Given that the two were close friends, the documentary is never intrusive. Instead, it feels like a day in the life of the sage, sharp Apfel, now 93, as we follow her through bargain bins and couture events we thought only existed in The Devil Wears Prada. The documentary is about much more than about fashion, though: it's about capturing a look that inspires self-confidence and an extraordinary life. Plus, the scene of Kanye West geeking out upon meeting Apfel is priceless.
THE LOOK OF SILENCE
The Look of Silence, the companion piece to The Act of Killing, Joshua Oppenheimer's stomach-churning 2012 exposé of mass genocide in Indonesia at the hands of accused communists, is every bit as wrenching as its predecessor. This time, the focus is placed on the families who dealt with the aftershock of the killings that continue to impact the country like a crater, by following Adi Rukun, a man whose brother was killed in the conflict. It's difficult to sit through the interviews where Rukun is flat-out asking the people who murdered his brother why they did it, and receiving no closure or justice from the matter. But maybe that's the point: we should be angry, and we should be disturbed by these atrocities, which have only recently been disclosed. That's how change happens.
MERU
The thrilling documentary Meru tracks three climbers—Jimmy Chin, Conrad Anker and Renan Ozturk—during their 2011 attempt to scale the top of the near-impossible Shark's Fin on Mount Meru, nestled in the Indian Himalayas. Directed by Chin (who also moonlights as a photographer for National Geographic when he's not shredding on the slopes), Meru isn't just a white-knuckle thriller: it's a meditative look at what it means to confront death and live through it, and how the bonds of a climb are eternal. No wonder it was the big winner of the esteemed Sundance Documentaries Audience Award at 2015's festival.
MONTAGE OF HECK
Brett Morgen's careful portrait of late Nirvana frontman Kurt Cobain, named after a sputtering collage tape found in the musician's archives, is a riveting approach towards a life that continues to mystify and be mythologized. For the first time, we hear Cobain's story in his own words, thanks to the narrations he left behind upon his untimely 1994 suicide. Morgen fills in the blanks with stunning animations, interviews with family members, former girlfriends and widow Courtney Love, and music turned far into the red. Bring earplugs and tissues.
A POEM IS A NAKED PERSON
One of the year's most imaginative documentaries hasn't seen the light of day since 1974. In the early 1970s, country strummer Leon Russell was hunting for a documentarian to capture the spirit of his group. He contracted Les Blank per a recommendation, and two years of immersive filming followed. What he got probably wasn't what he had in mind: the documentary is a hodge-podge, non-linear account of intimate moments on tour, the oddballs who abounded and rollicking live performance scenes. Perhaps that's why it was left buried until Janus and Criterion recently resurfaced it. While it's more whimsy than information, we're certainly glad it exists.
THE SEVEN FIVE
The Seven Five is a harrowing, crack-stained postcard from New York's "bad old days," zeroing in on police corruption in Brooklyn's 75th precinct during the mid–late 1980s. In particular, the Tiller Russell-helmed documentary centers on (and benefits from seemingly unbridled access to) Michael Dowd, whose antics garnered him a reputation as the most corrupt cop in NYPD history. (Dowd was caught in 1992 and served 12 years for his lawbreaking-in-a-law-enforcement-uniform.) With the pacing of a great heist film, The Seven Five traces how Dowd came to conspire with New York's dealers and gangsters—eventually running his own cocaine ring out of Long Island—and, in relevant fashion, spotlights the toxic NYPD culture that let him get away with it for so long.
SINATRA
Seeing as Frank Sinatra would have turned 100 on December 12, there's no better time to pour yourself a few fingers of Jack Daniel's and settle in for Sinatra: All or Nothing at All, the two-part documentary from Alex Gibney that premiered on HBO this April. But be careful. If you do decide to take the plunge into the world of Sinatra, it'll probably be at least a month before you're able to cycle Old Blue Eyes out of your Spotify playlists. All or Nothing at All is an appreciation of Sinatra's early years, his tribulations—both romantic and professional—and then his resurrection in the '60s as the leader of the Rat Pack, gallivanting about Las Vegas with reckless abandon. By the time the documentary is over, you'll find yourself relating to the Spinal Tap limo driver, lamenting the the downfall of modern rock stars. "When you've loved and lost the way Frank has," he says with disgust, "then you know what life's about."
THE WOLFPACK
On its face, Crystal Moselle's The Wolfpack can be summed up pretty neatly. The seven Argulo siblings were raised in a Lower East Side apartment by their paranoid father, locked away from the outside world and homeschooled. All they know of what exists outside of their apartment comes from their father's extensive DVD collection. One year, a brother says, they didn't leave the apartment at all. As a way to cope, the siblings painstakingly reenact scenes from the movies they love—The Godfather, Pulp Fiction, etc. But as the six brothers enter adulthood, the city just outside becomes too tempting to resist. Moselle is allowed inside their home (the first non-family member to do so), and then follows them outside it, watching as they test the limits of their bond and their curiosity. Deeper down, it's a movie about what it means to be free—of rules, of society, of adolescent ideas as they collide with scarier and newer ones. The films the siblings consumed both put them in touch with the real world and made the idea of confronting it that much scarier. It's a riveting, quietly heartbreaking documentary that's unlike anything we've seen before.
UNCERTAIN
Uneasiness pervades this portrait of a backwater called Uncertain, which exists (for now) on the border between Louisiana and Texas on the shore of Caddo Lake. Steeped in Southern Gothic moodiness, what life can be made in the town of Uncertain centers around the lake and its tributaries, which are at risk of being entirely choked by a mysterious weed called salvinia that won't stop growing. As eery as that sounds, salvinia acts as momentum more than metaphor: the real take-away from this quiet, surprisingly sentimental documentary by Anna Sandilands and Ewan McNicol is that people want to find their niche, even if the rest of the world has given up on them. The crop of outcasts, addicts and weirdos that populate Uncertain have made a home for themselves, for better or worse. Where will they go if it gets taken away?
UNCERTAIN - Film Trailer from Lucid Inc. on Vimeo.