Americans' Positive Views on the Economy Could Earn Trump a Boost in 2020, New Poll Suggests
More than three quarters of Americans rate the economy favorably—the most since 2001, according to a poll by CNN.
The data also indicated that the Democratic presidential candidates seem to have slipped in popularity. In recent hypothetical matchups against U.S. President Donald Trump, fewer respondents chose Democrats than they did in previous CNN polls.
Presidential elections can be viewed as a referendum on the economy, but partisans are also less likely to give members of the other party credit where credit is due, according to analysis by The Cook Political Report. That holds in the CNN survey, as nearly all Republicans said economic conditions were good, compared to 62 percent of Democrats.
The survey, conducted over December 12-15 among 1,005 people, came just after reports that China and the U.S. could be nearing a trade deal after more than a year of tit-for-tat tariffs that have plagued the global economy. The survey period also took place shortly after House Speaker Nancy Pelosi voiced rare bipartisan support for the United States-Mexico-Canada Agreement (USMCA), calling it a "victory for America's workers."
CNN found that most poll respondents (71 percent) approved of USMCA and viewed foreign trade as an opportunity for economic growth.
Overall, 35 percent of respondents said that economic conditions were "very good," and 41 percent said they were "somewhat good." According to CNN's analysis of the data, the 76 percent net positive is the largest share of Americans to feel good about the economy since 2001, when 80 percent of those queried said things were going well.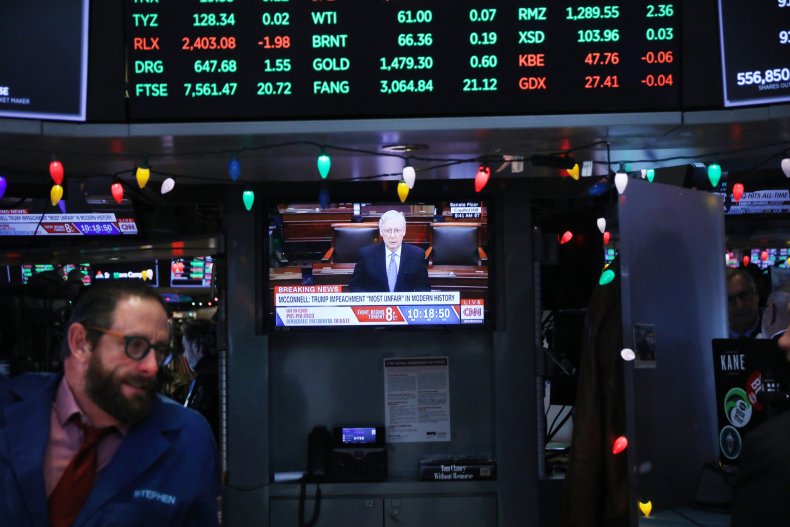 That high level of positivity—up 11 percentage points from August—could be padding Trump's support compared to his Democratic challengers. In October, four top Democrats beat the president in the poll's one-on-one matchups. In December only former Vice President Joe Biden and Senator Bernie Sanders could still claim that victory beyond the survey's margin of sampling error. (Senator Elizabeth Warren and Mayor Pete Buttigieg both "run about even with the President" according to CNN's analysis.)
In battleground states, the poll showed even tighter numbers. The same four Democrats each tied with or lost to the president among registered voters.
At the same time, another measure showed that unsatisfied voters may be more likely to vote blue. Respondents who said they didn't like either Trump or his Democratic opponents tended to select Democrats when made to choose. For instance among respondents who said they viewed both Trump and Biden unfavorably, 72 percent said they would support Biden in a hypothetical election.
In 2016, Democratic nominee Hillary Clinton couldn't say the same. Of those who held unfavorable opinions of the both the former Secretary of State and now-President Trump, 47 percent said they had voted for Trump, compared to 30 percent who said they had voted for Clinton and 19 percent who opted for third party candidates, according to exit polls cited by CNN.