'The Best of Enemies' Fact vs. Fiction: How the Film Compares to Real-Life Events
The Best of Enemies sees Taraji P. Henson and Sam Rockwell explore the true story of an unconventional friendship that formed between a civil rights activist and a Ku Klux Klan (KKK) president in 1971. While most movies based on true events alter moments to make them more Hollywood-friendly, director Robin Bissell was committed to depicting the story as-is.
Ann Atwater (Henson) initially goes head-to-head in The Best of Enemies with C.P. Ellis (Rockwell) over the integration of schools in Durham, North Carolina. The pair eventually come together to serve as co-chairs for the Save Our Schools summit, which aimed to address the desegregation of schools. While Atwater and Ellis initially despised each other, they wound up forming a friendship due to their involvement in the community summit.
"We didn't really have to Hollywoodize the story because just reading it seemed fake already ... But then when you do the research and, you know, this stuff really actually happened," Henson, 48, told Collider in an interview published Wednesday. "Her flipping that man around and hitting him in the head with the phone. All [of] that is true. None of that we, you know, embellished on—that actually happened. I think [for] everyone involved, we were interested in telling the truth."
"It wasn't about a Hollywood moment. It was about a moment in history that actually happened. We are actually seeing again happening now in 2019. So that was the importance of the film. It wasn't about making [a] Hollywood movie. We didn't care about a Hollywood film. We wanted a film that is going to impact lives, change thoughts and perceptions," she concluded.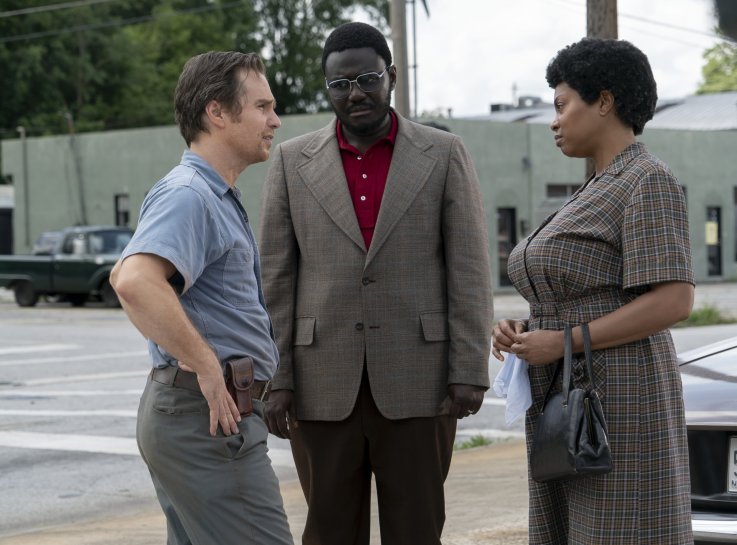 Rockwell also told Collider that while The Best of Enemies aspired to stay completely true to the story being told, some moments were left out. The 50-year-old actor said the film "can't fit everything in there" because it has a two-hour runtime.
The events that inspired The Best of Enemies have been explored before in a play, a book and a documentary. Bissell's feature follows author Osha Gray Davidson's book, "The Best of Enemies: Race and Redemption in the New South." The New Yorker also noted the film's indebtedness to the 2015 documentary of the same name and "the real people in it, to lend an air of authenticity to a story that he has freely changed in ways that downplay the controversies that were."
While the film depicts the story of desegregation of schools in 1971, the landmark Supreme Court decision in Brown v. Board of Education deemed segregated schools unconsitutional back in 1954. Durham began to integrate its first schools in 1959.
Carvie Oldham (Bruce McGill) portrayed the film's mayor. According to The News & Observer, Oldham is a real person who served as an executive director of the Durham Housing Authority. However, the mayor at the time of the events was James R. Hawkins.
The Best of Enemies has parallels to 2018's Oscar Best Picture winner Green Book ,as both movies tell the story of an unlikely friendship forming between a black person and a racist white man. The family of Dr. Don Shirley, played in Green Book by Mahershala Ali, denounced the film and claimed the pianist wasn't friends with his former chauffeur Tony Lip (played by Viggo Mortensen). Unlike Green Book, Atwater and Ellis were confirmed to be friends in real life. Atwater addressed her friendship with Ellis to NPR in November 2005. He died three days before this interview.
"He stayed in touch with me; I'd call him," Atwater said. "If I told him I needed some money, he told me he needed something, we looked after each other. We saw that each other, you know, was making it."
The Best of Enemies hits theaters Friday.
'The Best of Enemies' Fact vs. Fiction: How the Film Compares to Real-Life Events | Culture